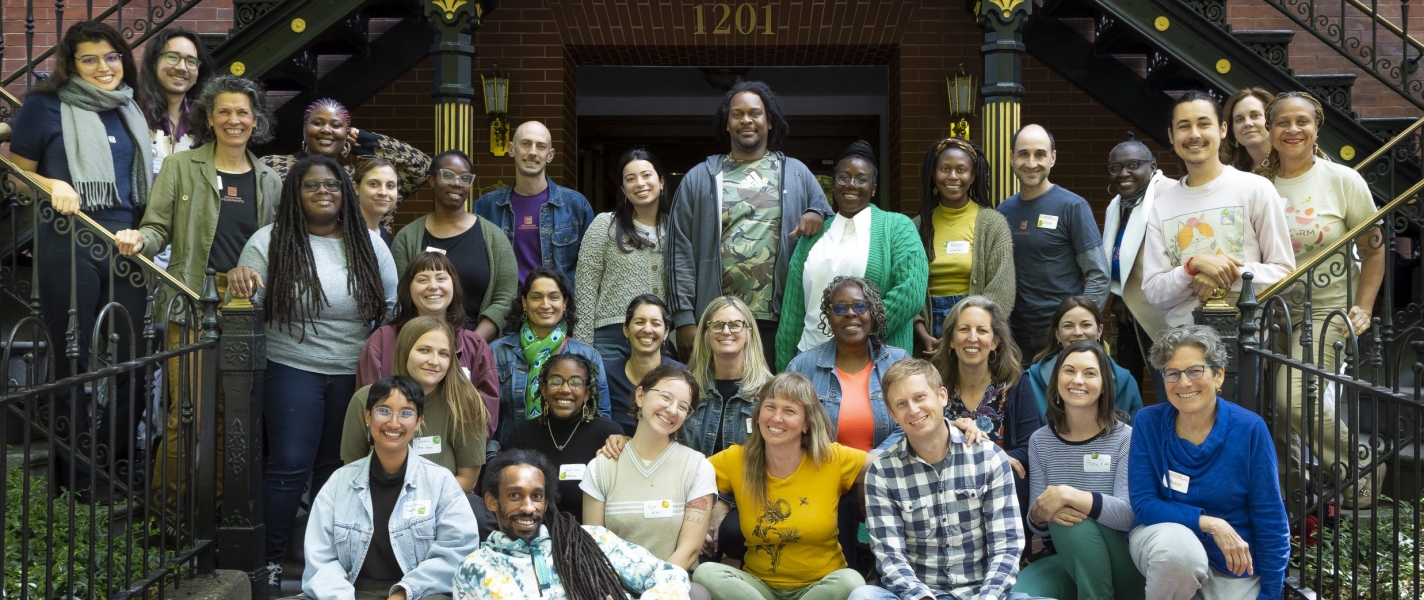 FoodPrints Leadership
Jenn Mampara, Director of Education
Jenn has over 25 years of experience teaching young children how to grow, cook, eat and enjoy nutritious food. Originally from Colorado, she earned her Masters from Teachers College at Columbia University in Nutrition & Education, and worked with a number of non-profits and universities in New York. Jenn is a certified teacher in the District of Columbia and spent four years teaching 1st, 2nd and 3rd grade in DC Public Schools. She helped to launch the program at Watkins in the fall of 2009. Under her direction, FoodPrints has grown from a program serving 200 students at one school to currently reaching more than 7,000 students at 19 DC public schools. She enjoys preparing delicious and nutritious meals with her family of five every day. Favorite FoodPrints Recipe: ABC Salad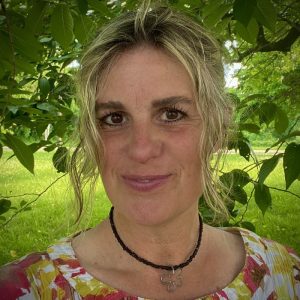 Jill Peralta, Teaching Team Director & Instructional Coach
Jill believes that all children – regardless of where they come from or their current situation – should have the opportunity to eat healthy, fresh food cooked from scratch. She thinks that one of the best ways to do this is to cook and garden with them, teaching them and modeling for them.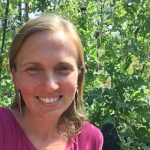 Rebecca Helgerson, Garden Director & Instructional Coach
Rebecca's ever-growing love of and connection to nature brought her to gardening; her respect for and understanding of young children led her to teaching; and her own evolving relationship with food made her passionate about what we eat and where it comes from.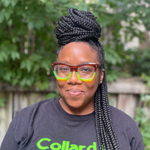 Regina Green, FoodPrints Lead Teacher & Instructional Coach
Regina is a native Washingtonian and comes from a family of teachers, with her mother, grandmother, and countless other family members having worked as educators. FoodPrints allows her to connect her passion for educating young minds with her love for delicious foods and fond appreciation for nature.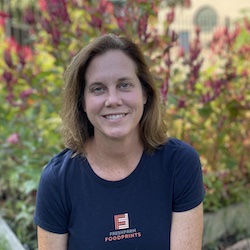 Beth Bacon, FoodPrints Communications & Development Director
Beth is inspired every day by the magic of FoodPrints — as she leads efforts to communicate, secure support for, and evaluate all the amazing things happening in our program. Favorite FoodPrints Recipe: Dark Chocolate Chip Pumpkin Bread
---
FoodPrints Program Support Team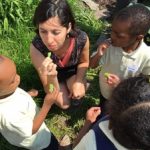 Ibti Vincent, Service Learning Manager & FoodPrints Lead Teacher
FoodPrints combines everything that Ibti is passionate about: empowering people, building community, growing/preparing/sharing food, and always learning. And the kids are as excited about these things as she is!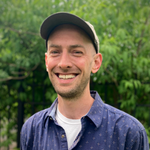 Cam Petersen, Communications, Development & Evaluation Manager
Cam has served as a Peace Corps Volunteer in Ghana, carried out a regional farm to school campaign, taught nutrition and gardening curriculum as a FoodCorps service member, and briefly lived on a coffee farm in the mountains of Nicaragua. He is committed to building resiliency around food, the environment, and more in our schools and communities. Favorite FoodPrints Recipe: Radishes with Bread & Butter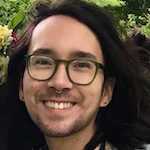 Joseph Lee, FoodPrints Administrative Coordinator
During a year working on a mixed-vegetable farm, Joseph developed a deep appreciation for food and the labor that goes into producing it. FoodPrints allows him to combine this perspective with his background in administrative and finance roles in the international nonprofit sector. Favorite FoodPrints Recipe: Quinoa Asparagus Salad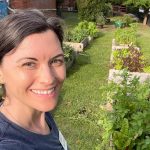 Stacia Kiraly, FoodPrints Out of School Time Grant Manager & Lead Teacher
Stacia grew up in a transitioning rural community in Northern Illinois watching the corn and soy fields sprout mini-malls and fast-food restaurants. She entered the community food systems field as a researcher and teacher determined to preserve the farms that sustain us and to inspire children to care about where their food comes from and the people who grow it. Favorite FoodPrints Recipe: Tuscan Kale Salad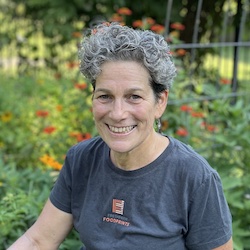 Susan Bandler, Service Learning Assistant Manager
As a long-time educator, Susan believes that children learn best when they are active – using their hands, their bodies, and their minds. She is inspired by the joy, excitement, and sense of wonder in FoodPrints classrooms as students gain the confidence and knowledge to learn new skills and explore new tastes.
---
FoodPrints Teachers & Assistant Teachers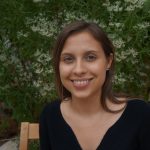 Allie Davis, FoodPrints Lead Teacher & Program Assistant

Allie grew up in a family of teachers – which ingrained in her the importance of raising future generations in a thoughtful way – and as she got older she developed an interest in nutrition. FoodPrints is the perfect blend of her values and passions.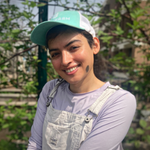 Alexi Iglesias, FoodPrints Bilingual Lead Teacher & Program Assistant
Alexi sees herself as a learner alongside the children in the classroom – with the same curiosity and joy that the children hold. Her goal is to inspire children to see themselves as active participants in their own well being, and of those around them. Favorite FoodPrints Recipe: Cauliflower, Chickpea & Potato Curry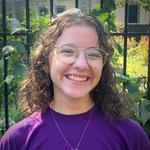 Alyson Chocianowski, FoodPrints Lead Teacher
Alyson's love of fruits and vegetables first came from her grandfather, who had a large garden where she grew up helping and selling produce at the local farmers market. Having previously worked with FoodPrints as a Work-Study assistant, she is eager to share her love of fresh, local produce with students.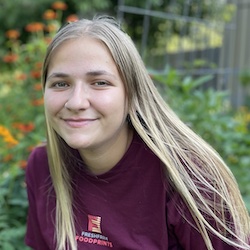 Anna Moore, FoodPrints Assistant Teacher & Communications Assistant
With a passion for food justice and education, she connects with students to help bring about – and communicate about with storytelling and photography – the lasting impact that hands-on, outdoor learning can have on students. Favorite FoodPrints Recipe: Roasted Beet Hummus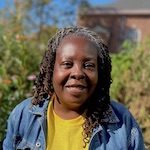 Annie Thompson, FoodPrints Assistant Teacher
As a retired teacher, Annie values staying connected to teaching and learning. She believes that nutrition is critical for a student's readiness and ability to be focused and ready to learn – and that every child has a right to "bloom" and FoodPrints helps that happen.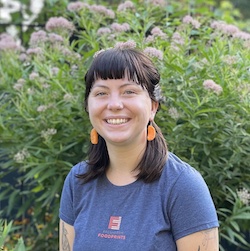 Aubryn Walters, FoodPrints Lead Teacher & Garden Assistant
Aubryn loves how FoodPrints connects students to nature in their neighborhoods. As she grows in her own journey with fresh food, she is excited about learning from her students as she empowers them to know where their food comes from and how to prepare nutritious meals. Favorite FoodPrints Recipe: Kale Caesar Salad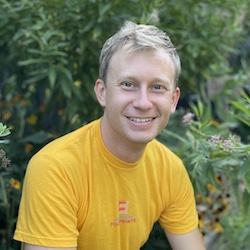 Chris Scott, FoodPrints Lead Teacher
Chris' grandfather was a farmer in rural Illinois and instilled in him a love and appreciation for growing his own food, and knowing where our food comes from. For Chris, getting to share his love of gardening and eating fresh, nutritious fruits and vegetables with children is enormously rewarding. Favorite FoodPrints Recipe: Black Bean Sweet Potato Chili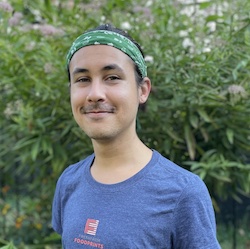 Daniel Barrera, FoodPrints Lead Teacher
After a lab-intensive degree in Plant Genetics, Daniel followed a curiosity for education that now has him teaching nutrition education in DC and nurturing curiosity in young scientists through gardens and cooking.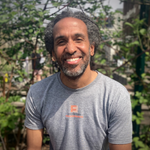 Daryl Jones, FoodPrints Teacher & Community and Market Educator
Daryl's mother worked for the FDA for years as a biochemist and his sister is a naturopathic doctor; both inspire him to appreciate the power of food and how it can help our society. With a background in school food service and coaching high school soccer, being able to work in food education both in schools and in our community is a dream come true for him. Favorite FoodPrints Recipe: Winter Vegetable Miso Soup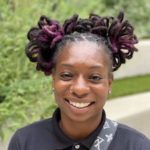 Da'Shawn Covington, FoodPrints Assistant Teacher & Garden Assistant
As a Washington, DC, native and an educator with The Green Scheme, Da'Shawn is excited to bring positive food and garden experiences to students – experiences that she never had as a child. Her own health journey has motivated her to bring her energy to FoodPrints. Favorite FoodPrints Recipe: Bean & Corn Salad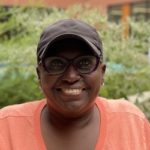 Davette Wilson, FoodPrints Lead Teacher
With many years working with students across DC, FoodPrints is the best of both worlds for Davette: it combines her love for kids with her love of cooking and journey to eat more fresh food.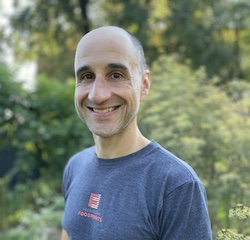 Derek Bowley, FoodPrints Lead Teacher
Derek weaves his passion for food with his years of teaching experience in FoodPrints. Feeding people –  whether cooking for someone, teaching others how to prepare food, or helping to connect someone with food – is at the core of what makes him tick. Favorite FoodPrints Recipe: Roasted Rainbow Bowl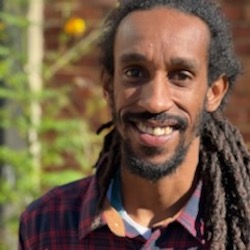 Ehren Vance, FoodPrints Garden Manager
An enthusiastic urban farmer, edible landscaper and educator, Ehren is committed to developing resilient local food networks, eradicating food apartheid, and restorative agricultural practices. With particular interest in culturally and historically significant crops, he is eager to help FoodPrints Teachers develop the next generation of ethical, environmental stewards and community health advocates.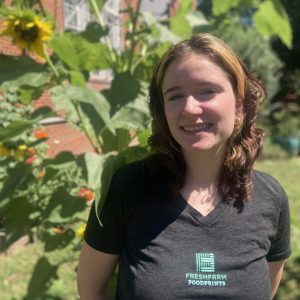 Emma Creamer, FoodPrints Bilingual Lead Teacher
After a background in community health, Emma transitioned to ecology and food education in 2021 with a strong desire to work for and with young learners. They strongly believe in the healing properties of nature and fresh food and cherish watching students reconnect with the land around them. In their spare time, Emma is a beginning herbalist with the DC Mutual Aid Apothecary and is always juggling several hobbies.
JaNeya Lee, FoodPrints Assistant Teacher
JaNeya has always loved food and while growing up she and her family always visited the farmers' market on the weekend. As she learned more about food, JaNeya was drawn to professional roles in food education, eventually leading her to an assistant teaching role with FoodPrints. JaNeya also serves as the Cesar Chavez Farm Stand Manager for FRESHFARM's markets team. Favorite FoodPrints Recipe: Sweet Potato Biscuits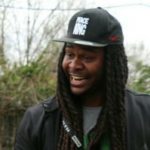 Jerome Nesbitt, FoodPrints Lead Teacher 
As a DC native and graduate of DC Public Schools, Jerome has become a community activist and outreach specialist. With a background in music management and production, he has helped develop and implement new approaches to being healthy and more sustainable in some of DC's most under-served communities.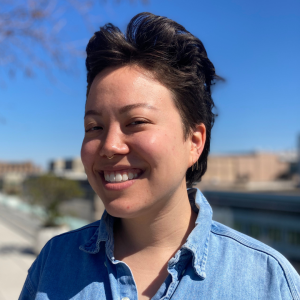 Mads Ha, FoodPrints Assistant Teacher & Garden Manager
Mads first discovered an interest in local food systems while working for a pickle vendor at a farmers' market. Since then they supported garden-based early education for ages 2-14 before arriving at FoodPrints. On top of teaching they also split their time between assisting at a local urban farm and mutual aid organizing in DC's Ward 1.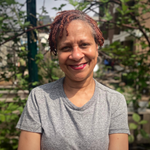 Marilynn Martinez, FoodPrints Assistant Teacher
Marilynn is a DC native and third-generation farmer; she started assisting her father in the family garden at 8 years old, where she and her father were so happy and content with nature. She loves being outdoors – and is excited to combine teaching young children and gardening. Favorite FoodPrints Recipe: Cauliflower, Chickpea & Potato Curry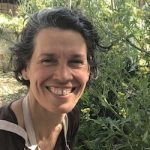 Margi Fineran, FoodPrints Environmental Literacy Lead & Lead Teacher
Margi loves teaching FoodPrints because she wants to help children learn that work and working together can be joyful. And she's able to share her love of cooking and eating together as well as all things in helping the Earth! Favorite FoodPrints Recipe: Jalapeño & Lime Quinoa Salad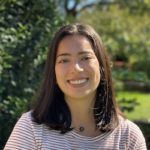 Miki Nakano, FoodPrints Lead Teacher & Community Engagement Education Coach
Miki values the connections with students she builds when teaching in school gardens and cooking with students — and how these allow for deeper conversations about sustainability, cultures, equity, and equality. Favorite FoodPrints Recipe: Rainbow Kale Salad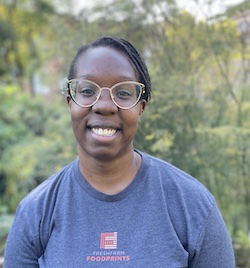 Natasha Thompson, FoodPrints Lead Teacher
From a young age Natasha has been influenced by her Jamaican parents' belief that food is medicine. This has inspired her to study herbalism as well as ancestral and indigenous medical plants. As a former math teacher, she is excited to merge her love of plants with education.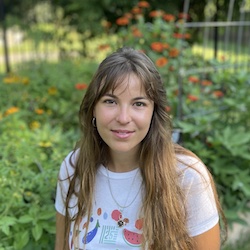 Pimienta Vieira, FoodPrints Lead Teacher
Originally from Los Angeles, CA, Pimienta has taught English in Spain and outdoor education in Northern California. She is dedicated to fostering connections between youth and nature, and is passionate about the garden as a place for exploring, learning, working as a team – and peace. Favorite FoodPrints Recipe: Rainbow Kale Salad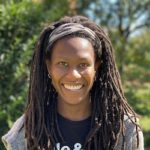 Raigon Wilson, FoodPrints Lead Teacher
Raigon is passionate about food justice and ensuring BIPOC communities have access to nutritious foods. She has a Nutritional Sciences and teaching background, and enjoys gardening at home. Favorite FoodPrints Recipe: ABC Salad
Robin Hernandez, FoodPrints Lead Bilingual Teacher
Robin grew up eating pupusas, masala dosa, and homemade pizzas. Her love of food later extended into her work as a program manager for a food education program with communities on the occupied lands of the Piscataway people, and the Nacotchtank or Anacostan people, also known as Takoma Park. Other roles in the food system as a producer, educator, and organizer have given Robin insights into the disparities in the food system, and she is excited to hype the importance of vegetables to young folks and their communities.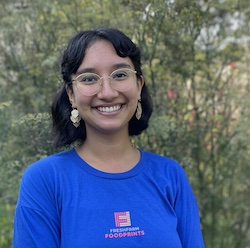 Soleil Ephraim, FoodPrints Lead Teacher & Program Assistant
Soleil is passionate about social/emotional learning and food justice. She believes that FoodPrints encourages people to develop a stronger connection to themselves, their communities, and land through cooking and gardening.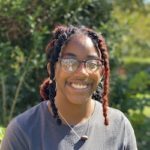 Vonnie Love, FoodPrints Lead Teacher
With experience teaching science to young children and helping middle school students experience problem solving to support their achievement in school, Vonnie has seen the amazing things youth can do – and she strives to help students realize their full potential.
Walter Sharon, FoodCorps Service Member
Walter became curious about food systems largely by accident during the pandemic, and in the years since has worked a number of positions in agriculture and education. He's excited to combine his experience in farming and teaching with a passion for local food systems for FoodPrints, but more importantly excited to learn a great deal from the rest of the team at FRESHFARM!
---
FoodPrints Consultants
Katie Kersetter, FoodPrints Evaluation Consultant
Katie began working with FoodPrints after studying how schools work to meet students' social, emotional, and material needs and the challenges they face in doing so. Katie values the opportunity to partner with FoodPrints teachers and staff to investigate the ways that FoodPrints enhances students' academic, nutrition, and socio-emotional learning.
Margie Sollee, FoodPrints Volunteer
Margie grew up in a food culture where vegetables were hidden under cream of mushroom soup and cheese — the consequences of which were health problems in people around her. Margie firmly believes that food is medicine and teaching children when they are young to enjoy the taste of fresh fruits and vegetables is vital to the health of the next generation.
---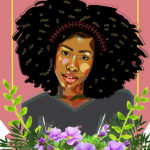 In Remembrance of Shana Donahue
Through our work, we honor the legacy of our beloved colleague, Shana Donahue, who passed away unexpectedly in spring 2020. Shana's commitment to racial equality and justice in the District had a profound impact on all of us. In memory of her commitment, we launched the Shana Donahue Memorial Fund for Future Food Educators.
In Remembrance of Barbara Percival
As a volunteer, Barbara co-developed FRESHFARM's FoodPrints program with FRESHFARM Co-founder, Bernie Prince and Director of Education, Jenn Mampara. Barbara began her career as a Constitutional lawyer, but she had such a deep passion for sharing the wonders of the natural world with children that she spent the last twenty years of her life volunteering almost full time as a Master Gardener. As the FoodPrints program grew to schools across the city, Barbara was integral to the work of designing, building, and nurturing so many of our gardens, and for training our team of teachers to be confident garden managers. She leaves behind a legacy of service and generosity that has enriched so many of our lives and for which we will always cherish her.