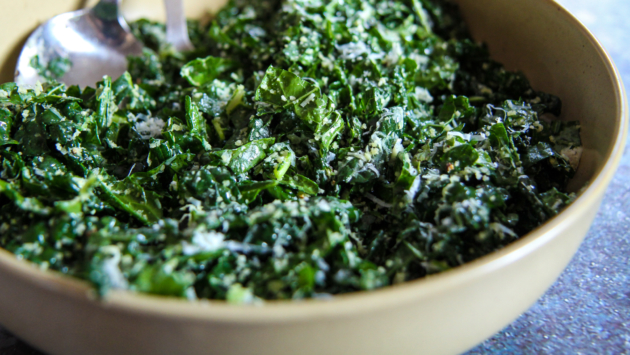 Ingredients:
2 bunches lacinato/dino kale, stems removed
1 garlic clove, peeled and minced
1/2 cup extra virgin olive oil
1/4 cup lemon juice (about 2 lemons)
1/2 tsp. salt
1/4 cup plain bread crumbs (optional)
1/4 – 1/2 cup finely grated Parmesan cheese OR nutritional yeast (optional)
Equipment:
Cutting board
Kitchen knife
Large bowl
Measuring cups and spoons
Jar with lid OR container for dressing
Directions:
Wash and prepare the produce by removing stems, slicing, peeling or mincing them as noted in the ingredients list.
Stack a few kale leaves at a time atop one another, roll into a cylinder and then cut into strips and put in a large bowl.
Prepare the dressing by combining the olive oil, lemon juice, garlic and salt in a jar with a lid (or another container) and shake or mix thoroughly.
Pour the dressing over the kale and toss well to completely cover the leaves. You can also use clean hands to massage the dressing into the leaves.
Let salad sit for at least 5 minutes so that the lemon juice can tenderize the kale leaves. Sprinkle with the bread crumbs and cheese and toss to mix.
Note: This salad stores well in the fridge, so make extra and take it for lunch tomorrow!