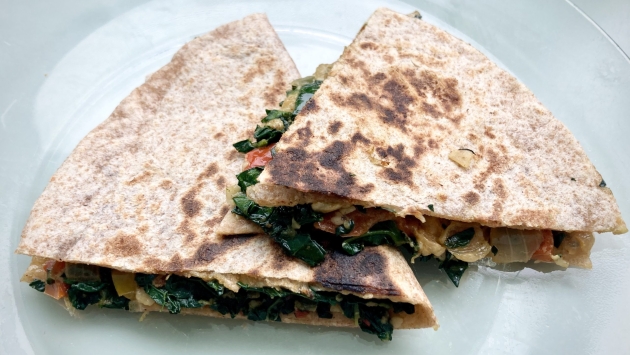 Ingredients:
1 small-medium onion, peeled and diced
1 cup bell peppers, cored and diced
2 garlic cloves, peeled and minced
1 large bunch kale, stems removed and chopped into bite-size pieces (about 4 cups)
½ tsp. dried oregano
1 tsp. chili powder
2 tsp. ground cumin
3 tbsp. cooking oil
¼ tsp. salt
⅛ tsp. ground black pepper
1 – 1½ cups grated sharp cheddar cheese
6 tortillas
Optional garnishes: Pico de Gallo, Cilantro Lime Dressing, sour cream, cilantro
Equipment:
Cutting board
Kitchen knife
Measuring cups and spoons
Small bowl
Cooktop
Large pot with a lid
Large plate
Medium skillet
Spatula
Directions:
Wash and prepare the fresh ingredients by peeling, dicing, coring, mincing, removing stems, and chopping as noted in the ingredients list.
In a small bowl, mix together the dried oregano, chili powder, and ground cumin.
Heat the oil in a large pot with a lid over medium heat. Carefully add the onions and peppers to the pot, listening for the sizzling sound. Cook until the onions are soft and beginning to brown, about 10 minutes.
Toss in the garlic, spice mixture, and salt and black pepper. Stir until they are fragrant and just beginning to brown and stick to the bottom of the pot, about 2 minutes.
Add the kale and mix well. Cover and cook for about 2 minutes, stirring frequently to prevent sticking. Add a sprinkle of water if needed.
Remove the pot from the heat and add the cheese. Stir to combine.
Heat a skillet over medium heat. Prepare each quesadilla by placing one tortilla on a plate and adding ½ cup of the kale filling to one side. Fold the other side over the filling to make a half moon shape. Repeat with the remaining tortillas and filling.
Use a spatula to carefully transfer each tortilla to the preheated pan and cook for 1-2 minutes on each side.
Serve with toppings of your choice.