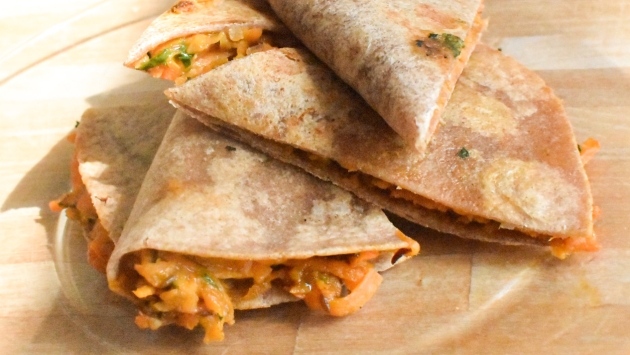 Ingredients:
3 medium sweet potatoes, peeled and grated (about 5 cups)
1 medium onion, peeled and finely chopped
2 garlic cloves, peeled and minced
½ cup fresh cilantro, finely chopped
½ tsp. dried oregano
1 tsp. chili powder
2 tsp. ground cumin
5 tbsp. cooking oil
½ tsp. salt
¼ tsp. black pepper
2 cups grated cheese
10 medium size tortillas
Optional toppings:
Salsa, sour cream
Equipment:
Peeler
Grater
Cutting board
Kitchen knife
Measuring cups and spoons
Small bowl
Large pot with lid
Spatula
Large plate
Medium skillet
Directions:
Wash all the vegetables, making sure to thoroughly scrub the sweet potatoes. Then peel, grate, chop, and mince them as noted in the ingredients list.
In a small bowl, combine oregano, chili powder and cumin to create a spice mix.
In a large pot with a lid, heat 3 tbsp. of oil over medium heat. Carefully add the onion, listening for the sizzling sound. Cook until soft and beginning to brown, about 5 minutes.
Add the spice mix and garlic to the pot and stir for 30 seconds, until they are fragrant.
Add the grated sweet potatoes, remaining 2 tbsp. oil, salt and pepper to the pot. Stir all the ingredients together and then cover with a lid. Cook for about 10 minutes, stirring occasionally to prevent sticking.
Remove the pot from the heat and add the cilantro and cheese. Stir to combine.
Heat a medium skillet over medium heat. Prepare each quesadilla by placing one tortilla on a plate and adding ½ cup of the sweet potato filling to one side. Fold the other side over the filling to make a half moon shape. Repeat with the remaining tortillas and filling.
Use a spatula to carefully transfer each tortilla to the preheated pan and cook for 1-2 minutes on each side.
Top with salsa and sour cream if you like.
Adapted from The Moosewood Restaurant Cooks at Home