FRESHFARM believes that fresh, healthy, and local food should be accessible to all, regardless of socioeconomic background.

FRESH Match
We broaden access to fresh fruits and vegetables through FRESH Match, our nutrition assistance program. All FRESHFARM markets accept SNAP/EBT, P-EBT, WIC and Senior FMNP checks. The FRESH Match program provides a dollar-for-dollar match on all federal benefits spent at market, helping shoppers take home more fresh and nutritious produce and local foods.
How to Use FRESH Match
If you are a SNAP/EBT?P-EBT participant:
Go to the information tent at a FRESHFARM market.
Swipe your EBT card and choose the amount you'd like to spend.
Shop for fresh food with your SNAP coupons.
Get a dollar-for-dollar match (unlimited!) on the EBT amount you spent to spend on SNAP-eligible goods at the market!
If you are a WIC or SENIOR FMNP participant:
Spend your WIC or Senior FMNP checks with a farmer at a FRESHFARM market.
Get a receipt from the farmer with the amount you spent.
Go to the information tent and show your receipt to market staff.
Get match coupons in the amount you spent (dollar-for-dollar match, $10 maximum).
Use the match coupons on fresh produce at the market!
---
Cómo utilizar FRESH Match
Si eres participante de SNAP/EBT/P-EBT:
Ve a la tienda de información del mercado de FRESHFARM.
Desliza tu tarjeta EBT y elige la cantidad que desearías gastar.
Compra en los mercados por productos frescos.
Obtenga la igualación de un dólar por dólar (¡ilimitada!) por la cantidad que gaste en EBT en el mercado, para utilizarla en productos elegibles en SNAP.
Si eres participante de WIC o adulto de la tercera edad FMNP:
Gasta tu WIC o tus cheques de FMNP con un granjero en los mercados de FRESHFARM.
Obtén un recibo del granjero o vendedor.
Ve a la tienda de información y muestra tu recibo al personal del mercado.
Obtenga cupones para coincidir con la cantidad gastada (igualación de dólar por dólar, $10 máxima).
Utiliza los cupones por productos frescos del mercado!
---
Participating FRESH Match Markets:
For a full list of FRESHFARM markets, visit our market page.
Mount Pleasant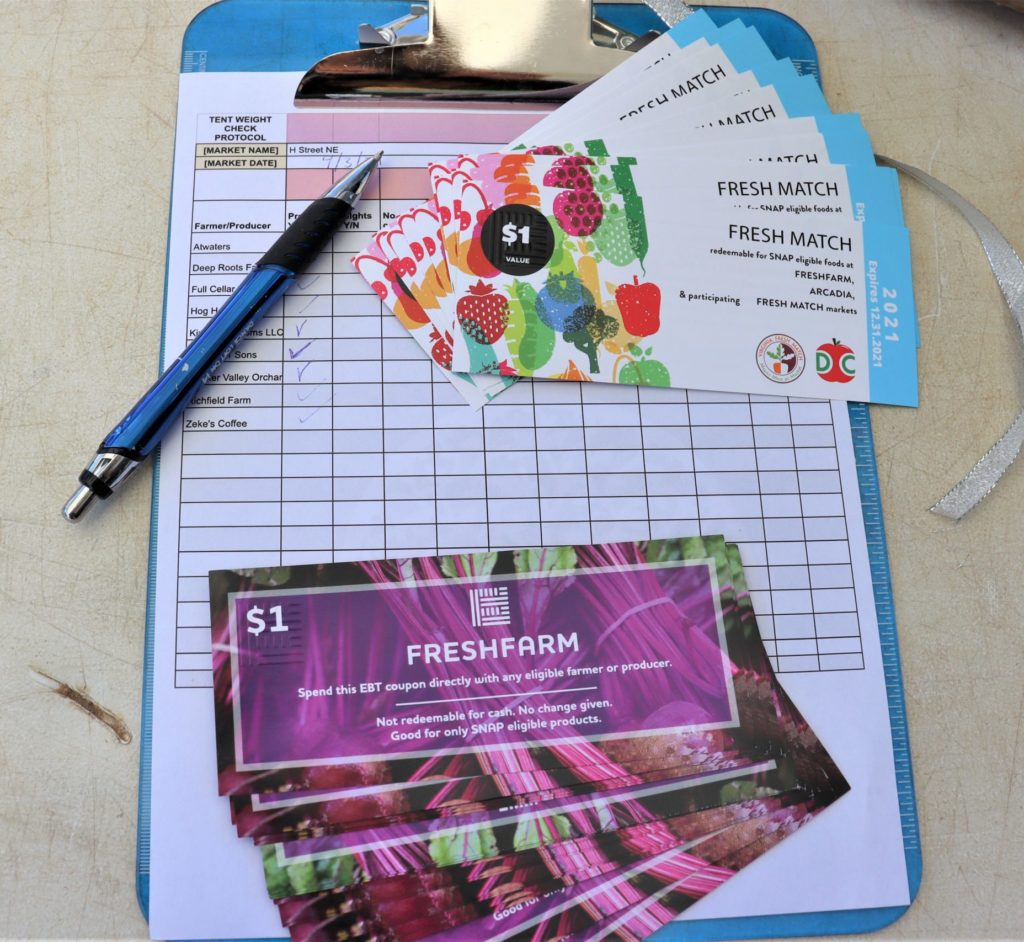 Saturdays, 9am – 1pm (10am – 1pm in winter months)
year-round
Lamont Plaza
3258 Mt Pleasant St NW
Washington, DC 20010
14th & U
Saturdays, 9am -1pm
May 1 – Nov 20, 2021
In front of the Reeves Center
1401 U Street NW
Washington, DC 20009
Park View
Sundays, 10am – 2pm 
year-round
Hook Hall
3400 Georgia Ave NW
Washington, DC 20010
Bloomingdale
Sundays, 9am – 1pm
May 2 – Dec 19, 2021
In front of Big Bear Café
101 R Street NW
Washington, DC 20001
Common Good City Farm
Wednesdays, 3:30 – 6:30pm
April 14 – November 17, 2021
300 V St NW
Washington, DC 20001
Arcadia Markets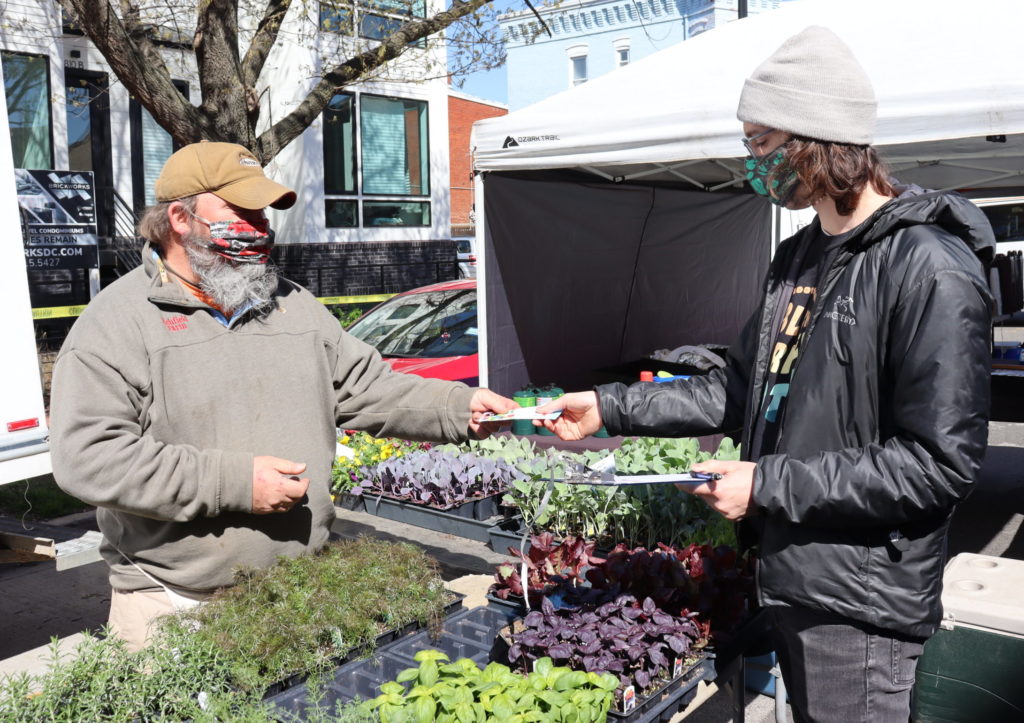 Wednesdays, 3-6pm (alternating each week):
Fridays, 3-6pm (alternating each week):
Saturdays, 10am-1pm (alternating each week):
---
If you think you might be eligible for SNAP benefits, get more information on how to apply:
> DC: DC Hunger Solutions' Eligibility Quiz; (202) 640-1088
> Maryland: Maryland Hunger Solutions; (410) 528-0021
> Virginia: Capital Area Food Bank; (571) 482-4770
Reach out to your local office to apply for SNAP:
> Washington, DC SNAP offices
> Maryland SNAP offices
> Virginia SNAP offices
---
Other FRESHFARM Food Access & Nutrition Assistance Programs
Produce Plus: FRESHFARM partners with DC Greens and the DC Department of Health to bring the Produce Plus Program to our markets in Washington DC. This innovative program, made available by both public and private funding, puts more fresh fruits and vegetables on the table for local families in need, and more money in local farmers' wallets. Any DC resident who is enrolled in a qualifying program (SNAP/Food Stamps, WIC, Senior Grocery Plus/SFMNP, Medicaid/QMB, SSI Disability, or TANF) is eligible to receive $10 in produce vouchers up to twice a week at participating farmers markets. Learn more about Produce Plus.
Free Summer Meals: Free Summer Meals are available during the summer months at the Columbia Heights Farmers Market because when school is out, thousands of kids who rely on school breakfast, lunch, and snacks for the bulk of their daily calories are at a heightened risk for food insecurity. Learn more about DC's Summer Meals program.
Veterans Farmers Market Partnership: FRESHFARM partners with the VA Hospital's Integrative Health and Wellness Unit and the Veteran Community Resource and Referral Center to connect Veterans and Veteran families at risk of diet-related disease to more fresh, healthy food. Veterans who complete nutrition courses at the IWG receive fresh food vouchers redeemable across our network of markets. The program encourages Vets, many of whom are seniors, to visit their local farmers market to find healthy food and community.