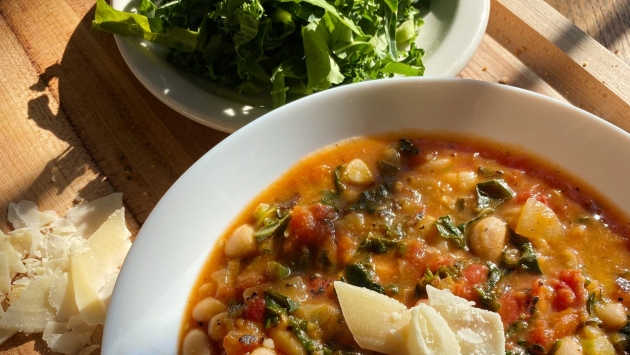 Ingredients:
4 tbsp. cooking oil (olive oil compliments the flavors well)
1 medium onion, peeled and chopped
2 medium potatoes, peeled and chopped into ½-inch cubes
1 bunch kale, stems removed and leaves finely chopped
1 tbsp. fresh or dried thyme
3 garlic cloves, peeled and minced
4 cups vegetable stock OR water + ½ tsp. salt
1 (14 oz.) can diced tomatoes, or 2-3 fresh tomatoes, chopped
1 (15.5 oz) can white beans OR ½ cup dried white beans prepared with the Basic Cooked Beans recipe
Red wine vinegar (optional)
Salt
Black pepper
Pinch of sugar (optional)
A few tbsp. of minced, fresh herbs, such as parsley or basil (optional)
Parmesan cheese OR yeast flakes (optional)
Equipment:
Cutting board
Kitchen knife
Peeler
Cooktop
Large stock pot
Measuring cups and spoons
Cooking spoon
Directions:
Wash all fresh produce and then chop, peel and mince them as noted in the ingredients list.
Heat oil in a large stock pot over medium high heat. Add onion and sauté for 2 minutes.
Add the potatoes and cook for about 5 minutes, stirring frequently until the veggies just begin to brown. Don't worry if a crust starts to form on the bottom of the pot.
Add the kale and stir well to coat the leaves with oil. Add garlic and thyme and stir for 1 minute.
Slowly add the vegetable stock, tomatoes and beans to the pot. Use a kitchen spoon to thoroughly stir the pot.
Bring the pot to a boil then turn down the heat and simmer until the vegetables are tender, about 10 minutes.
Season with salt, pepper and red wine vinegar if using. Add a pinch of sugar if the stew tastes too acidic.
Serve with fresh herbs and Parmesan cheese sprinkled on top if desired.