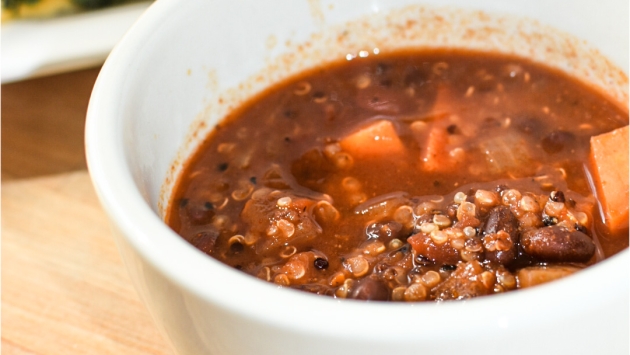 Ingredients:
2 tbsp. cooking oil
1 medium-large sweet potato, peeled and chopped into bite-sized pieces
1 large onion, peeled and diced
3 cloves garlic, peeled and minced
1 15 oz. can black beans OR ½ cup dried black beans prepared with the Basic Cooked Beans recipe
½ cup quinoa
2 tbsp. chili powder
½ tsp. ground cumin
½ tsp. salt
3½ cups vegetable stock OR water
1 14.5 oz. can diced tomatoes
Juice of 1 lime
Optional garnishes: Avocado, fresh cilantro, shredded cheese, sour cream, salsa
Equipment:
Peeler
Cutting board
Kitchen knife
Measuring cups and spoons
Large pot with lid
Large wooden spoon
Strainer
Pot holders
Directions:
Wash all the vegetables, making sure to thoroughly scrub the sweet potatoes. Then peel, chop, dice, and mince them as noted in the ingredients list.
Measure the quinoa into a bowl, cover with water and give it a stir. Pour into a strainer to remove the liquid, tap the rinsed quinoa back into the bowl and set aside.
Empty the can of beans into a strainer, give them a quick rinse and set them aside.
Heat the oil in a large pot over medium-high heat. Carefully add the sweet potato and onion, listening for the sizzling sound. Cook for about 10 minutes, until the onion is translucent and beginning to brown.
Add the garlic, chili powder, cumin, and salt. Stir until the spices are fragrant, about 30 seconds.
Add the vegetable stock, diced tomatoes, black beans. Stir everything together and bring the mixture to a boil.
Once boiling, cover the pot and reduce the heat to a simmer for 10 minutes. Remove the lid, add the quinoa, stir well to incorporate, cover again.
Cook for about 20 minutes until the quinoa is fully cooked and the sweet potato can be easily pierced with a fork.
Remove the pot from the heat and add the lime juice. Season with salt as needed.