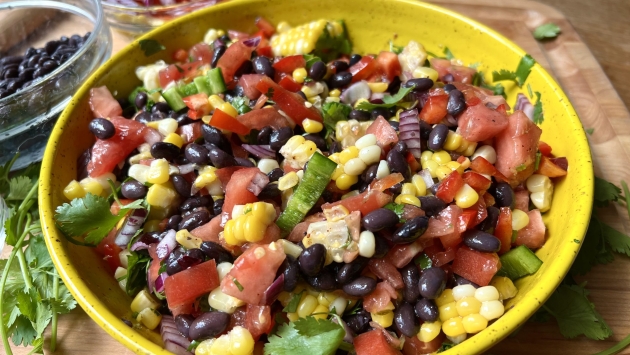 Ingredients:
2 cups sweet corn, fresh OR frozen
½ onion, peeled and diced
1 red bell pepper, cored and diced
1 medium tomato, diced
1½ cups fresh cilantro leaves, roughly chopped
*½ jalapeño, diced (optional)
1 lime, zested and juiced
2 15 oz. cans black beans, drained
½ cup extra virgin olive oil
½ tsp. ground cumin
½ tsp. chili powder
½ tsp salt
1 tbsp. honey (optional)
Equipment:
Cutting board
Kitchen knife
Juicer OR fork
Microplane
Can opener
Measuring cups and spoons
Large bowl
Jar with a lid OR other container for dressing
Directions:
Wash and prepare the produce by peeling, dicing, coring, chopping, zesting and juicing them as noted in the ingredients lists.
In a large bowl, mix together the corn, onion, bell pepper, tomato, cilantro, jalapeño and black beans.
Combine the olive oil, cumin, chili powder, lime zest and juice, salt and honey in a jar with a lid (or another container) and shake or mix thoroughly.
Pour the dressing over the bean mixture, mix well, and adjust seasonings to taste.
Note: This recipe is a spin on a dish popularly known as Cowboy Caviar or Texas Caviar. That dish may have been inspired by the traditional African American dish Hoppin' John, along with ingredients more common in traditional Mexican cuisine.