FoodPrints
Welcoming Kids to the Kitchen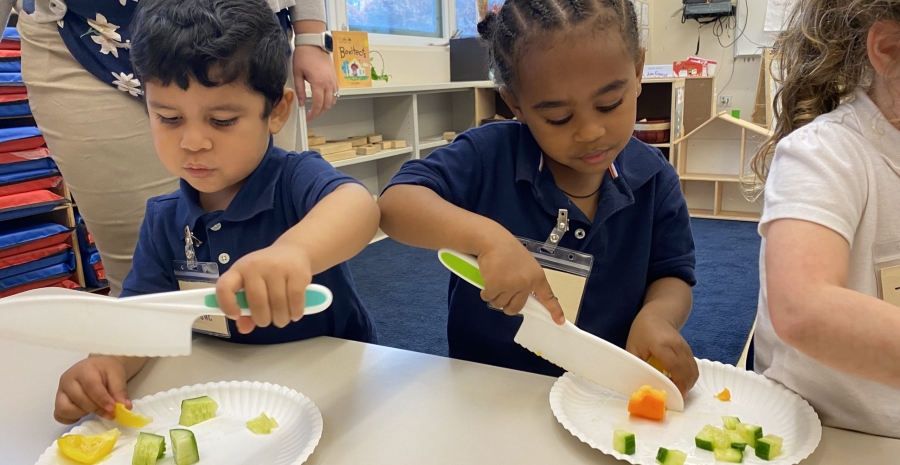 Cooking with kids may sound daunting. But it can be both a fun family activity and have positive, long-lasting impacts on children's health.
FoodPrints, FRESHFARM's nutrition education program, shows that when kids are given the chance to harvest and prepare healthy foods, they are more likely to eat them. What's more, these early exposures to cooking and eating nutritious foods positively inform food choices later in life. Read: From FoodPrints Student to Intern – Aaron Scott's Story
Winter holiday celebrations often center around cooking and enjoying food together. And for many households, this means that kids are out of school and parents are looking for screen-free activities. Why not invite your kids into the kitchen to help prepare celebratory meals?

We checked in with Hannah Schiff, FoodPrints Instructional Coach & Program Manager, for tips on successful cooking with kids.
FRESHFARM: What steps can parents take to get their kids involved in cooking at home?
Hannah Schiff: You want this to be a low-pressure activity, so set your child up with simple tasks like ripping kale into bite-size pieces, breaking florets off a head of broccoli or cauliflower, peeling carrots, or slicing cucumbers and peppers.  Kids — especially little kids — really love scrubbing veggies in a sink full or bowl full of water; it is kind of like water play with the benefit of exposure to nutritious food at the same time. Store your child's kitchen tools in a spot that is easily accessible. When you say, "It's time to cook!" your child knows where to get their cutting board and knife, and they have more ownership over the cooking process. Have a stool in the kitchen so your child can stand with you at the counter or stovetop, and reach for ingredients. Another idea is to help your child become your Sous Chef. Empower them as an important "assistant" who gets you ingredients from the cupboard or fridge, or reads you the recipe. Your child can also be a clean-up helper with a small set of his or her own tools (a small broom/dustpan, a spray bottle of soap and water, and a rag).
FRESHFARM: Are there activities outside of the kitchen that you recommend?
Hannah: Offer to let your child plan the menu for dinner once a week, then help them make it happen by making a list of ingredients together and even shopping together, if possible. And remember: practice, practice, practice! The first few tries cooking together may be a bit frustrating or messy. But establishing routines for cooking together can make this a fun, enriching family activity. Watch: FoodPrints Essential Cooking Skills Videos. For more ideas outside the kitchen, we also have a collection of FoodPrints activities, FoodPrints Anywhere, that work from home and incorporate art, gardening, and learning together. 
FRESHFARM: Do you have recommendations for kid-friendly tools?
Hannah: We like Curious Chef Knives. They are made with nylon and provide a safe way for kids to develop knife skills and help in the kitchen without the fear of accidents. For scrubbing vegetables, get them a small scrubber for tiny hands.  For grating, we recommend getting safety gloves. If your helper is excited to peel and chop onions, but wants to avoid tears, swimming goggles offer great (and silly) protection. Make: FoodPrints Apple Beet Carrot (ABC) Salad
FRESHFARM: What tips do you have for getting picky eaters to try new foods?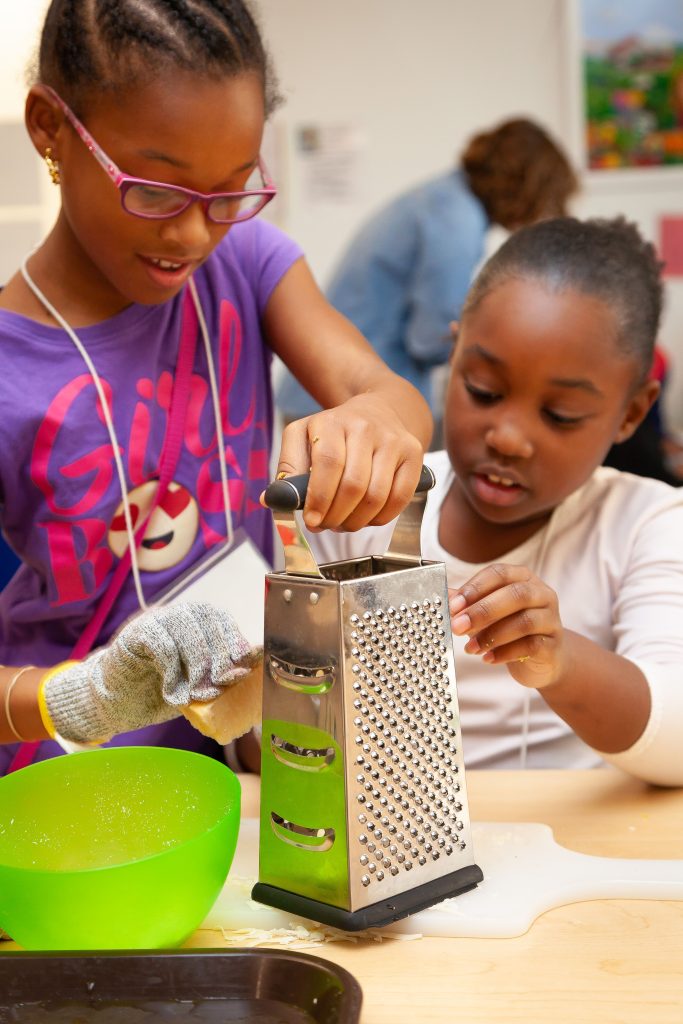 Hannah: In the Food Prints classroom, we encourage kids to use all five senses to explore the food on their plates. Explore: FoodPrints Lesson about the senses. In FoodPrints, students are never required to eat what we prepare together, and we emphasize that they can experience cooking and the food through their other senses (smell, touch, listen, look). Note that it often takes 15-plus exposures to a new food before a reluctant eater will dive in! You can always start with a small amount on a plate, and if your sous chef isn't interested, don't sweat it.
FRESHFARM: What tips do you have for teaching little ones about food safety/cross-contamination in terms children can understand?
Hannah: We have two activities we do in the classroom that translate really well to home. One is hand washing the FoodPrints way. It is six simple steps (pictured) and really enforces good hygiene habits. The final step is really important: to ensure that students keep their hands clean after they are washed, FoodPrints teachers ask them to go to the cooking area with their hands clasped together in front of them. Some teachers call this the FoodPrints hand hug. This will help students to refrain from touching their faces or other things that may be contaminated.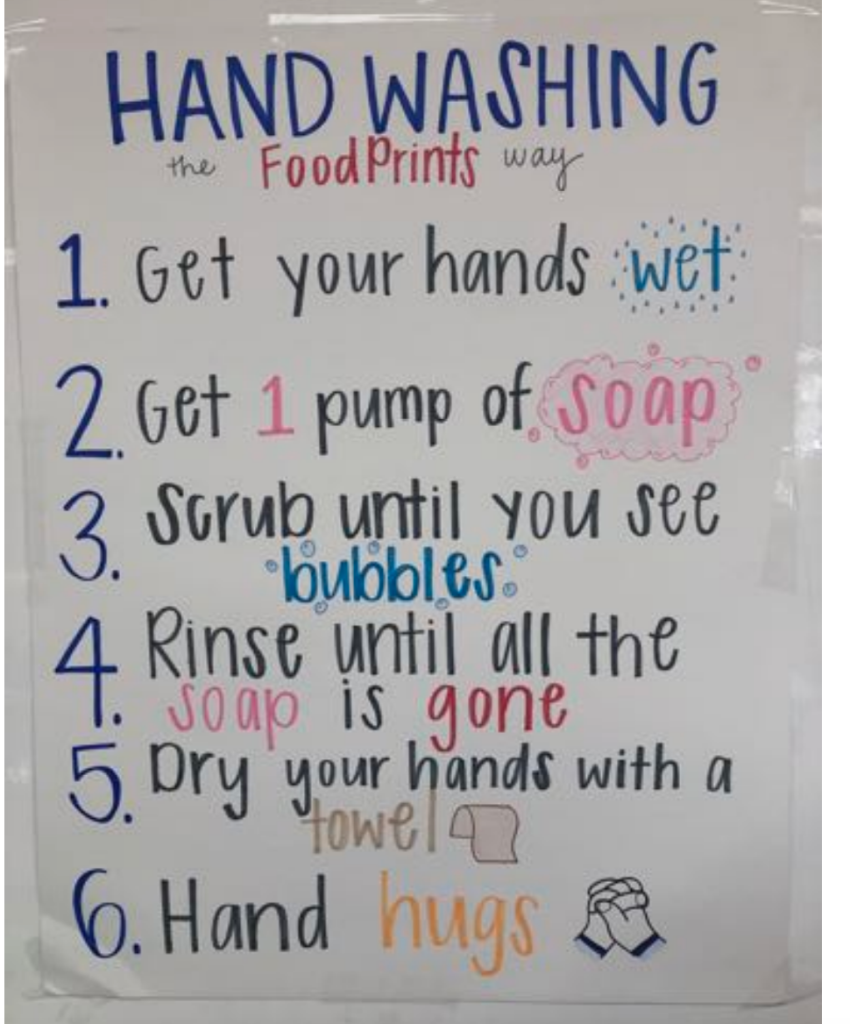 It is important to emphasize that germs are so tiny that you need a microscope to see them, which is why it is so important to scrub carefully. The second activity is to use flour to demonstrate how easily germs travel:
Put some flour on your hands, and explain that the flour represents germs that could make us sick.

S

hake hands with someone else who then shakes hands with someone else.

W

ipe your hands on your pants, or touch a kitchen tool, or put your hands on your hair or face, to show how quickly the flour — the germs — can travel around the kitchen!
To read the full details on FoodPrints handwashing and this investigation on learning about germs, explore our Welcome to FoodPrints lesson. 
FRESHFARM: What types of dishes are easiest to make with kids?
Hannah: Start with flexible recipes that are easy to eyeball, where you can add or subtract ingredients and get creative, and can make "mistakes" and it's ok. Some great FoodPrint starter recipes include Colorful Kale Salad, Plant Part Pasta, Bean and Vegetable Chili, Apple Crunch Salad, and Simple Veggie Stir Fry.  Then you can gradually work up to more multi-step recipes like Granola Bars, Homemade Crackers, and Sweet Potato Quesadillas.