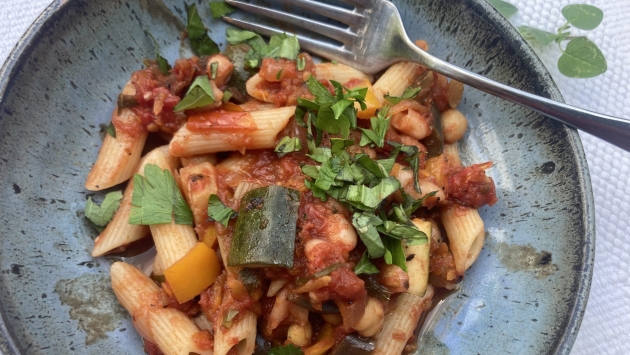 Ingredients:
1 lb. pasta
1 medium onion, peeled and diced
1 rib of celery, diced
1 large carrot, peeled and coarsely grated
3 cloves garlic, peeled and minced
1 bell pepper, cored and finely chopped
1 medium eggplants, diced
1 medium zucchini, diced
¼ cup fresh parsley leaves, minced
¼ cup fresh basil leaves, minced
1 (28 oz.) can crushed tomatoes OR 12 medium tomatoes, roughly chopped
1 15 oz. can garbanzo beans OR northern white beans, drained
2 tsp. dried oregano
½ tsp. crushed red pepper flakes
1 tsp. salt
¼ ground black pepper
4-5 tbsp. cooking oil (olive oil compliments the flavors well)
Equipment:
2 Large pots
Cooktop
Strainer
Cutting board
Kitchen knife
Can opener
Peeler
Box grater
Measuring cups and spoons
Bowls
Large metal spoon
Directions:
Wash and prepare the fresh ingredients by peeling, dicing, grating, mincing, coring and chopping them as noted in the ingredients list.
Heat 2 tbsp. oil in a large pot over medium heat.
Add the chopped onions, listening for the sizzling sound. Cook for about 10 minutes, stirring occasionally, until translucent.
Add the celery and carrots. Cook about 10 minutes, stirring occasionally, until onions start to brown.
Stir in the garlic, peppers, ½ of the fresh parsley and basil, the dried oregno, red pepper flakes, salt and black pepper. Cook for 5 minutes.
Add the eggplant and cook for 5 minutes, adding an additional 1 tbsp. of oil if the vegetables are sticking to the pan.
Add the zucchini and cook for an additional 5 minutes.
Carefully add the tomatoes into the pot and stir well to incorporate and coat the vegetables. Then add the beans and bring to a low simmer. Cook for about 20 minutes, stirring occasionally, until the vegetables are tender.
In a separate pot, cook the pasta according to the package directions. Drain and place in a large bowl, toss with 2 tbsp. of oil, set aside.
Taste to check the seasonings before combining with the pasta and adding the rest of the fresh herbs.
Note: This recipe can easily be doubled for a larger group.