FoodPrints
FRESHFARM at 25 Years: From FoodPrints Student to Intern – Aaron Scott's Story
To celebrate our 25th anniversary, we will be sharing stories throughout the year from our community of farmers, producers, FoodPrints teachers and students, shoppers, gleaners, and beyond about FRESHFARM. This month we check in with Aaron Scott, a Washington, DC native and college sophomore who was a FoodPrints student in 1st grade and returned last summer to be a FoodPrints intern. 
Aaron Scott was a 1st grade FoodPrints student at Watkins Elementary School in 2009. Thirteen years later, he returned to the classroom as a FoodPrints intern. Aaron has fond memories of being out in the garden and cooking in school. Now as a student at the University of North Carolina studying public policy and environmental studies, these memories lead him back to FoodPrints, but with a different perspective. We talked to Aaron about what FoodPrints meant to him as a student and as an intern this summer.
FRESHFARM: What impact did FoodPrints have on you?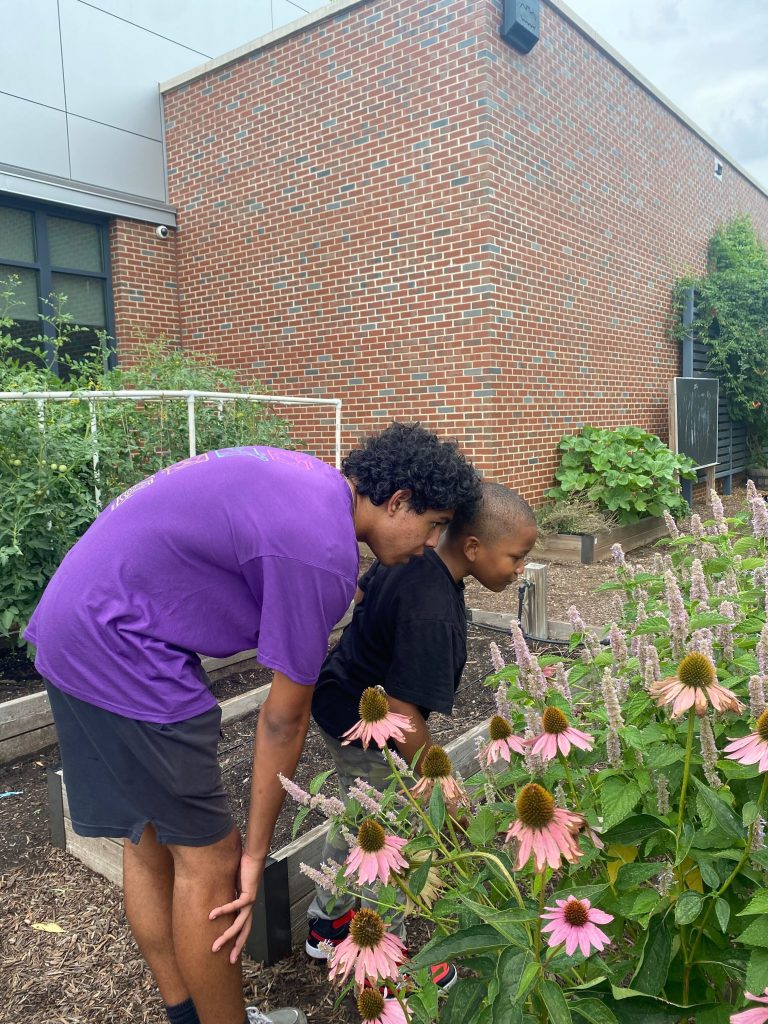 Aaron: When I think back on FoodPrints I really enjoyed the simplicity of it. Seeing how the work you put into growing food, picking it, and making simple recipes has stayed with me. Specifically making bread and butter with radishes. It was the craziest thing to think: 'I grew it and now I am eating it!' I remember begging my mom to buy the ingredients on the way home that day. Whenever I cook, my immediate thought is how can I incorporate a vegetable, make this meal more nutritionally beneficial to me. FoodPrints really taught me the bare bones of cooking and gave me that foundation of confidence – now I can cook whatever! My mom cooks a lot and I like to cook with her. We still have the original FoodPrints book of recipes too, and make the veggie chili and kale salad often.
FRESHFARM: What impact has FoodPrints had on your college studies and what you'd like to do after completing your degree?
Aaron: FoodPrints has profoundly impacted my career interests and honestly my values in what I look for in a professional career. I feel like I got a solution to a problem before I knew about the problem in FoodPrints. Having FoodPrints provide an example of how healthy food can be prepared deliciously and easily was impactful for me. Learning how to grow your own food felt like learning how to support yourself. It's such a barrier when people don't have experiences that show them how nutritious food can be delicious and growing your own food is possible. Nutrition education and exposing young kids to the power of nutrition, growing their own food, being sustainable in consumption of food is such a powerful tool in terms of remedying a lot of public health issues in our society. Now I am interested in learning how Public Policy can focus on and correct these inequalities.
FRESHFARM: Why did you want to intern with FoodPrints?
Aaron: I wanted to intern with FoodPrints because it's such a good example of an effective policy solution to a public health issue. I wanted to see what made it so effective – and it was clear when talking to students. It's clear it has an impact on the way they view food like it did for me. You have to solve the problem before it starts; it's what I'm interested in about public policy. I know there are essential people investing funds into these programs and people investing work on the ground, with the students. I wanted to be with the students. Education is the best way to do problem-solving, and I saw that by talking to the students. Making sure kids value nutrition and prioritize it can help change culture around what to eat.
FRESHFARM: What was your experience working with FoodPrints this summer?
Talking to students, I realized the impact of FoodPrints wasn't an individual experience. It was bigger than just me.
Aaron: Interning with FoodPrints was wonderful. I love working with kids. I told the students I was also in FoodPrints when I was young. I wanted to get kids to realize they can do all these things themselves too – there was nothing special about me, I just had the same opportunities they were getting now through FoodPrints. Talking to students, I also realized the impact of FoodPrints wasn't an individual experience. It was bigger than just me. Seeing that students were having the same excitement I felt at their age was great.
FRESHFARM: Looking back, how has FoodPrints impacted where you are right now?
Aaron: The program has grown so much since I was a kid. Seeing the classroom kitchens, tools, and equipment involved in classes now would have been so cool to have as a kid. I'm glad it's getting more of the funding it deserves. I may see myself teaching in the future now; I've been thinking about it a lot since interning. While I'm thinking about a Master's in public policy at my school, I'm going through a little teaching moment right now, or at least something with youth interaction. Working with FoodPrints, I came to work excited and left every day excited.