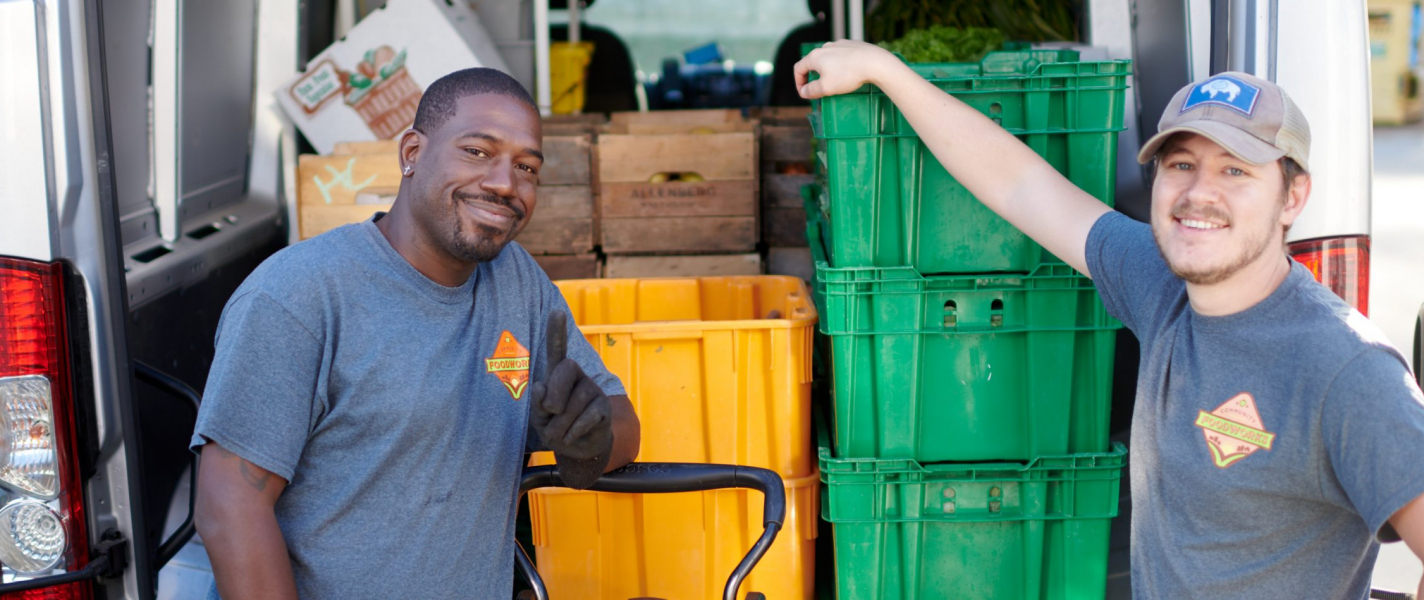 The Pop-Up Food Hub is an innovative model of local food distribution that triples the potential of the farmers market. By tapping into the convening power of the farmers market, FRESHFARM facilitates equitable access to local food products for dozens of partners across the city while generating new income for local producers. Here's how it works:
Supply and Demand at the Market and Beyond
The farmers at our markets have more to offer than just a few tables of produce. Back on the farm, they have fields of fruits and vegetables that need to find a healthy home. There are dozens of interested buyers that are eager to incorporate fresh food into their programming– such as daycare facilities, recreation centers, WIC and health clinics, mental health programs, and teaching gardens. Many of these sites serve marginalized residents who experience disproportionately low access to fresh, healthy food. Despite their need, many of these community organizations can't meet the order minimums for conventional suppliers. They might also lack the time, staff, and training needed to think and buy local.
Using the Market to Gain Efficiency and Boost Sales
FRESHFARM partners with these community-based buyers to meet local food needs of their clients, and streamline the process so that choosing local can be as easy as possible. After receiving their weekly orders, we place much larger, consolidated orders with our farm partners. These producers then harvest and transport into the city on their regularly scheduled market day. This allows them to make more efficient use of the overhead cost of market participation while also growing and diversifying their sales.
Market Share: The most equitable CSA in the region
The Pop-Up Food Hub is also how we fulfill the Market Share, FRESHFARM's weekly fruit and veggie subscription program. The Market Share is open to everyone, and offers subsidies to those who shop with food benefits, like SNAP and WIC, or are facing food insecurity. Learn more and sign up here.
Receive – Pack – Deliver
Vendors arrive at the market with their wholesale delivery on board. The FRESHFARM staff and volunteers receive these bulk containers, pack them into their corresponding orders, place them in our vans, and deliver directly from the market. At the end of the day, the market packs up and the farmers go home, just like they would for any farmers market.

Local Food is Everywhere
Now with the Pop-Up Food Hub, hundreds of pounds of local food have been distributed throughout the community. Residents and organizations have better access to fresh foods. Farmers uncovered new revenue they couldn't reach before. Coupling these bulk orders with market participation rounds out the Pop Up Food Hub model: by coupling wholesale and retail purchasing, FRESHFARM can create financially viable farmers markets in high-need areas that need healthy retail options, but where individual purchasing power alone cannot sustain the market.
FRESHFARM partners with community-based buyers to meet local food needs of their clients, and streamline the process so that choosing local can be as easy as possible. If your organization is interested in incorporating the highest quality, local produce into your programming, please email our Pop Up Food Hub team, and we will be in touch within 48 hours.