We encourage families to cook and enjoy FoodPrints recipes together at home.
Students bring home their enthusiasm for fresh produce and tasty ways to prepare them in FoodPrints recipes. Including kids in the cooking process is one of the best ways to encourage them to eat fruits and veggies and to try new foods. Cooking together at home is a great way to build skills and habits for a lifetime of healthy eating — and it's a wonderful time to bond as a family.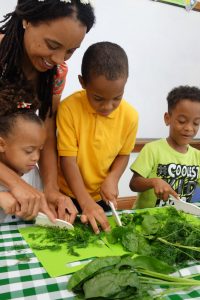 Here are some tips to make it easier to cook with kids:
Be ready for kids to ask a lot of questions – and make a mess. That's part of the process of learning to cook and eat new foods – and it also builds stronger bonds with adults helping them.
Give your child simple tasks: wash produce, peel carrots, tear lettuce or kale, grate cheese or carrots, whisk or shake dressings in jars. They can measure the vegetables or spices for your recipe, or figure out how many cups of lettuce come from one head of lettuce. Kids love stirring or mixing everything together.
Make your child's kitchen tools easily accessible. When you can say "it's time to cook!" your child knows where to get their cutting board and child-safe knife, measuring spoons, or other tools. That helps them have more ownership over the cooking process.
You can teach knife safety if you don't have child-safe knives by working one-on-one with your child, guiding younger hands with your own. Go slowly, emphasize safety, and start with something easy like bananas and berries.
Make your child a Sous Chef – an important "assistant" who gets you ingredients from the cupboard or fridge, or reads you the recipe. Your child can also be a clean-up helper with a small set of his or her own tools (a small broom/dust-pan, a spray bottle of soap and water, and a rag).
Offer to let your child plan the menu for dinner once a week, then help them make it happen.
Put a stool in the kitchen so your child can stand with you at the counter or stovetop, or reach ingredients.
Practice, practice, practice! The first few tries cooking together may be a bit frustrating or messy. But establishing routines, rituals, and expectations will lead to easier and fun family cooking and healthier eating.
My son has learned an appreciation of different flavors and foods including a willingness to try everything. He now loves to help cook at home!

Tarpan Parekh, parent at Peabody Early Childhood