FoodPrints Afterschool and Summer programming provide opportunities for students to engage in hands-on cooking and gardening experiences integrated with science, math, social studies, and literacy lessons beyond the school day.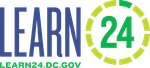 FRESHFARM's FoodPrints program has received grants from Learn24 which is administered by the United Way of the National Capital Area. The grants received have been used to support students in an after school and summer FoodPrints program in which they cook, garden, and learn together. Thank you to Learn 24 of the National Capital Area.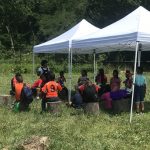 FoodPrints Summer provides students a range of joyful experiences that empower them to build a social-emotional skills toolkit that will help them succeed in school and beyond. Every afternoon for five weeks, students engage in hands-on activities in the areas of Cooking, Sports and Dance, Art, and Garden/STEM. Through these core elements, students build the social-emotional skills of Communication, Self-Expression, Teamwork, and Leadership.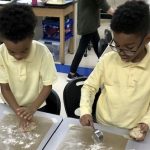 FoodPrints Afterschool centers its philosophy and activities around positive youth development. The program provides students a safe space and a variety of opportunities to build leadership skills and a sense of identity, well-being, and connection to leadership — as well as new skills and knowledge through cooking and gardening.
---
Social Emotional Learning & Youth Development Outcomes
The four pillars of FoodPrints Out of School Time programming (Self-Expression, Communication & Teamwork, and Leadership) are based on the social emotional well-being of our students and influenced by positive youth development outcomes.
In FoodPrints Summer and FoodPrints Afterschool, our students engage in art and gardening projects, cooking in groups, team building games, community service, hands-on academic lessons as well as youth-led teaching and decision making opportunities. This FoodPrints Out of School Time programming supports students:
Gain youth development outcomes in the areas of self expression, communication & teamwork, and leadership.
Build social-emotional well being in the areas of self management, joy, relationship skills, social awareness, and responsible decision making.