FoodPrints
FoodPrints' 17th Anniversary: Highlights from our School Year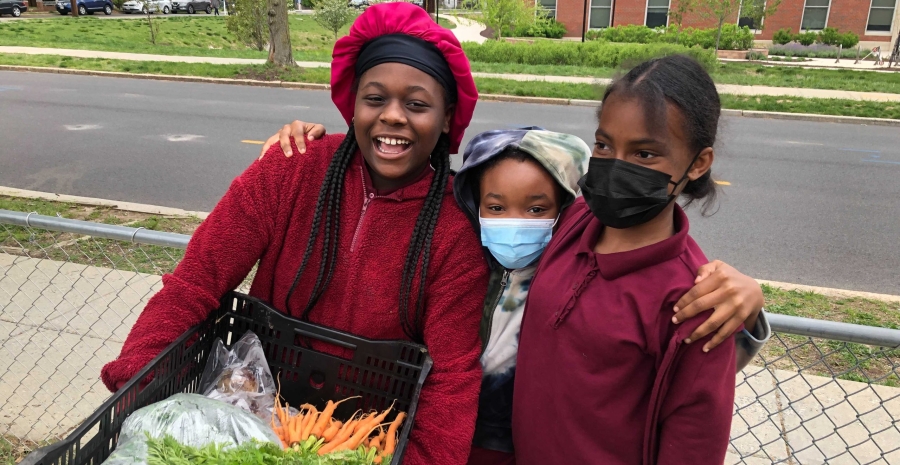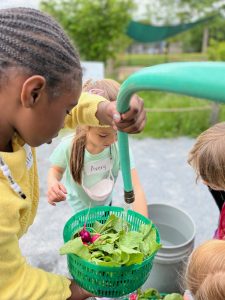 As FRESHFARM marks its 25th Anniversary, the FoodPrints program just wrapped up its 17th year of growing, cooking, eating, and learning with students across DC. Highlights of this year included developing innovative avenues for COVID-safe cooking and eating as well as expanding our reach beyond the classroom and focusing on food access and community engagement. By using FoodPrints education and outreach tools beyond schools to reach additional (and often underserved) stakeholders, we have strengthened FRESHFARM's whole/holistic food system approach of creating a sustainable and equitable food future in the region. We were also so proud to see our recently published FoodPrints Curriculum in action at 19 partner schools across 7 Wards of the city. As we reflect on this school year and look ahead to next, we are so grateful to all of the FoodPrints advocates in our school communities and beyond that support the continued growth of our program.
Increasing food access through markets at schools
At the intersection of food education and food access, FoodPrints explored more ways for students and families to access fresh and nutritious foods at our partner schools this school year.
At Truesdell, Whittier, and Payne elementary schools, FoodPrints hosted monthly fresh produce markets, at which students and their parents chose fresh, local produce to take home. Families chose from many of the same seasonal, delicious fruits and vegetables (along with recipes) that their students were cooking and eating in the FoodPrints classroom, creating ties between the classroom and home.
At a farmers market at Whittier this spring, families picked up fresh and local eggs, broccoli, kale, collard greens, and cherry tomatoes.
Middle school students at Francis Stevens shopped at a monthly model farmers market set up by our FoodPrints teacher, Ms. Vincent. Students "shopped" for all of the ingredients for a FoodPrints recipe, and then met online later that evening to cook and eat the recipe together from their kitchens at home.
We are excited to continue prioritizing food education and food access inside and outside the classroom next school year!
Growing Community Engagement through our CFE Program 
This year, we welcomed a team of Community Food Educators (CFEs) onto our staff. The team's focus is to develop strategies and ideas to help families that are part of our school communities and Early Childhood Education (ECE) centers encourage their children to try and enjoy fresh fruits and vegetables both at school and at home. One of our CFEs, Rose Williams, is an actively engaged Ward 8 resident and a native Washingtonian with an admiration of the city that goes beyond measurable words.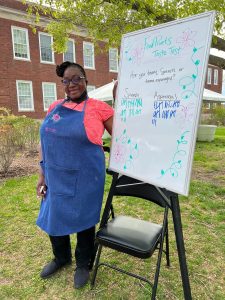 Rose began her journey with FoodPrints about 10 years ago when her own kids were in school at Watkins Elementary. Now, many years later, Rose is a Community Food Educator working with the Simon Elementary community. This spring, Rose hosted a Kale & Strawberry Smoothie Tasting at Simon for students, staff, and families to enjoy together, talk about their own favorite smoothie recipes, and come together around this delicious recipe on a beautiful day! Our CFE program will continue to expand during the 2022-23 school year, and we are so excited to host more community events across our schools.
COVID-Safe, Creative Cooking
The year started out as a tough one for cooking due to many COVID-related challenges. However, our resilient and creative staff came up with different strategies to provide opportunities for students to cook and eat fresh, nutritious foods. In many of our cooking sessions, students prepared individual portions of nutritious recipes with seasonal produce. Students across our partner schools cooked: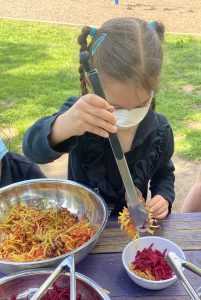 We are so proud of our staff that came up with safe and innovative ideas so our students were still able to have meaningful, positive experiences with delicious foods all year long.
Curriculum In Action across 7 Wards
In spring 2021, we published our FoodPrints Curriculum, and this year, we saw lessons in action with more than 7,000 students across 7 DC wards as well as at schools in Annapolis, MD, and Maple Grove, MN, and teachers, community organizations, and families from 38 states across the country. Examples of our curriculum in action this year included:
For educators in DC and across the country, all of our FoodPrints lessons are available on our website and free to download!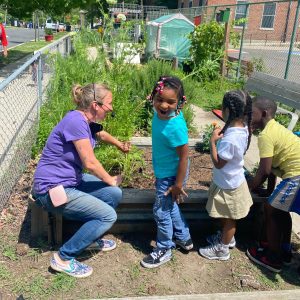 This spring, over 50 DC residents wrote to city leaders advocating for the continued funding of the FoodPrints program — showing just how meaningful it is to parents, school staff, teachers, and students across the city. One of our partner school teachers reported:
"FoodPrints has been really beneficial…not only for the children but me as a staff…learning how to eat more vegetables, build your ways of cooking different vegetables. Like cauliflower popcorn…So, it's really had me thinking, 'Oh, I can eat this if I make this for myself.' So, with the kids, they're making it fun for them and they also want to eat it…they do a great job!" 
A 3rd-grade student at Langley Elementary shared with her teachers, "FoodPrints makes me love school even more!" And a student at Whittier Elementary said, "When I grow up, I want to be a FoodPrints teacher!" This very dream is unfolding with Aaron, one of our first-ever students from Watkins Elementary in 2009, who is studying Public Policy in college and interning with the FoodPrints program this summer.