FoodPrints
You've Got Kale: FoodPrints Middle School Students Bring Their Lessons Home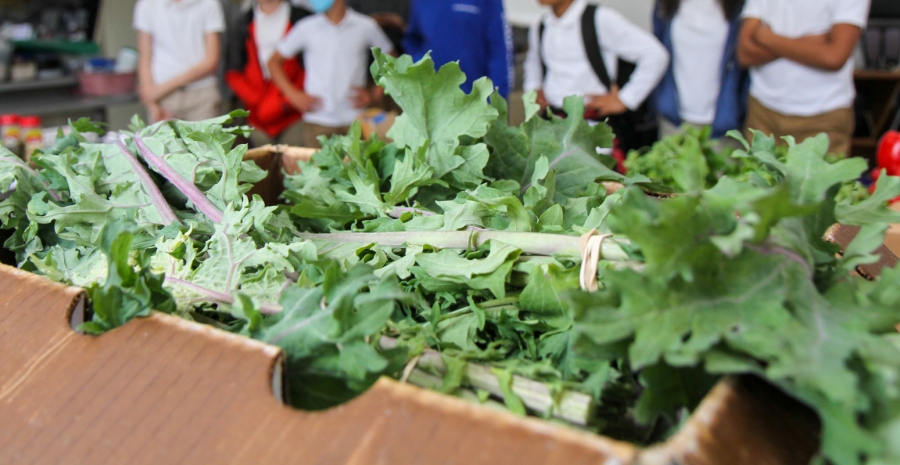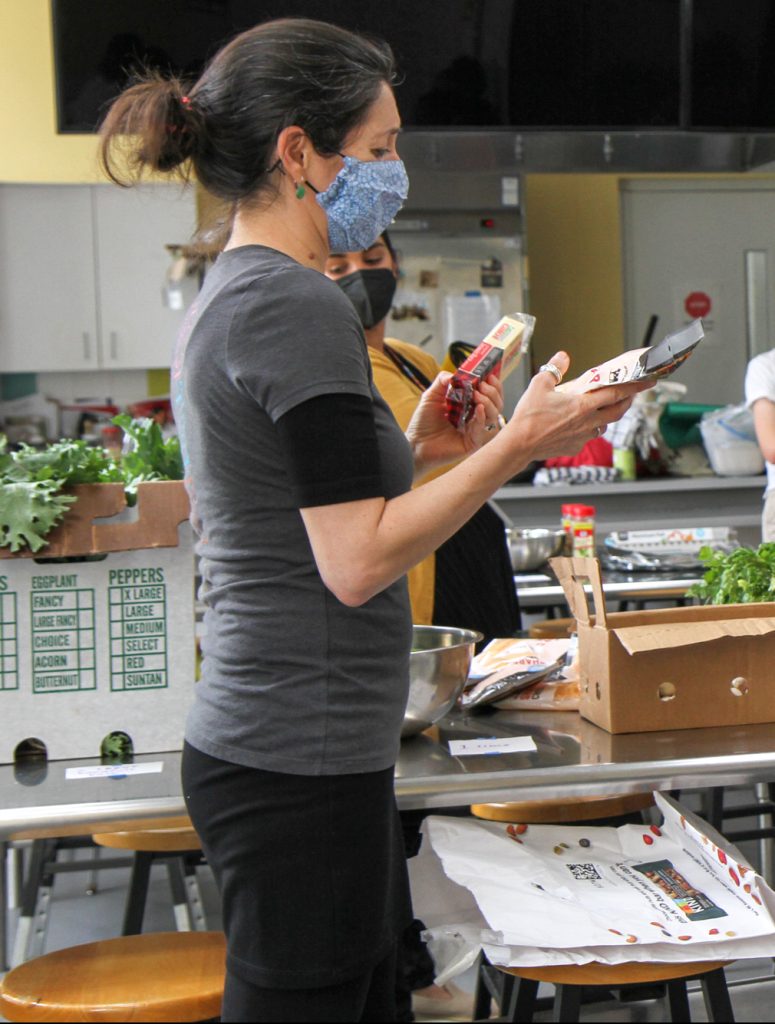 "But what if I don't like cheese?"
"Well, you're the cook! You can leave it out of the recipe!"
This playful exchange last month between a 6th grader and FoodPrints lead teacher Ibti Vincent set a tone that emphasized student agency and confidence at a "Shopping for Kale Quesadillas" class at School Without Walls at Francis-Stevens.
Shopping hasn't always been part of the FoodPrints curriculum, but during the pandemic, we've had to adjust how we teach. For the 2020-21 academic year, FoodPrints teachers moved their classrooms outdoors into their school gardens, and many have cooked with their students online. In this new phase of the pandemic, some schools have resumed cooking at school, with students working at individual stations. At Francis-Stevens (which serves pre-K through 8th grade), elementary students are just starting to cook again in the classroom, but for the middle school students, in lieu of traditional shared cooking, Ms. Vincent has developed lessons around a FoodPrints recipe from shopping to plating. Students "shop" for ingredients, then once at home, students and teachers gather online to prepare the recipe for dinner that evening. This model is great with middle schoolers because of the independence it affords to older youth, the way it encourages parent involvement, and that both realize how capable the students are of making dinner for their families.
Building a Farmers Market in a Classroom
FRESHFARM works across our programs to make these shopping lessons happen. First, Ms. Vincent gives the students over a dozen seasonal recipes in advance to review with their advisory teacher and choose from as a class team, so they have input into what they will be cooking. Next, our FoodPrints teacher coordinates with the Pop Up Food Hub team to procure as many ingredients as possible from our farmers markets, which the Food Hub then delivers to the school.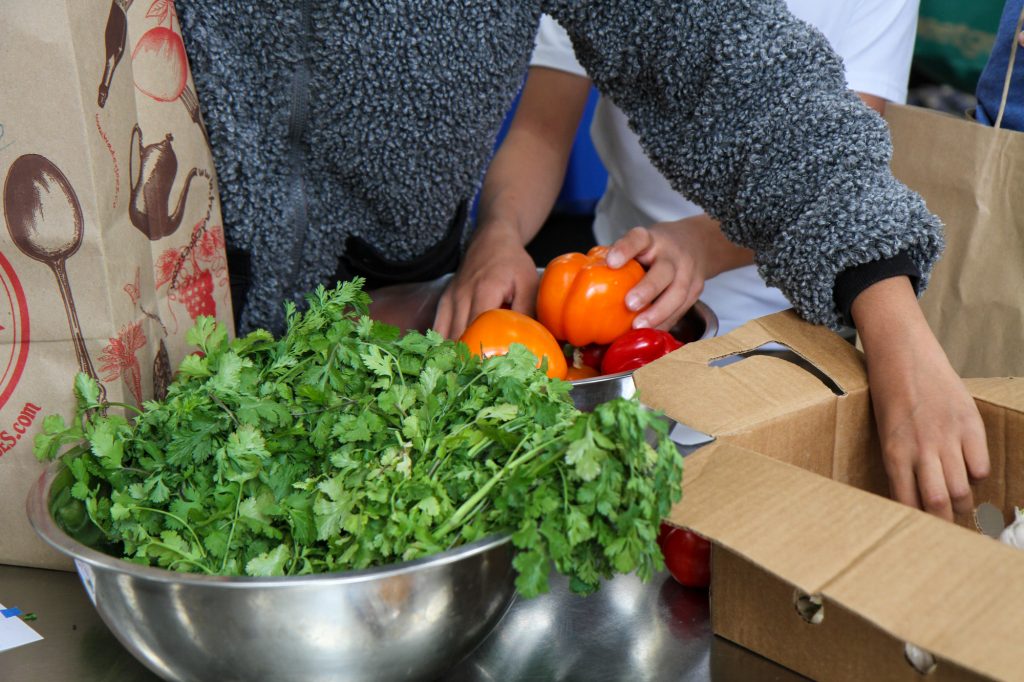 On the day of the lesson, Ms. Vincent sets up a "farmers market" in the FoodPrints classroom, broken up into stations that follow a shopping list written on the whiteboard. In this classroom-friendly farmers market setup, FoodPrints recreates the positive feelings associated with market experiences, including excitement and curiosity about fresh produce and that sense of community that we all love. Students have been so curious about produce that is familiar (like bell peppers and onions) and those that are new (such as watermelon radishes and baby bella mushrooms).
Big Ideas and Social-Emotional Learning
Students, armed with a shopping bag, a recipe, and years of shared cooking in the traditional FoodPrints cooking classroom, work their way through the stations. Just like at the farmers market, they explore and collect ingredients, but at this market they also measure out ingredients such as rice, condiments, and/or spices their recipe requires. Like all FoodPrints lessons, these shopping classes include at least one Big Idea – hard skills and academic fundamentals such as following directions and measuring – as well as exposure to fresh fruits and vegetables.
There are also many opportunities for social-emotional learning. In this Kale Quesadilla class, students helped each other with the spice measuring, discussed the pros and cons of kale and raw onions, and asked Ms. Vincent —and each other— lots of questions. One student, who lives in a large household, asked if he could take home extra tortillas and kale to scale up the recipe. ("Was he recalling the 5th grade Scaling Recipes FoodPrints lesson?" wonders Ms. Vincent.) He left the class with enough ingredients to feed eight. Others asked if they could add some more spices to their spice mixture. "Sure, here are some options that could work! More cumin? Or maybe some hot pepper flakes if you really like spicy!" was the reply. That evening, Ms. Vincent and students (with some parents stepping in as sous chefs) met online to prep and cook the recipe together. Students who couldn't make the call had a paper copy of the recipe and ingredients in their bags to cook the meal independently.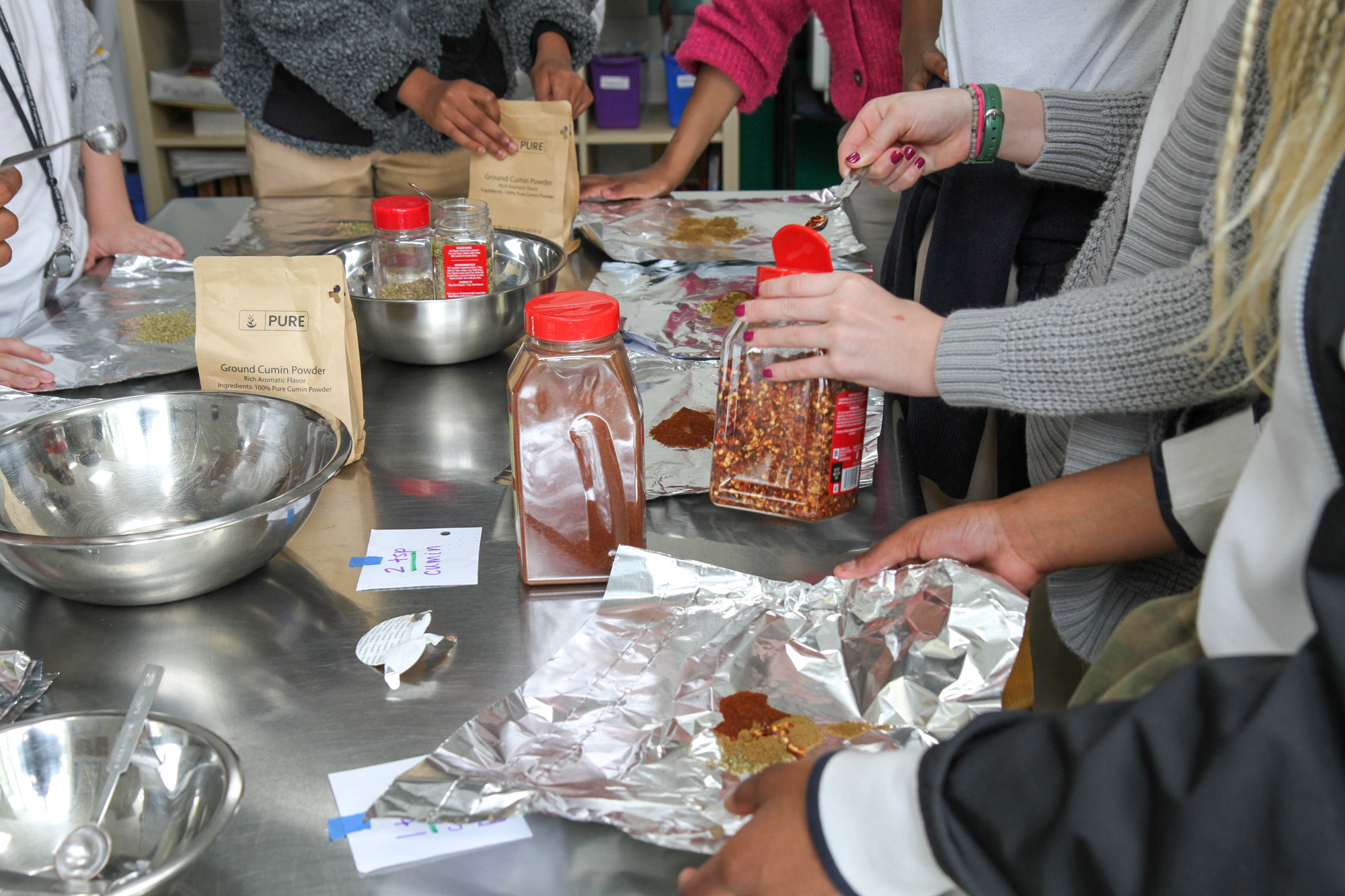 Ms. Vincent does miss in-classroom cooking with middle schoolers but also acknowledges there are real upsides to this supported cooking-at-home model. Shopping at school and cooking at home cultivates individual agency (for instance, modifying the recipe to suit personal tastes or incorporating what you have in the fridge) and builds a lot of confidence. Many students have beamed as they left the FoodPrints classroom "market" with bags filled with fresh produce they are bringing home to nourish their families. "Kids are getting to cook for their families, and parents are learning that their kids are capable and excited about cooking!" Ms. Vincent explains, and parents sometimes pick up a skill or two. "I've heard parents in the background commenting things like, 'Oh, wow, what a great trick for peeling an onion!' or 'Huh, this is a much easier way to work with fresh ginger.'" They especially love Ms. Vincent's encouragement for the chefs to leave their space clean when they're done so they are invited back to cook at home again.
Supported Cooking-At-Home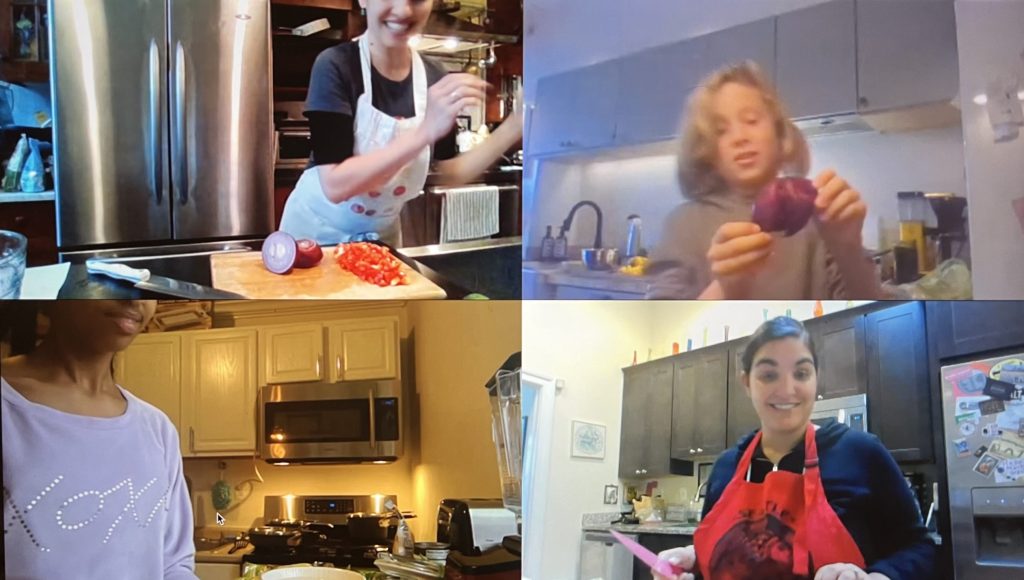 This model of cooking at home with support from FoodPrints teachers is an incredibly powerful way to extend FoodPrints beyond the classroom. Parents are amazed that kids want to and are able to cook, and students are so proud of the meals they've prepared for their families. Ms. Vincent notes: "Two of the younger siblings approached me at school the day after their older brother Loren made kale quesadillas the night before to say 1) the dinner was delicious, and 2) it was the first time Loren had made the family dinner all by himself." Give kids a chance, some vegetables, and guided support, and they can do all kinds of great things in their home kitchens – just ask them!