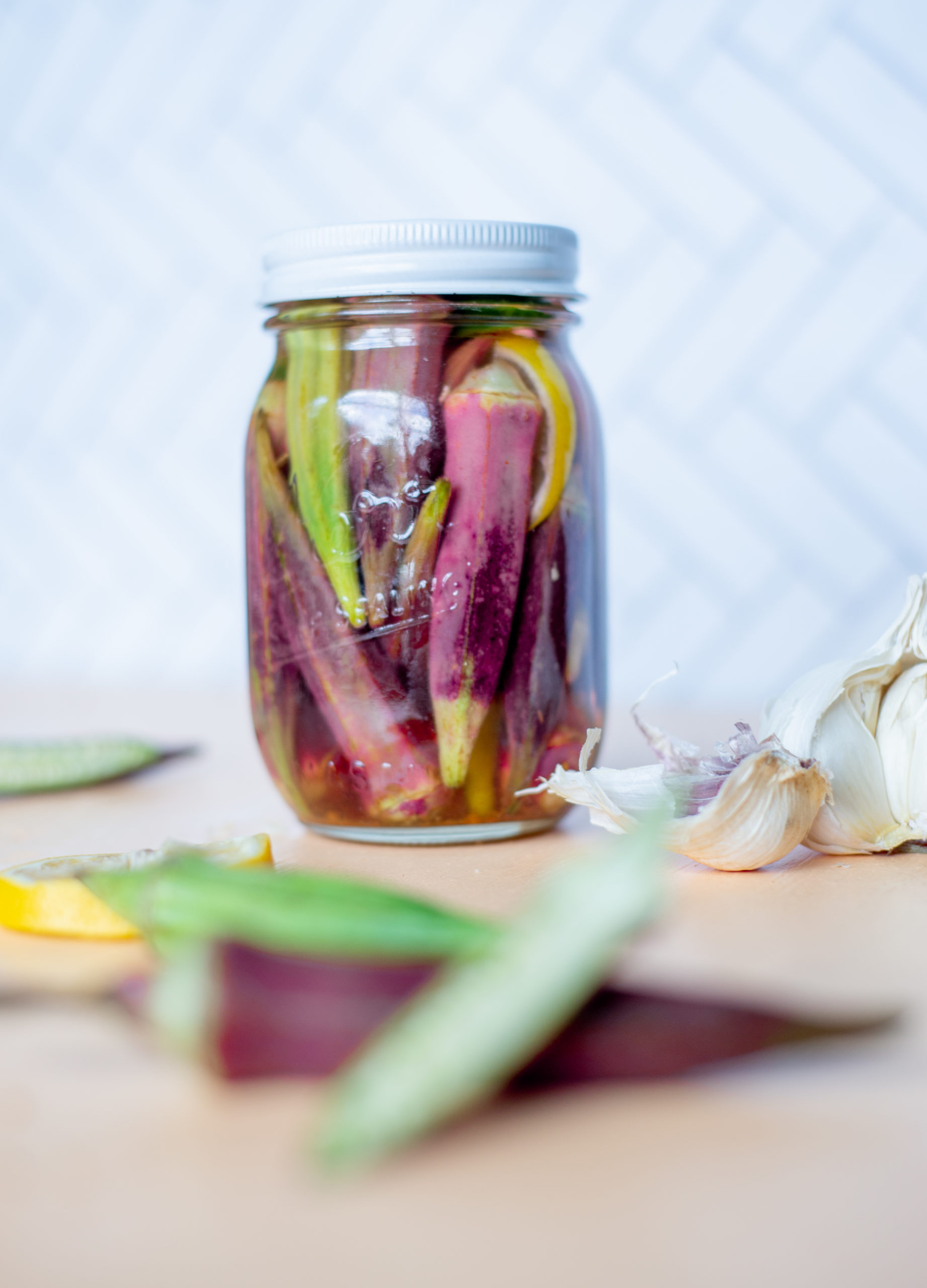 Ingredients:
1 1/2 pounds of fresh okra (3 1/2 to 4 inches long)
4 large garlic cloves, peeled
2 jalapeños
4 1/4-inch thick slices of lemon
2 bay leaves
2 Tbsp mustard seeds
1 Tbsp coriander seeds
1 teaspoon black peppercorns
1 teaspoon fennel seeds
1 teaspoon celery seeds
2 cups apple cider vinegar (or white)
1 cup water
1 Tbsp sugar
3 Tbsp kosher salt
Directions:
Wash and dry the okra. Trim the tops; you can halve the pods or leave whole, whatever your preference.
Wash two 16-ounce wide-mouth jars, lids, and rims with hot, soapy water. Dry them with clean towels. In each jar, place 2 garlic cloves, 1 jalapeño, 2 lemon slices, 1 bay leaf, 1 Tbsp mustard seeds, 1/2 Tbsp coriander seeds, and 1/2 tsp each of black peppercorns, fennel seeds, and celery seeds. Divide the okra spears evenly among the jars.
Add the vinegar, water, sugar, and salt to a medium pot and heat over high. Bring to a boil, then reduce the heat to a simmer. Allow to simmer for 3 minutes, stirring occasionally, until the salt and sugar dissolve completely.
Remove from the heat and add the liquid to the jars. Let the jars cool to room temperature, about 30 minutes, cover with lids, then refrigerate until ready to enjoy. Allow at least 4 hours for the okra to fully absorb the seasoning. Quick-pickled okra can be stored in the refrigerator for up to 2 months. (A longer resting time means more flavor and less goo.)