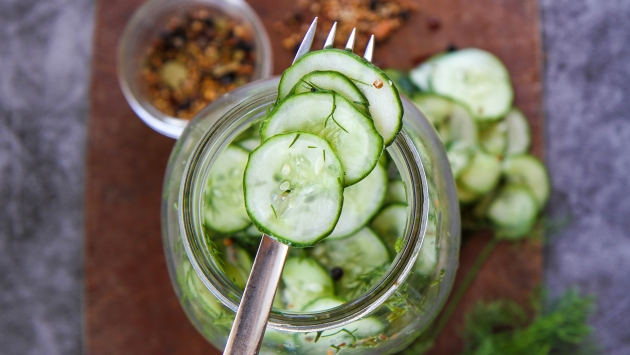 Ingredients:
equal parts water and vinegar (start with 1/2 cup each)
cucumber pieces from trimmed cucumbers (as many as will fit)
1 teaspoon sugar
1-2 teaspoons pickling spice (see below for DIY spice)
1/4 teaspoon salt
small sprig of dill
1-2 whole garlic cloves, peeled
Optional Add- Ins:
hot pepper
fresh grape leaf (tannins add crunch)
Directions:
In a clean pint jar, place equal parts water & white vinegar (start with ½ cup of each), sugar, pickling spice, and salt. Stir or shake until the sugar and salt dissolve.
Then add dill, garlic, and cucumbers, as well as any other add-ins you would like!
Top with additional water/vinegar mix as needed to cover cucumbers. Seal and refrigerate for 10 days before eating. Use within 1 month.
Pickling Basics
Vinegar: Use a pale-colored vinegar, such as rice vinegar, white wine vinegar, apple cider vinegar. White vinegar can be a bit harsh, so you may need a bit more spice/sugar/salt.
Sugar: Sugar provides a nice balance to the salty vinegar brine, but you can leave it out if you are avoiding sugar. Honey or another sugar substitute might work, but start with less and add more after tasting the dissolved mixture, as honey and other less traditional sweeteners can add different flavors.
Storage: Over time, things like cucumbers, okra, or beans will turn a greyish green; radishes, red onions, or beets will eventually turn a uniform shade of pink. They are still ok to eat! Be sure to store your pickled veggies in a glass or ceramic container. Metals will react with the vinegar; plastic will absorb the flavors.
DIY PICKLING SPICE
6 TBSP mustard seed
3 TBSP whole allspice
6 tsp coriander seed
6 whole cloves
3 tsp ground ginger
3 tsp red pepper flakes
3 bay leaves, crumbled
3 cinnamon sticks, crushed (you can use a mortar and pestle – or hammer with care)
Mix all ingredients together and store in an airtight container. This makes enough for many batches of pickles.