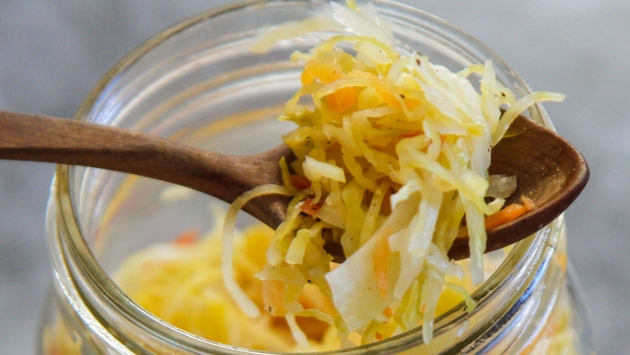 Ingredients:
1 medium head green cabbage, sliced as thinly as possible
2-3 carrots, peeled and grated on the large holes of a box grater
3-4 turnips, grated on the large holes of a box grater
1-2 tablespoons kosher salt
1/4 teaspoon mustard or fennel seeds, lightly crushed
2-4 peppercorns and juniper berries (optional), lightly crushed
Directions:
Put all the vegetables in a large bowl along with the salt and seeds and optional peppercorns and juniper berries. With clean hands, toss and squeeze the vegetables until they start to soften and release their liquid (about 5 minutes).
Pack vegetables and spices tightly into a one-quart, wide-mouthed glass Mason jar, pushing down on them with a wooden spoon or your fingertips with as much force as you can until the level of liquid rises above the vegetables.
Put a smaller jar inside the glass jar to keep the vegetables submerged. Cover with a clean tea towel and secure with a rubber band.
Leave the jar out at room temperature for about five days. Check once daily to be sure the vegetables stay submerged, pushing down on them if needed. Taste daily starting on the third day. The sauerkraut is ready when it tastes good to you. This could be anywhere from 3 to 10 days.
When the sauerkraut is to your liking, fasten a lid on the jar and transfer it to the refrigerator. Kraut will last months in the refrigerator. It doesn't really go bad, but older kraut can become unpalatably soft, almost mushy. Some people like to cook it when it gets to that point.