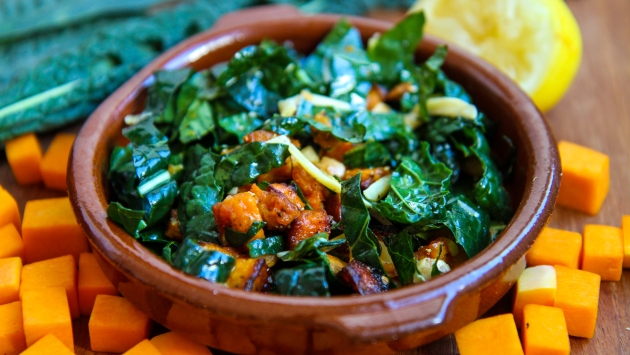 Ingredients:
1/2 cup cubed butternut squash, or other winter squash
extra-virgin olive oil
salt and freshly ground pepper
1 bunch kale, ribs removed and finely sliced (about 2 1/2 cups)
1/4 cup almonds, roughly chopped
1/4 cup grated aged cheddar
Fresh lemon juice
Parmesan or pecorino cheese for shaving (optional)
Directions:
Pre-heat oven to 425° F. Toss squash cubes in just enough olive oil to coat, and season with salt and pepper. Line a baking sheet with parchment paper, and spread squash on a baking sheet. Roast in the oven until tender and caramelized, about 40 minutes, tossing with a spatula every 10-15 minutes. Toast the almonds on a baking sheet in the same oven until they start to smell nutty, tossing once, about 10 minutes.
In a large mixing bowl, combine the kale with the almonds, cheddar, and squash. Season to taste with lemon juice, olive oil, salt, and pepper.
Divide salad between two plates. Garnish with shaved parmesan or pecorino cheese, if desired.  Serve warm or at room temperature.