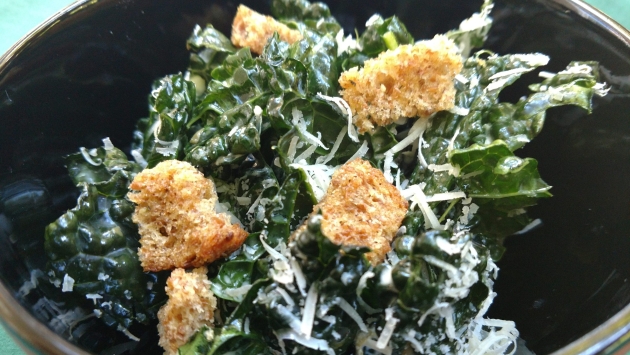 Ingredients:
Croutons
3 slices sandwich bread OR a small baguette
1 tbsp. cooking oil
1 tsp. fresh or dried herbs (parsley, thyme, rosemary, oregano, cilantro, dill), finely chopped
Salt and pepper to taste
Salad
1 bunch lacinato / dino kale, stems removed and leaves torn into bite-sized pieces
Dressing
1 garlic clove, peeled and minced
2 tbsp. warm water
2 tbsp. mayonnaise
1 tbsp. olive oil
1 tbsp. lemon juice
1 tsp. capers, mashed to a paste (optional)
½ tsp. salt
¼ tsp. black pepper
2 tbsp. grated Parmesan cheese
Equipment:
Oven
Baking sheet
Cutting board
Kitchen knife
Measuring spoons
Large bowl
Spoon for mixing
Directions:
Preheat the oven to 350°F.
Tear or cut the bread into bite-sized pieces and spread out evenly on a large baking sheet. Toss with oil, herbs, salt and pepper.
Bake until golden brown and crisp, about 10-15 minutes, tossing once halfway through. Set aside to cool.
While the croutons are baking, wash the produce and chop, tear, peel, and mince them as noted in the ingredients list.
Combine herbs, garlic, warm water, mayonnaise, olive oil, lemon juice, caper paste, salt and pepper in a large bowl. Stir in Parmesan cheese.
Add kale to the bowl, then toss. Top with croutons.