Full Implementation
In full-scale FoodPrints programming, food and garden educators are embedded at partner schools to provide regular, in-school 'field trips' for students. Full-scale implementation usually reaches all, or most, grades in a school with 1-2 hour classes each month that follow the seasonal structure of the FoodPrints Curriculum and tie to the content students are learning in the regular classroom.
Science and STEM Focus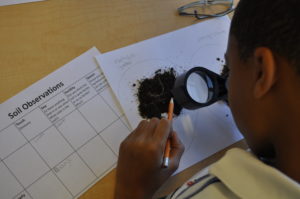 The FoodPrints Curriculum uses 9 themes to teach food, garden, and environmental education using an interdisciplinary approach that focuses heavily on life and earth science topics. FoodPrints lessons are aligned to the Next Generation Science Standards and support DCPS Science Units of Study. Schools that adopt FoodPrints provide their students with inquiry-based lessons that reinforce science topics being taught in the classroom and provide students with hands-on learning opportunities outside of their classrooms. For example, Weaver Lake Elementary in Maple Grove, MN, is taking this approach with the FoodPrints Curriculum. They are using FoodPrints lessons to teach one lesson a month per grade level to supplement their existing environmental and STEM Programming. Using the school grounds and neighborhood as an extension of their classroom, Weaver Lake uses our curriculum to teach themes such as Habitats and Life Cycles.
Themed Units
There is so much material in FoodPrints lessons that we are able to use one lesson to create an entire 6-week unit for our students. We feel fortunate to have access to this abundant resource.
– Jack Leng,
Mundo Verde
Educators who are using a themed model build on a single central lesson, develop it into a thematic unit, and use each investigation as its own lesson. They choose the central lesson based on their students' learning needs and adapt each investigation-lesson for each grade level to work in their food education, garden education or science classes. Mundo Verde charter school in Washington, DC, is using the FoodPrints Curriculum in this way; their team selects a lesson for each 6-week unit and scaffolds it across grade levels. The school team works in collaboration with classroom teachers to select and plan with FoodPrints lessons to provide meaningful structure that supports learning across content areas and builds vertical alignment as students move throughout the grade levels.
Enrichment During Out of School Time
FoodPrints lessons drive enrichment programming for both after school and summer out for school time programming in FoodPrints partner schools. Our staff collaborates with school staff to develop sessions based on a FoodPrints theme or lesson to build a programming plan with arts, movement, gardening, and collaborative projects. For example, at one of our schools, the theme of the 2021 summer program centered around global learning, so FoodPrints staff based our summer lessons on the "Food Culture and Family Traditions" curriculum theme.
To explore ways the FoodPrints team can support you in any of these models, please contact Jennifer Ramsey, Director of Curriculum and Instruction (jramsey@freshfarm.org). 
> Back to FoodPrints Curriculum main page