FoodPrints Curriculum
Lessons
Filtered by
To access full lessons and supporting documents, please login or register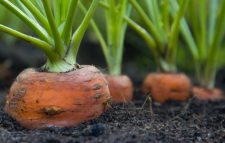 The purpose of this lesson is to introduce students to FoodPrints and set expectations for safe, productive, and joyful experiences in the garden and kitchen. Students will explore the garden and kitchen and practice using tools safely in both spaces. This lesson includes work in both the garden and kitchen and can be conducted as two separate mini-lessons or in one longer session.
Sample Lessons
Access three full lessons here to view the structure, depth, alignment, and versatility of our curriculum.
How to Access Our Curriculum
To access full versions of our 63 standards-based themed lessons by grade level, please register with us. Once you are registered, you will be able to download the full lesson PDFs on each lesson page.