FoodPrints
Connecting Farmers with Families at the Whittier Elementary Farm Stand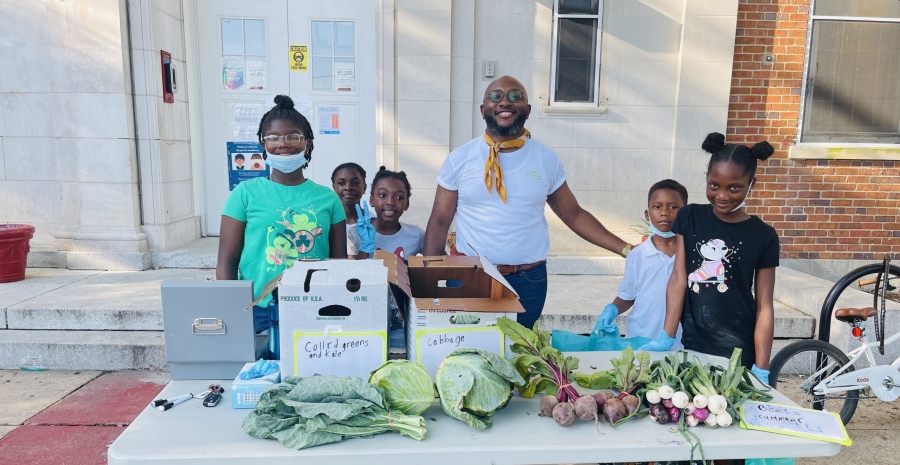 At a recent farm stand in the garden at Whittier Elementary, third grade students helped our FoodPrints teachers set-up and run their weekly spring farm stand. The students were full of energy and excitement on that sunny summer afternoon as they talked with parents and staff about the variety of produce available and the different recipes they could cook with that produce. They weren't alone in their enthusiasm – one parent said, "You all have everything I need to make my salad…tomatoes, basil and onions!"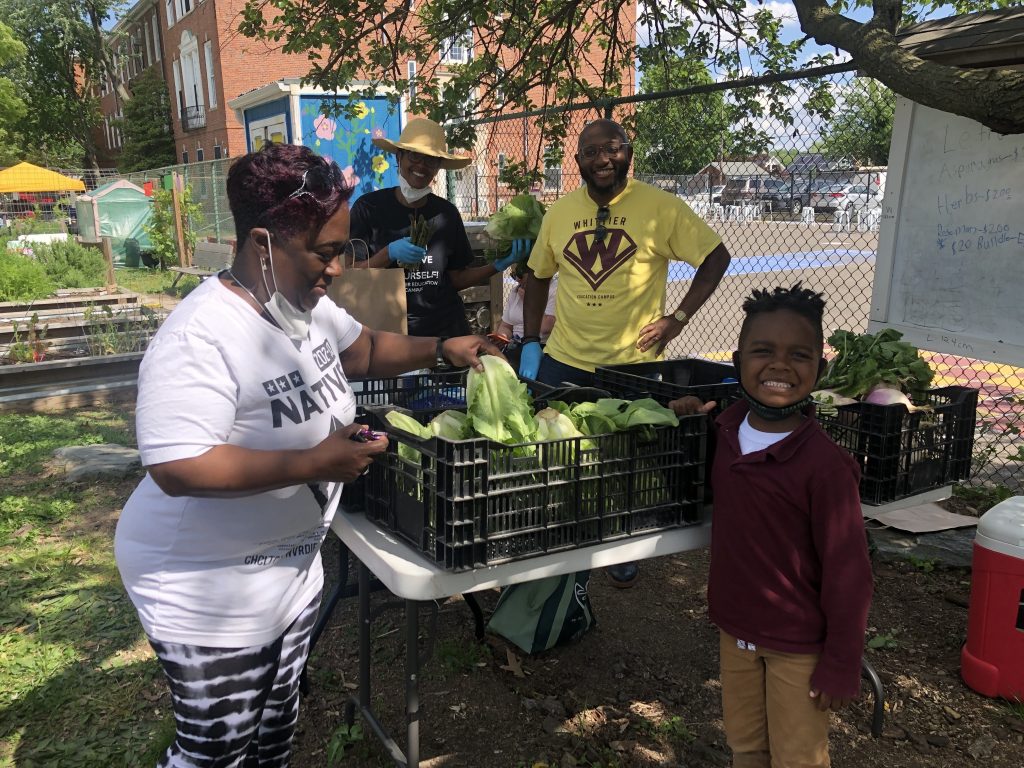 The Beginning of a Beautiful Relationship
Over the last couple of years, FRESHFARM's Pop Up Food Hub (PUFH) and FoodPrints have collaborated to purchase produce from local farmers and transport that food to FoodPrints schools for students to cook and eat. This year, Pop Up Food Hub expanded this procurement and delivery to Whittier for the farm stand. This partnership benefits FoodPrints students and families by bringing nutritious, fresh, affordable food options to the Whittier community and local farmers by increasing their revenue streams.
The 2021-22 school year was our first year partnering with Whittier Elementary and it has been an impactful and positive experience for students and staff. Whittier Principal Tiffany Johnson said that FoodPrints is one of the "best investments" she's made in her school and recently spoke about her FoodPrints partnership as a key to her school's path toward integrating outdoor and food education with the school's STEM program. She sees FoodPrints as pivotal in moving toward a more just food system for her school community. In line with this goal, school administrators, staff, and parents voiced desire for better access to nutritious food in their school communities. Due to this excitement and demand, our team worked with the Whittier Parent-Teacher Association (PTA) and a couple dedicated DCPS staff to pilot a small-scale farm stand with fresh produce from FRESHFARM farmers.
Much of the farm stand's success is the result of two Whittier teachers – Mr. TJ and Ms. Washington – who have taken the reins in facilitating the stands and work tirelessly to coordinate and advertise them. Each farm stand at Whittier is a little different, but the process generally looks like this: On the day of the markets, FRESHFARM drivers deliver produce to Whittier, where it is stored in on-site refrigerators. Mr. TJ, Ms. Washington, and FoodPrints teachers then gather parents and students to set up the produce at the front of the school, where parents pick up their students and where community members walk by. The Whittier PTA purchases the produce from the FRESHFARM's PUFH, and then shoppers pay the PTA back as they buy fruits and vegetables. Mr. TJ and Ms. Washington handle all the sales during the market, and then deliver them to the PTA to replenish the farm stand funds. The entire operation is a beautiful display of what can happen when school staff, parents, and FoodPrints come together to bring healthy, wholesome food to the community.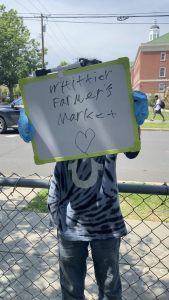 Endless Opportunities
School-based farm stands present unique opportunities to extend FoodPrints education beyond the classroom, as demonstrated by some of the other farm stands at other locations. At other school-based farm stands and CSA pick ups, our staff – who are highly trained in inclusive and welcoming methods of teaching diverse audiences about nutritious food – answer questions about how to cook and enjoy fresh, local produce. They also engage families in education related to the FoodPrints Curriculum, such as Plant Parts We Eat, host cooking demonstrations and tastings that focus on produce that students are familiar with through their FoodPrints classes and available at the farm stand, and hand out family-friendly recipes to take home.
Furthermore, at some of our farm stands, just like at FRESHFARM farmers markets, we accept benefits and provide assistance so that anyone that wants to can use their nutrition benefits (SNAP/EBT, WIC, Senior FMNP, FRESHMATCH and Produce Plus).
Bringing FoodPrints to the Community
Through our farm stand, families now have access to the same delicious fruits and vegetables that their students are cooking and eating in the classroom. These farm stands enhance the FoodPrints model for students and families by prioritizing food education and food access inside and outside the classroom. The fresh local foods sold at this farm stand are affordable to this community, and they also put more dollars in our Mid- Atlantic farmers' pockets.
They are a gathering space for parents, students, and community members to shop, chat, taste samples, and swap recipes and cooking ideas. Community is the foundation for a vibrant food system, and a key aspect of FoodPrints' work. An engaged community can positively impact student attendance and increase inclusivity for parents, especially for those where English is a second language. And perhaps most importantly of all, a strong community brings together the many people who can benefit from access to fresh, wholesome produce – from farmers to students and their families.