Pop Up Food Hub
Creating Equitable Access to Local Food Through the Pop Up Food Hub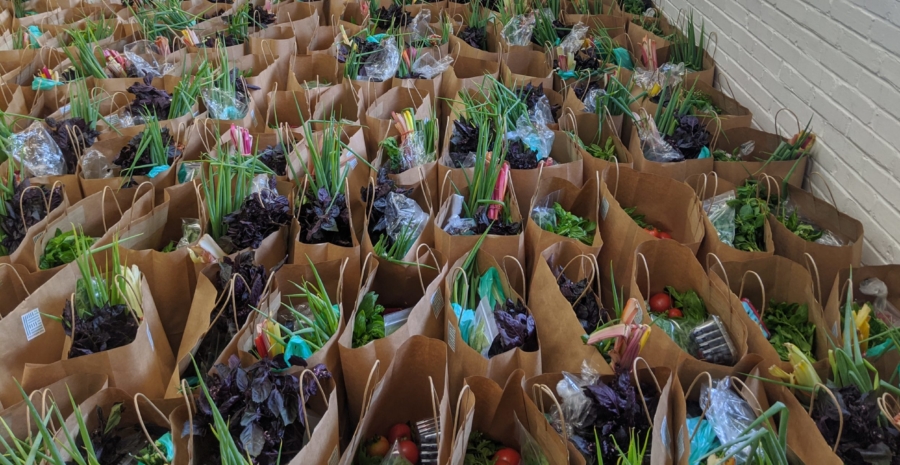 There have always been barriers to equitable access to local food. Neighbors who were already having a difficult time accessing fresh produce prior to the pandemic had a much harder time doing so once shortages, stay-at-home orders, changes in public transit, among many other changes, set in. Long before the pandemic began, the Pop Up Food Hub was working to build connections between Mid-Atlantic farmers and low-resourced communities to help level the playing field and build infrastructure to create equitable access to fresh food. Now, eight months into the pandemic, the Pop Up Food Hub keeps growing, continuing to facilitate connections between small farmers, local partners, and families in need to make sure everyone can enjoy equal access to nutritious, local produce. 
The Pop Up Food Hub's innovative model of equitable food distribution is rooted in community partnerships. We partner  with early childcare centers, senior care organizations, and other community institutions to distribute fresh food to individuals and families. A key feature of  these partnerships is that we are able to serve our partners based on the needs of the communities they serve. These partners usually have particular needs — whether its order size, how it's packaged, or the technical support needed — that make it challenging for them to receive the service they need from a conventional food distributor or single farmer. The beauty of the Pop Up Food Hub is that our team acts as a middleman, playing matchmaker between needs from community partners and amazing local food available through our network of farms. 
The Pop Up Food Hub aggregates produce orders from multiple farmers in our network, keeping things simple for the farms. FRESHFARM then offers affordable, wholesale prices to our partners (the same price that we pay to the farmers), as well as support and assistance, facilitating the connection between local agriculture and vulnerable communities. In this way, we're opening doors for community institutions who would otherwise be shut out of participating in the local food system because of their lack of purchasing power or capacity. 
Pre-pandemic, the Pop Up Food Hub served dozens of vulnerable families via our institutional partners, namely childcare centers. Now, we offer home delivery to these families, removing yet another barrier for folks who would otherwise not be able to enjoy the convenience and contact-free service of home delivery. This new service has been extremely well received by our partners and families. This season, we're working with Lyft and a local taxi company, Olde Dominion Transportation, to facilitate weekly home deliveries of groceries, and we will bring direct home delivery in-house in 2021 so that we can grow and improve our home delivery service as we plan for a second year in the pandemic. Since January, we've provided 17,880 produce shares across DC and Northern Virginia — many delivered directly to homes — representing more than 336,000 servings of fresh produce for our communities.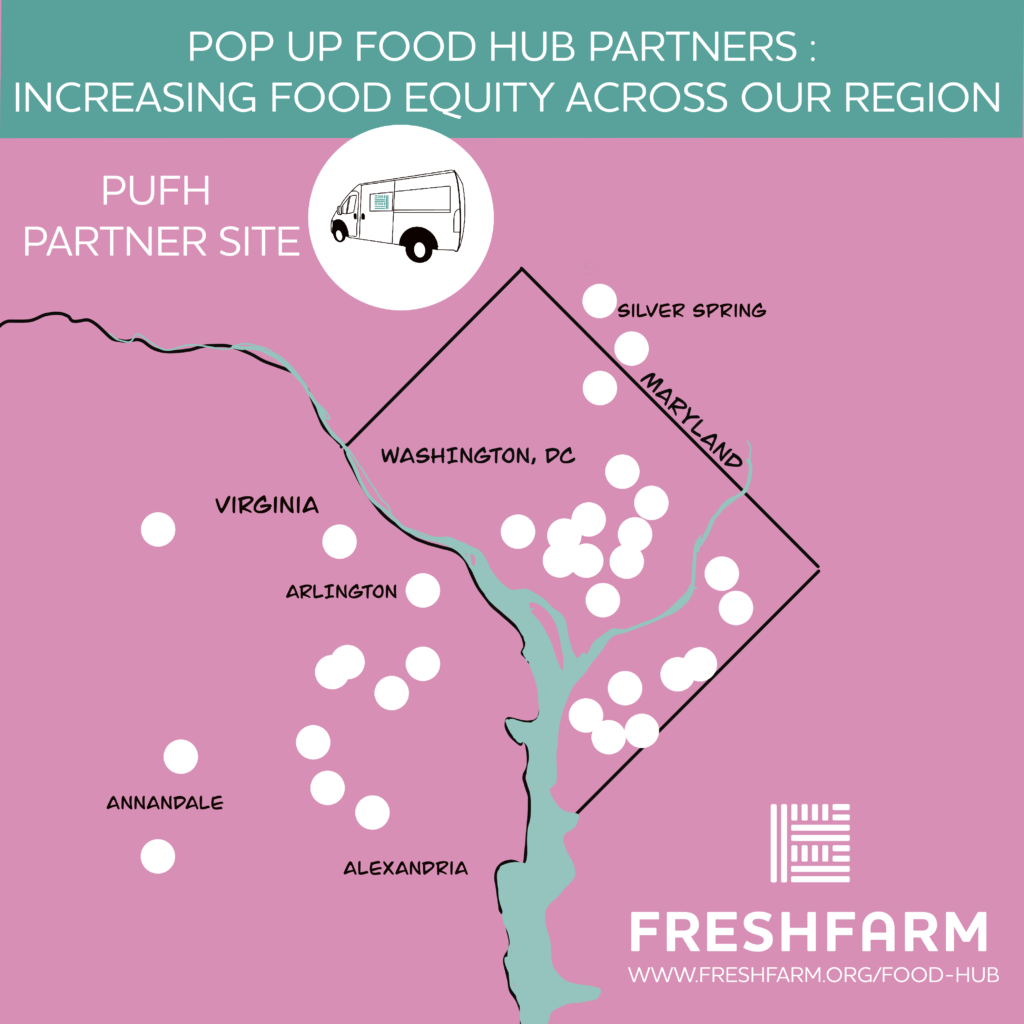 The tremendous need for fresh food brought on by the pandemic has resulted in rapid growth for the Pop Up Food Hub. The program has more than doubled this year and is reaching new partners in geographically diverse areas of the DC metro area. We now service organizations across DC and Northern Virginia, partnering with 22 farmers and 36 community institutions to deliver fresh food to over 2,200 people in our region, the majority of whom use or qualify for nutrition benefits. We are excited to continue this growth in 2021 and reach even more communities in DC, Maryland, and Virginia, thanks to a USDA Local Food Promotion Program grant. 
The Pop Up Food Hub not only improves food access for communities in need; it also represents significant revenue for the local farmers we partner with. Just this year, orders from the Pop Up Food Hub account for $450,000 in additional revenue for our farmers. As the program grows, we are especially eager to work with more new and young farmers so we can support their growth and provide a consistent source of income. This model of partnership and long term investment is a key way to provide new farmers the financial security they need to grow into viable businesses for years to come.
We believe deeply that everyone deserves access to fresh, local, nutritious food, regardless of ability to pay or their geographic location. The Pop Up Food Hub makes a real impact in chipping away at the inequities embedded in our food system by providing the infrastructure and partnerships necessary to start dismantling barriers to access. We know that the demand for fresh food in underserved communities is not going away when the pandemic does, and we look forward to continuing our growth and strengthening our partnerships to serve even more families and individuals in the year to come.