FoodPrints
Fresh Produce Shares for Kimball Neighbors During covid-19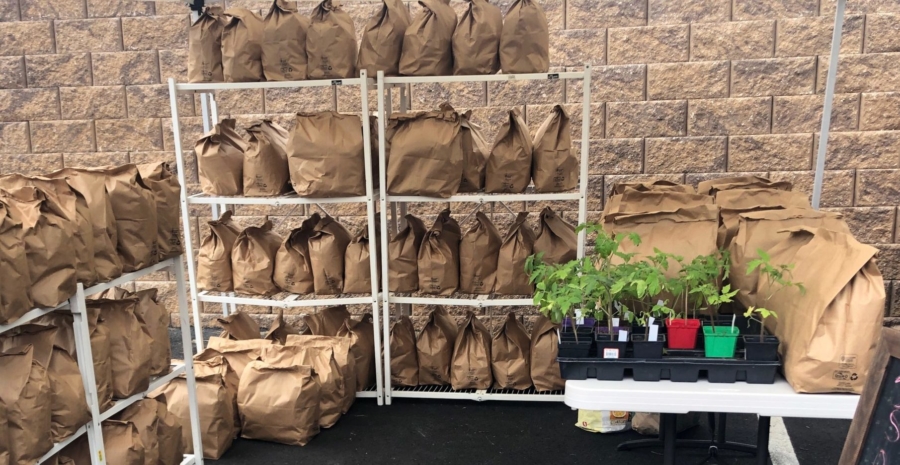 Collaboration between FoodPrints and Pop Up Food Hub Builds Community
Beginning in late April, the FRESHFARM Pop Up Food Hub began providing free Family Share bags of produce to Kimball Elementary families and anyone in the community. Supported by generous donations, FRESHFARM will have distributed 825 shares of produce to families in need by the end of June.
Each Family Share bag contains seasonal fruits and vegetables from regional farms with an amount sufficient for a family of two adults and two children to cook 18-24 servings per family member for a week. Kimball was chosen as the distribution location because it is a DCPS school meals feeding site where families come each day to pick up meals.
The FoodPrints team also distributes produce and plants from many of our school gardens to supplement the family shares provided by the Pop Up Food Hub. The school garden produce is presented "market-style" and community members can choose what they like.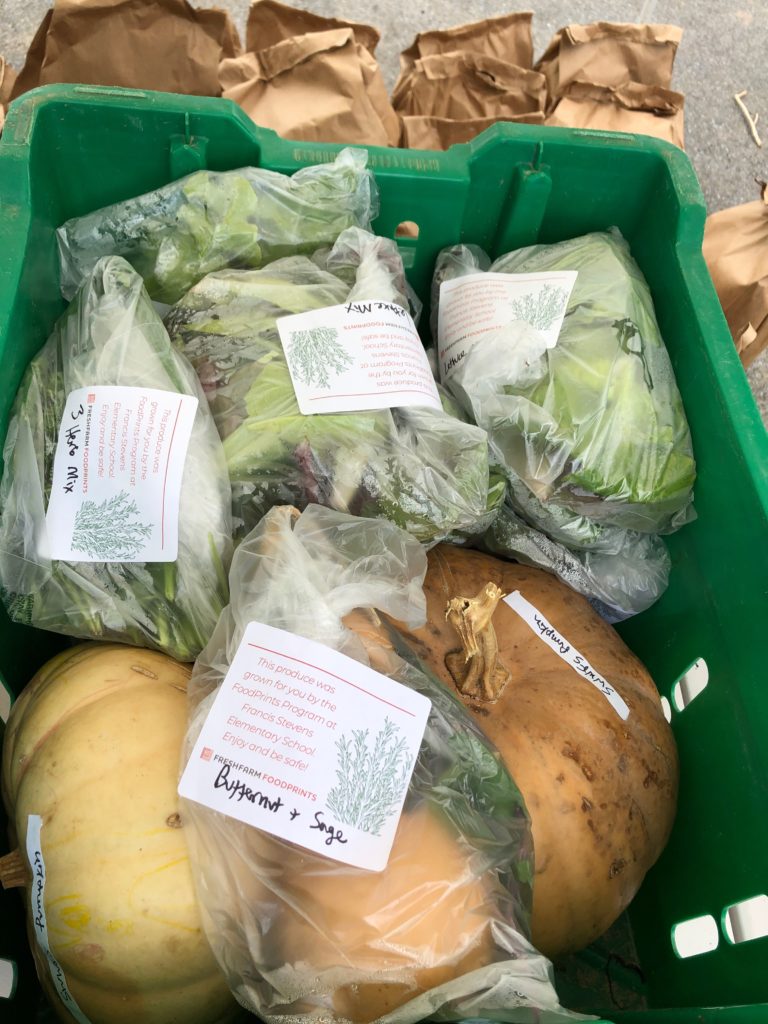 When schools closed in March, FoodPrints staff scaled up production in our gardens, so that in April and May, we harvested more than 80 bags of greens; many bags of herbs, radishes, winter squash, celery and peas; and tomato and herb seedlings. Tomatoes, cucumbers, beans and peppers will be harvested later this summer for distribution.
As the food distribution "market" has grown, so have its regular attendees. Kimball students and families come to the market every week, greeting each other in the parking lot. FoodPrints staff know community members by name and some have become volunteers. One dedicated neighbor, Mrs. Paige, is known for hauling attendees' bags home for them in her car. Other families pick up bags for neighbors who don't have access to transportation. Every Monday morning a van from a nearby church pulls into the school parking lot waiting for the delivery. Members from the church make sure they are first in line to pick up bags for elderly church members who are unable to get out.
The community atmosphere at the Kimball Pop Up Food Hub is owed in no small part to our friend and colleague Shana Donahue. Each Monday morning, Shana gave out more than bags of food. She blessed everyone who came to Kimball with her graciousness, her beautiful smile and a minute or a half hour of conversation. She shared her knowledge about produce and cooking and learned something about everyone she talked to. Sadly, Shana lost her life on May 29th. We are crushed by her death, but our work goes on. The Pop Up Food Hub continues at Kimball in a spirit of community and love as Shana would have wanted.