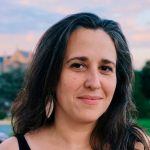 Rebecca Chávez, Director of Agricultural Programs
Rebecca is a food systems expert with over ten years of experience leveraging community-based and systems change within local and global agricultural supply chains. She is passionate about food sovereignty and about leveraging the joy of mealtimes to influence community engagement, local economies, public health, and our natural environment. A Mexican-American native of Washington, DC, Rebecca is motivated to collaborate with our region's diverse and intersectional communities in co-creating a more equitable food system. She holds a Master of Public Health degree in Health Behavior from the Gillings School of Global Public Health at the UNC-Chapel Hill.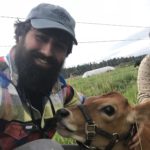 Julian Kroboth, Pop Up Food Hub Procurement Manager
Julian manages procurement and distribution for the Pop Up Food Hub with participating producers in the FRESHFARM network. Julian has been with the Pop Up Food Hub since 2017, working with both producers and customers of local food and providing services that help both groups. Growing up in central Virginia, local agriculture was all around him, and when he moved across the country to Oregon for college he experienced much of the same, with a regional emphasis on sustainable production. Moving to DC after graduation, Julian started working at Mom's Organic Market as a Produce Manager, and observed firsthand the challenges in our local food system. Julian is inspired by multicultural working-class solidarity and courageous empathy. Favorite market product: yellow peaches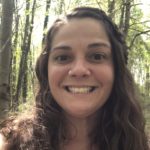 Emily Lovejoy, Pop Up Food Hub Procurement Manager
Emily procures produce from local farmers for distribution through the Pop Up Food Hub. She has a background in managing the production and sale of food. Her coolest jobs working in food were working as a commercial fisherman in Alaska and managing a microgreens farm in Virginia. Emily has a dedicated interest in agriculture, the food supply chain, and the environment. She has a passion for healthy fresh food and helping others. Favorite market product: blueberries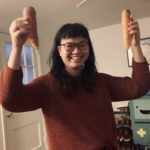 Jennifer Luu, Pop Up Food Hub Operations Manager
Jennifer joined the Pop Up Food Hub team in 2017 as a Market Share Intern. In 2019 after graduating college, she returned to Community Foodworks as both a Market Manager and a PUFH support staff member. After Community Foodworks merged with FRESHFARM, she joined the PUFH team as an Associate Operations Manager in 2020. In this role, she manages the day-to-day at-market operations and delivery logistics for the Pop Up Food Hub. Jennifer is inspired by her fellow PUFH team members' camaraderie, empathy, and perseverance in the work that they do. Favorite market product: cherries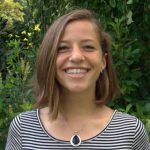 Lizzie Ferrante, Pop Up Food Hub Program Manager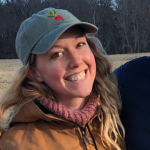 Taryn Olander Ferguson, Pop Up Food Hub Operations Coordinator
Taryn was motivated to join the Pop Up Food Hub by her commitment to increasing equitable access to healthy food. Her role on the operations team involves coordinating the daily logistics of at-market produce packing and deliveries. She's constantly inspired by FRESHFARM's vision of a resilient food local system that empowers individuals, nourishes communities, and respects the planet. Favorite market product: donut peaches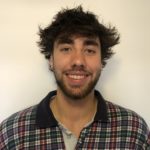 Chase Goldston, Pop Up Food Hub Operations Associate
Chase supports the set-up and operation of the Pop Up Food Hub and helps ensure that quality food is packed up and ready for delivery. He grew up around farms and agriculture and appreciates being part of an organization that improves healthy food access in DC and supports farmers. He enjoys working with people and food, and is excited to do both working with FRESHFARM! Favorite market product: garlic
Jessica Lubell, Pop Up Food Hub Operations Associate
Aminat Adebule, Farm Stand Supervisor 
Yolanda Gayden, Kenilworth Farm Stand Manager
JaNeya Lee, Cesar Chavez Farm Stand Manager
Melissa Stewart, Cesar Chavez Farm Stand Manager
Hilda Molina, Community Translator
Zayan Haq, Support Staff
Zayan works with FRESHFARM's Pop Up Food Hub team and Markets team. He is interested in working to help address food insecurity, and through working at FRESHFARM has learned about how organizations can act to help address this issue. He's met a lot of friendly, hard working people at FRESHFARM who inspire him to think creatively. Favorite market product: bread from any of the bakeries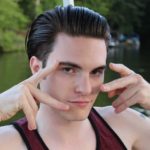 Jack Jensen Miller, Support Staff
Jack is a hairstylist and a sculptor and loves fruits and veggies! On the Pop Up Food Hub team, Jack helps load trucks, haul crates, and pack beautiful produce bags. They have worked for FRESHFARM for two years, been vegan for seven, and loved food for 28. Jack has a huge garden of their own and builds raised beds in their studio. They also co-run an Instagram documenting weird-looking (but delicious!) food. Favorite market product: beets
Emilee W, Support Staff
Emilee believes that everyone is entitled to fresh, quality food regardless of their zip code or income. She has been a consumer of the FRESHFARM Market Share and now enjoys getting to be a part of the behind-the-scenes! Favorite market product: pawpaws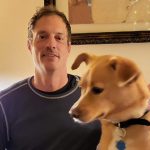 Matt Floto, Community Delivery Driver
Matt has a background in nutrition with a strong interest in sustainable, regenerative food systems. He looks forward to helping people connect to more healthy, local food options through FRESHFARM markets. Favorite market product: pretty much anything from Coulter Farms, especially the yogurts and honey.
Hank MacDonald, Support Staff & Community Delivery Driver
Tiffany Younger, Community Delivery Driver
Michael Wilkinson, Substitute Community Delivery Driver