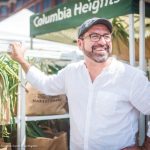 Hugo Mogollon, Executive Director
Hugo brings 20 years of experience working for nonprofit organizations covering a range of issues from food systems to sustainability to biodiversity conservation. Previous to his role at Community Foodworks, he was the Executive Director of Finding Species, an international nonprofit organization. Hugo has deep experience in NGO management, planning, development, outreach, and stakeholder engagement, particularly in multicultural settings. A native of Ecuador, Hugo is fluent in both English and Spanish. He has a Bachelor of Science in biology from the Catholic University of Quito, Ecuador and an Executive Master's degree in Natural Resources and Leadership for Sustainability from Virginia Tech.
Joni Celiz, Director of Development
Joni develops and implements a comprehensive fundraising strategy that includes: special events, appeals and individual giving, corporate giving, and grant-writing. She is focused on enhancing fundraising capacity and diversifying fundraising streams to sustain and expand FRESHFARM's mission and programs. With over six years of development experience, Joni has worked for various nonprofits in the foreign policy, cancer research, and historic site conservation fields. As a daughter of Filipino immigrants who struggled to make ends meet, increased access to healthy, local food for low-income families is important to her. Joni is passionate about utilizing her diverse fundraising experience to support FRESHFARM and our efforts to build healthy and thriving communities around local food.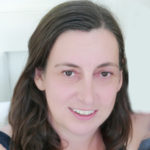 Juliet Glass, Director of Communications
Juliet leads communications and marketing efforts for FRESHFARM. Although trained as a historian, her passion for food and cooking led her to work as a freelance food writer for over a decade. Then, driven by a desire for more real-world experience in food system work, in 2009, Juliet joined FRESHFARM, where she managed markets, programs, and led communications efforts. After seven years with the organization, Juliet shifted her focus to the Maryland nonprofit food space, where she spearheaded communication efforts for a statewide farmers market food access program. She is delighted to be back at FRESHFARM and is excited to connect shoppers, farmers, and funders with the mission of supporting sustainable and equitable foodways that work for everyone.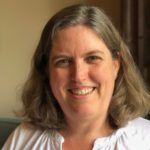 Sara Hjelstrom, Director of Finance
Sara manages the financial and administrative systems at FRESHFARM. She has worked in nonprofit accounting for 25 years with 45+ different organizations and is continually inspired by people, ideas, and energy she finds in this industry.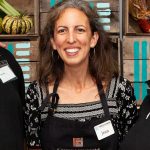 Jenn Mampara, Director of Education
Jenn oversees FRESHFARM's FoodPrints program, which provides children in-school, hands-on experiences with growing, harvesting, cooking and eating. Under her direction, FoodPrints has grown from a program serving 200 students at one school to reaching more than 5,700 students at 15 DC public schools. She holds a master's degree in Nutrition Education from Teachers College, Columbia University and has over 20 years of teaching and food education experience. Jenn fell in love with food during a summer abroad in college studying art history in Rome. She finds so much joy in cooking beautiful, nutritious, delicious food and sharing it with family and friends. Developing and growing the FoodPrints program has been an wonderful way to share this joy and passion with the world.