Food and garden education is for everyone - and is especially critical during the pandemic.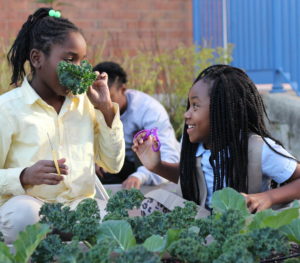 FoodPrints integrates gardening, cooking, and nutrition education into the curriculum of DC Public Schools through a model of partnerships, standards-based curriculum, cafeteria connections, and food access. Our expert educators teach hands-on lessons that get students excited about growing, preparing, and enjoying fresh, local whole foods — and bring science, math and social studies to life — with the goal of improving health outcomes of children and families.
Throughout the pandemic, FoodPrints has rolled out innovative virtual food and garden education. We delivered virtual classes for our partner schools, developed and shared activities families can do at home, and piloted a successful immersive program paired with home delivery for at-risk students. In 2021, we will use the lessons from 2020 about equity and resilience to deepen our mission to provide meaningful food and garden education across the District.
Students Served
FoodPrints reaches 5,700 students in 15 DC public elementary schools across the city.
Students Served Who Are Economically Disadvantaged
We work in diverse schools across DC with a focus on equity and reaching communities with less access to fresh food.
Bags of Food Delivered This Summer
In our immersive learning program, virtual learning is paired with delivery of fresh produce, other ingredients, books, and supplies to students' homes.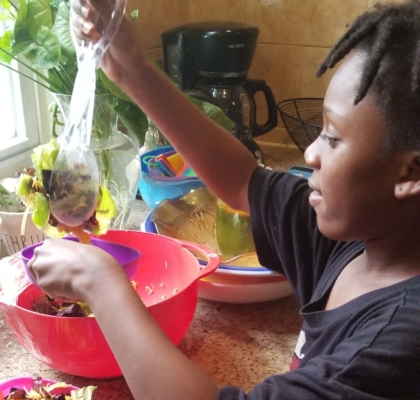 Innovative Immersive Food Education for At-Risk Students
From June to August 2020, we delivered a successful 7-week summer virtual learning program to 30 students from partner schools in Wards 7 and 8. Kennedy Jones was one of our students; each week she received a bag of produce and supplies delivered to her doorstep. She was so excited to open the bags and see the different kinds of produce. Kennedy said, "I would open the door and there would be so much food. I never saw a carrot with its top before…it was just so cool." Kennedy would then log on each day to a morning meeting and book club, then a garden class twice a week and a cooking class twice a week. Kennedy recounts: "We got to draw and express ourselves and see new friends. Our teachers always made sure that we were okay. I was so happy … Food Prints means everything to me."
Reimagining Food Education for Virtual Learning
FoodPrints Educators are creatively adjusting the FoodPrints Curriculum for online instruction. For example, when teaching our 1st Grade "Eat the Rainbow" lesson during virtual live classes, our teachers showed students fruits and vegetables of different colors and discussed the health benefits that come from eating those colors. Students started excitedly responding by holding up similar color fruits and vegetables in their own homes, making their own connections to eating the rainbow at home. First grade classes at Ludlow Taylor Elementary prepared their own fruit and veggie rainbow bowl before class and during class they all ate together. Read more about how we're adapting our curriculum for virtual learning.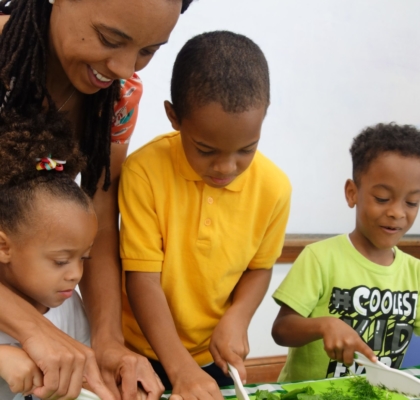 Unique Opportunities to Engage Families
Online classes have provided a unique way for FoodPrints educators to bring their lessons into the home and reach family members beyond their students, deepening the impact of programming. Margie Sollee, Lead Educator at Kimball Elementary, reflects: "One of the best parts of online teaching is our access to parents." At Kimball, only a small portion of parents can volunteer for school day FoodPrints classes, so with online instruction, many more families are able to join FoodPrints lessons. Ms. Sollee says, "We have interactions with so many parents…they are seeing how much their kids love FoodPrints and all the things that we were doing." A Kimball school administrator reported last spring,"Everyone is talking about FoodPrints" in his check-in calls with families.
In FoodPrints, we get to eat yummy, delicious food and that we also get to learn about what we're eating like we eat squash and carrots and we get to learn about what nutrients are in those foods and how to grow them.

Kennedy Jones, 5th Grade Student at Anne Beers Elementary