Farmers markets provide vital economic opportunities and help nourish our communities with fresh, local food.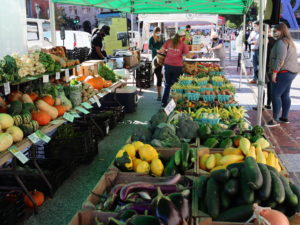 FRESHFARM is the third-largest farmers market organization in the country with a network of nearly 250 vendors. Our nearly 30 markets across diverse neighborhoods in DC, Maryland, and Northern Virginia are inclusive community spaces to enjoy local food, improve health, and support local farmers and food producers. Through nutrition assistance matching programs, we empower low-income residents to buy more local produce while providing additional revenue for local farmers and food producers.

Markets stayed open as an essential service throughout the pandemic. Our customers kept shopping and our farmers and producers kept selling. FRESHFARM created and implemented solutions for safe, socially distant shopping: developing dynamic safety protocols, obtaining special permits for weekly operations, innovating with reserved time slots for shopping, communicating policy changes with customers, and supporting farmers with systems for pre-orders. Despite drastic changes to our daily lives, our markets continue to nourish our communities.

Farmers Markets
We operate farmers markets and farm stands in geographically diverse markets across DC, Northern Virginia and Maryland.
Farmer & Producer Revenue
Nearly 250 farmers and producers have collectively earned $12 million at our markets from January through October 2020.
Nutrition Benefits + Match at Market
Shoppers spent more than $236,000 in federal nutrition benefits and FRESHFARM-provided match at markets from January through October 2020.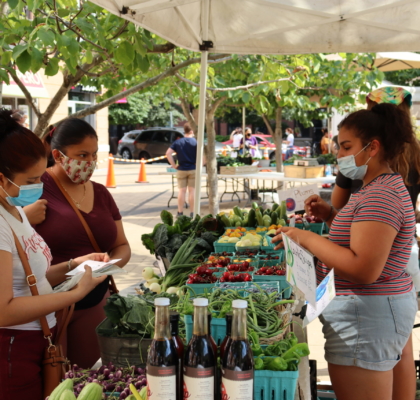 Market Growth In Diverse Neighborhoods
The Columbia Heights market demonstrates our growth in diverse neighborhoods of the DC region. Since it opened a decade ago, the Saturday market has grown into a robust three-season market with competitive vendor applications, plus a Wednesday summer season market that launched in 2015. This year, we opened the Saturday market in February, two months earlier than usual. In those two extra months of operations, our vendors grossed $86,000, almost matching the $90,000 grossed in August at the peak of the season. Largely thanks to the new winter season, April 2020 sales nearly doubled over 2019. At the Wednesday market, more than half of sales are made to individuals and families experiencing food insecurity using nutrition benefits and incentives.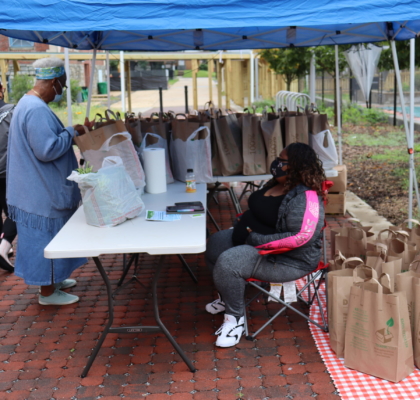 Community-Based Farm Stands Make Fresh Food Affordable
The FRESHFARM Cesar Chavez and Kenilworth Rec Center farm stands, located in areas of DC with limited food purchasing options, have become even more critical this year in light of the pandemic. These farm stands leverage FRESHFARM's network of farmers and producers to bring produce to neighborhoods where fully-fledged farmers markets are not typically established. The farm stands are managed by local community members: residents who live in the neighborhood, promote the farm stands, manage inventory, and oversee food access incentive programs at the market. There is a strong demand for fresh fruits and vegetables in the neighborhoods the farm stands serve, and these farm stands make fresh food affordable. "Our community can be described as a food desert, and using the bus to get to a grocery store is not convenient," said FRESHFARM Farm Stand Supervisor Aminat Adebule. "It's a blessing to have a farm stand with fresh, locally grown produce at an affordable price in the neighborhood."
We're greatly appreciative of the markets that [FRESHFARM] has open, that they've been able to keep open for farmers like us.

Jorge Barajas, Barajas Produce