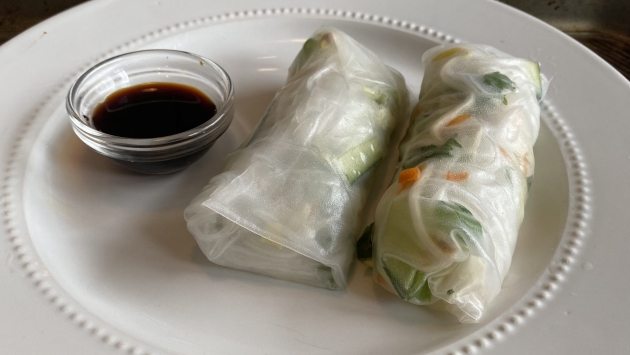 Ingredients:
Summer Rolls
½ cup bean sprouts
⅓ head of green cabbage, thinly sliced
5 green onions, chopped
1 cup fresh herbs (cilantro, basil, mint)
½ cup carrots, peeled and thinly sliced
1 cucumber, peeled and thinly sliced
1 cup thin rice or bean-thread noodles
Rice paper or tapioca wrappers (sold in the international aisle or Asian markets)
Optional additions: Cooked shrimp, bell pepper, avocado, tofu
Ginger Soy Dipping Sauce:
2 tsp. fresh ginger
Juice of 2 limes
¼ cup soy sauce
Sweet Chili Dipping Sauce:
1 tsp. red chili paste, such as sambal
¼ cup hot water
¼ cup rice wine vinegar
2 tbsp. fish sauce (optional)
2 tbsp. sugar
Juice of 1 lime
1 tsp. garlic, minced
Peanut Dipping Sauce:
1 cup water
½ cup Hoisin sauce OR soy sauce
3 tbsp. smooth peanut butter OR sunflower butter for nut allergies
1½ tbsp. sugar
freshly grated ginger to taste
Equipment:
Peeler
Grater
Small bowl(s)
Whisk OR fork
Small saucepan
Kitchen knife
Cutting board
2 large bowls
1 large plate (optional)
Directions:
This recipe is great to customize based on your own taste. Make one or all of the dipping sauces, and consider trading out any of the ingredients for the summer roll filling with fresh veggies or a prepared protein that you like! Best eaten right away.
Start by preparing the dipping sauces. For the Ginger Soy Dipping Sauce wash, peel and grate the ginger, then whisk it together with the lime juice and soy sauce in a small bowl. Chill until ready to serve.
For the Sweet Chili Dipping Sauce add the chili paste to a bowl. Slowly add the hot water and whisk to combine. Then slowly add the rice wine vinegar, fish sauce, sugar, lime juice, and garlic and whisk to combine.
For the Peanut Dipping Sauce, add all the ingredients to a small saucepan. Bring to a boil, turn down the heat and simmer for about 5 minutes. Pour into a small bowl to cool until ready to serve.
Prepare the Summer Rolls by washing all the fresh produce and then slicing, peeling, and chopping them as noted in the ingredients list.
Toss vegetables and herbs together in a large bowl.
Cook noodles according to package instructions and place in a separate bowl.
One at a time, submerge rice paper wrappers in warm water until pliable, about 2-3. Place the moistened wrapper on a large plate or clean surface.
Place about 2 tbsp. of vegetable mix in the center of each wrapper along with some noodles. Form filling into a small log shape. Fold the edges of the wrapper over the filling and slowly roll up into a long shape, squeezing gently to keep the wrapper tight.
Serve the summer rolls immediately. If arranging on a plate or tray then leave some space in between the rolls to avoid them sticking together.