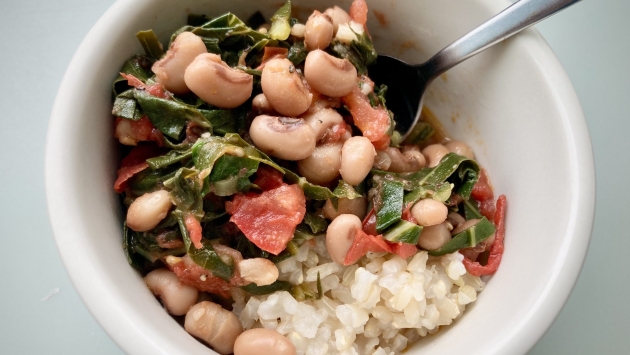 Ingredients:
1 cup dried rice
3 tbsp. cooking oil
2 cloves garlic, peeled and minced
1 bunch collard greens, stems removed and roughly chopped
1 (15 oz.) can diced tomatoes OR 2 cups fresh tomatoes, diced
2 (15 oz.) cans black-eyed peas OR 1 cup dried black-eyed peas prepared with the Basic Cooked Beans recipe
1-2 tbsp. apple cider vinegar OR red wine vinegar
1-2 tbsp. maple syrup
½-1 tsp. salt
¼ ground black pepper
Equipment:
2 pots with lids
Measuring cups and spoons
Cooktop
Cutting board
Kitchen knife
Timer
Directions:
Rinse the rice. Add it to a pot with 2 cups of filtered water and place over high heat. Bring to a boil, then cover with a lid and reduce the heat to low. Simmer for about 15 minutes for white rice, or 45 minutes for brown rice. The rice is done when the water is absorbed and the rice is tender. When the rice is tender, remove from the heat and set aside.
Wash and prepare the fresh ingredients by peeling, mincing, removing stems, chopping, and dicing as noted in the ingredients list.
Heat the oil in a large pot over medium heat. Carefully add the collard greens to the pot, listening for the sizzling sound. Use a spoon to stir the greens and coat them with oil.
Add the garlic and cook until fragrant, about 2 minutes.
Stir in the tomatoes and black-eyed peas, then cover the pot and simmer until the collards are tender, about 20 minutes.
Season with maple syrup, vinegar, and salt and pepper to taste.
Serve the black-eyed peas and collards over rice.