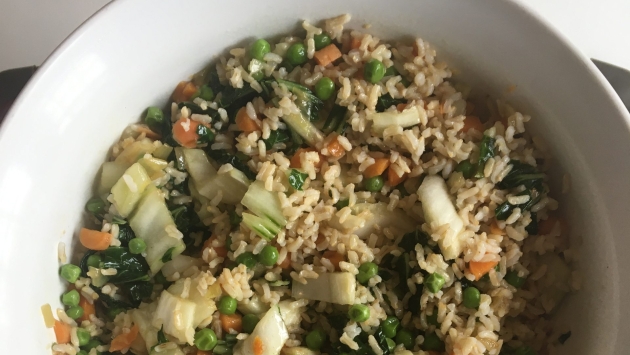 Ingredients:
2 large cloves garlic, peeled and minced
1-inch piece fresh ginger, peeled and grated
1 small onion, peeled and diced
2 carrots, peeled and coarsely grated
1 medium head broccoli
*1 bunch Chinese cabbage (bok choy, tatsoi, napa cabbage)
½ cup corn, fresh or frozen
½ cup green peas OR edamame, fresh or frozen
2 tbsp. cooking oil
1 tbsp. fish sauce (optional)
2 tbsp. soy sauce
*3-4 cups cooked, leftover rice
2 eggs
Equipment:
Cutting board
Kitchen knife
Peeler
Box grater
Large pan OR wok with a lid
Cooktop
Cooking spoon OR spatula
Measuring cups and spoons
Large bowl
Directions:
Wash all the produce and then peel, mince, grate and chop them as noted in the ingredients list.
For the broccoli, cut off and chop the stems into small pieces, then set them aside separately. Cut the florets into bite sized pieces.
For bok choy or tatsoi, break off and chop the stems, then chop the thin leaves separately. Napa cabbage may be chopped all together.
Heat 1 tbsp. of oil in a large sauté pan or wok over medium heat. Carefully add the onions, listening for the sizzling sound. Cook, stirring frequently for 5 minutes.
Next, add the garlic and ginger and cook for 2 minutes.
Cook the remaining vegetables In order of thickness, stirring for 1-2 minutes between each addition: broccoli and Chinese cabbage stems, carrots, broccoli florets, corn, peas and finally the Chinese cabbage leaves.
Cover the pan to let the steam cook the vegetables for 2 minutes.
Carefully remove the lid away from your face to allow the steam to escape. Add the fish sauce and soy sauce to the pan and stir to combine.
Combine the vegetables with the rice in a large pot or serving bowl and cover.
 In the pan used for the vegetables, heat the remaining 1 tbsp. oil, then add the eggs and scramble quickly. When finished, toss them into the vegetable and rice mixture and serve.
*Notes:
Baby spinach is a great substitute for Chinese cabbage and you don't have to worry about separating the stems!
Days old or parboiled rice work best, as freshly made rice will become overcooked.