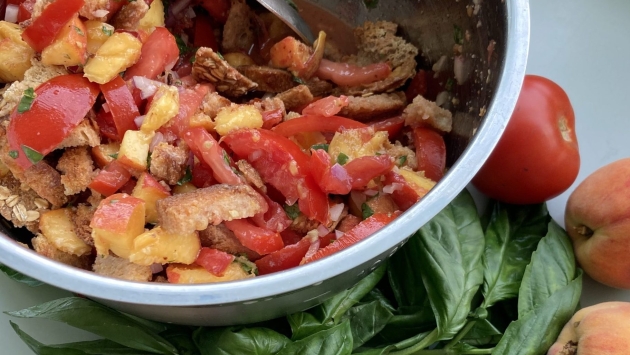 Ingredients:
5 cups torn bread pieces
1½ lb. tomatoes, chopped into bite-size pieces
*1½ lb. peaches, chopped into bite-size pieces
1 clove garlic, peeled and grated
½ red onion, peeled and diced (optional)
¼ – ⅓ cup fresh basil, chopped
2 tbsp. red OR white wine vinegar
¼ cup extra virgin olive oil
1 tsp. salt
¼ tsp. ground black pepper
Equipment:
Cutting board
Knife
Oven
Baking sheet OR casserole dish
Microplane OR grater
Measuring cups and spoons
Large bowl
Large spoon OR tongs
Directions:
Preheat the oven to 350°F.
Tear or cut the bread into bite-sized pieces and spread out evenly on a large baking sheet. Ask for an adult's help to place the sheet in the preheated oven and bake for 15-20 minutes, until the pieces are hard and very dry.
While the bread is baking, wash the produce and chop, peel, and dice them as noted in the ingredients list.
In a large bowl, combine the tomatoes, peaches, garlic, red onion, basil, vinegar, olive oil, salt and pepper. Gently toss to combine.
Right before serving, add the toasted bread to the bowl and gently toss to combine.
Notes:
*Melon, plums, or apricots all work well in place of peaches.
If storing for leftovers, keep toasted bread separate and only follow Step 5 before serving to avoid it becoming soggy.