Pop Up Food Hub
Serving Virginia Families Through New Partnerships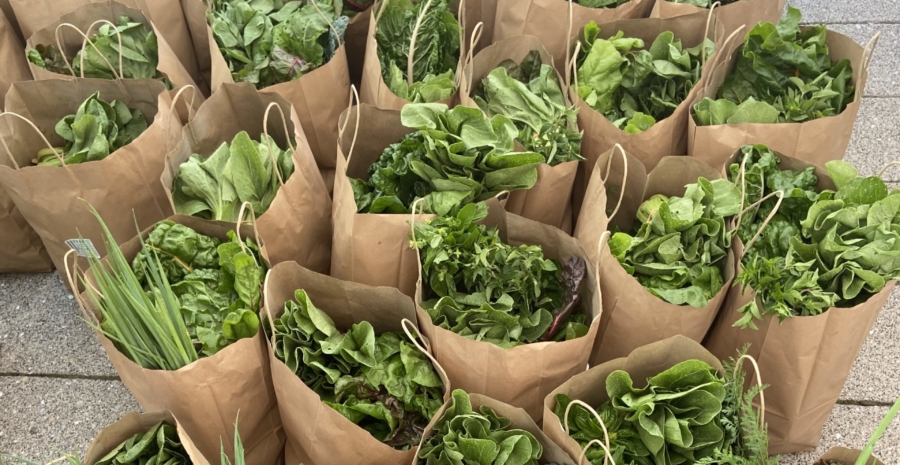 Thanks to new partnerships, Pop Up Food Hub grows to serve hundreds of Virginia families. But there's still work to be done.
Since the beginning of the pandemic, FRESHFARM's Pop Up Food Hub has scaled up its food distribution to get fresh food directly from farmers to families in need. We're especially proud of our expansion to Northern Virginia, where creative partnerships are helping us reach an even broader footprint of neighborhoods and communities.
We have made significant progress in helping to alleviate food insecurity in Northern Virginia, but it's not the finish line. Arlington County has seen a 58% increase in food insecurity since the onset of the pandemic.
You can help us improve food access for Virginia families! We're spotlighting a few of our Virginia partners who have mobilized to ensure fresh food access for the most vulnerable families in their communities, and you can donate to all of them to support these efforts.
National Landing: Our longtime partner, the National Landing Business Improvement District (BID), convened FRESHFARM, Friends of Urban Agriculture, and three Arlington Public Schools parent-teacher associations to provide over 9,000 pounds of fresh fruits and vegetables to 150 vulnerable families in National Landing, Shirlington, Columbia Pike, and the surrounding neighborhoods. While this program has exhausted its initial donation of $10,000, our partnership remains committed to supporting these families through the fall and winter. You can support this work by making a donation! A $15 donation purchases one week's worth of produce for a family in the community. Click here to donate.
"[The] community is loving the produce because it is so much better than what is available at the grocery store, and I suspect many are trying some of those fruits and veggies for the first time." -Marlene, Arlington Community Corps volunteer who helped distribute FRESHFARM bags to community members.  
Barrett Elementary School: As a Title I school in Arlington, Virginia with a population of about 560 students, 58% of Barrett Elementary's student body come from economically-disadvantaged households. While families have been grateful for the various types of food assistance that are available in the neighborhood, many have requested assistance with obtaining fresh food. FRESHFARM is connecting these families to farm-fresh fruits and vegetables, but we need your support to make sure this is more than a one-time distribution. You can make a difference for the families of the Barrett PTA by supporting their fundraiser. 
Columbia Pike Revitalization Organization (CPRO): COVID-19 has had a disproportionate impact on residents of the Columbia Pike neighborhood in Arlington, for whom significant disparities existed in the social determinants of health prior to the pandemic. One census tract along the Pike has a 49% childhood poverty rate. With a boost of support from emergency funding,  FRESHFARM, CPRO, and the Cooperative for a Hunger Free Arlington distributed fresh produce shares to hundreds of families during the month of August. 
"Residents very much appreciated the addition of these bags of produce, which were bountiful, aromatic, and contained a variety of excellent quality produce."  -Abby, community organizer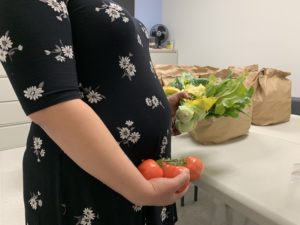 Virginia Hospital Center, Moms Produce: For uninsured pregnant women, healthy food is especially critical during this public health crisis. Since May, the Pop Up Food Hub has partnered with the Virginia Hospital Center and their Moms Produce program, a farm-to-clinic initiative to deliver bags of fresh fruits and vegetables to expectant mothers. The project was launched by Dr. Melissa Duncanson and her fiancé and has since grown into a nonprofit, providing pregnant women the nutrition they need to grow healthy babies. So far Moms Produce has raised $28,000 and delivered 450 bags of produce, and the program was recently featured on ABC7 News. Support our efforts to get even more produce to moms who need it! A $22 donation covers a week's worth of produce for a patient. Click here.
"I am a single mother, and I just spend all day worrying… Worrying about the infection, about leaving the house because I could bring something home to my son. And now we can have something fresh. This is so important to help us all. But also to help my baby." – Moms Produce participant
We're proud to partner with so many Virginia organizations working to alleviate hunger during this pandemic and beyond. Please consider supporting the children, families, and farmers in your community by using the links above to make a donation to one of these programs and support the Pop Up Food Hub's continued growth in Virginia!