What's In Your Share This Week?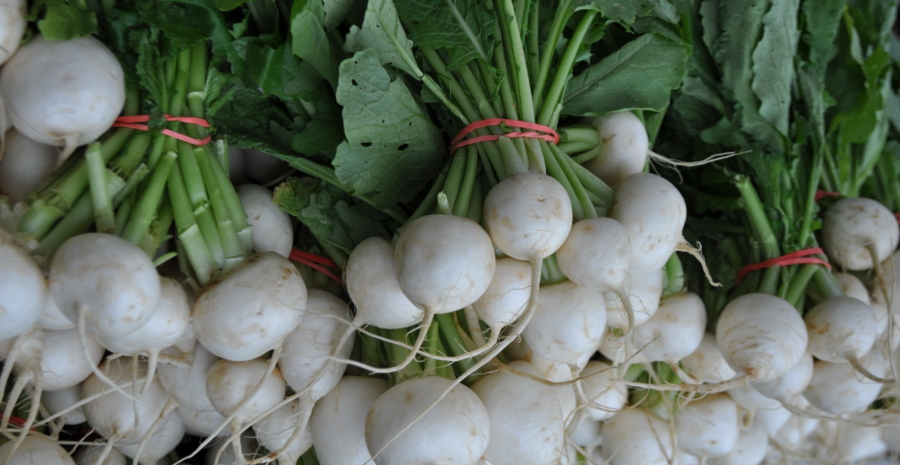 The peak season for fresh, farm market turnips is from October – February. Turnips and other, less-popular root vegetables some times get a bad reputation. Scientifically known as Brassica rapa, turnips are a cousin to other health-protective giants including kale, collards, cabbage and broccoli.
The turnips that most customers will receive in their Market Share this week are called Hakurei turnips. These small, young turnips have a delicate, slightly sweet taste, as do their greens (which are rich in Vitamins A & C, riboflavin, calcium, and iron). Try eating the bulbs raw in salads, roasted in the oven, or mix the greens into a soup or stew.
Turnip greens are usually available with their roots attached. To make them last longer, remove the greens from the root. Store the greens and roots in the refrigerator separately wrapped in a plastic bag. They should keep fresh for about four days.
Get the most out of your Market Share with these recipes:
Switch up your classic potato salad recipe with this fun Sweet Potato Salad remix.
Throw any hearty leafy green, like mustards, collards, or turnip greens in this Kale and White Bean Stew.
Use your carrots to bake a batch of these Carrot Muffins.
Add garlic and scallions to make this Pan Roasted Baby Bok-Choy pop!
Head over to the Recipe Box on our website for recipes like Apple Butter, Kale Quesadillas, Kale Caesar Salad and more!
Read on for tips and tricks to engage eaters of all ages in the kitchen!
Convincing children to eat a variety of vegetables can be difficult. Luckily, FoodPrints is here to help! Try these activities and strategies to expand your picky eaters palette:
Give your kiddos opportunities to explore the foods they'll be eating with a five senses taste test
Try to eliminate the pressure around mealtimes by not forcing children to clear their plates and enforcing what Child Feeding Specialist, Lucy Cooke, calls "Tiny Tastes"
Whenever possible, find a simple task for your child to complete with you in the kitchen. This can be something as simple as holding a measuring spoon while you pour oil, stirring ingredients in a large bowl or ripping kale into small pieces. By involving them in mealtimes they may be encouraged to taste and eat more.
For more like this, visit our FoodPrints Anywhere page for activities, recipe guides and educational videos for parents, teachers and students!