What's In Your Share This Week?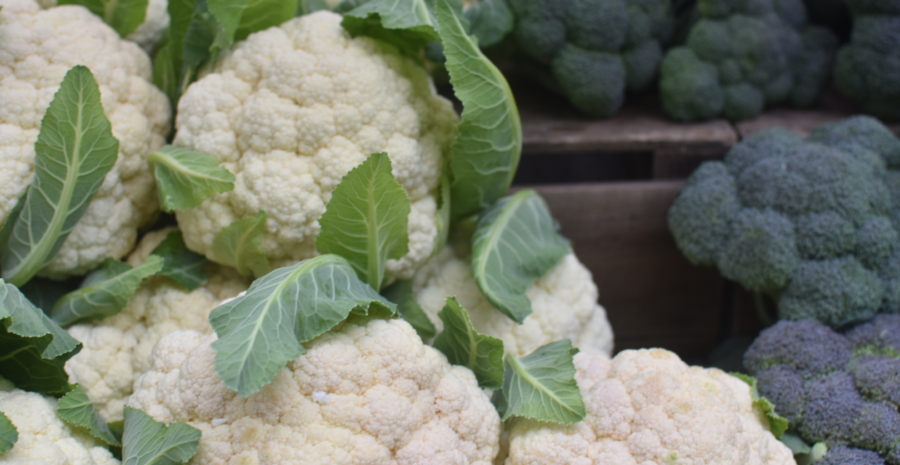 Once you eat roasted broccoli and cauliflower, you may never go back to steaming it again. Roasting intensifies the delicious flavors of these plants, and makes them crunch and melt in your mouth at the same time. In addition to the oil, salt and pepper, you can also try adding a few cloves of sliced garlic and a thinly sliced lemon to the tossed veggies before they go in the oven.
Or, try tossing them with curry powder and cumin and dipping the hot, roasted pieces in cool, plain yogurt. Click here for the full recipe!
Read on for more recipes and information on what to do with this weeks Market Share:
Winter Squash season is here! Here are a few examples of the squash customers cane expect to see this week: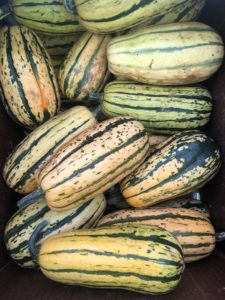 Delicata squash is usually small and striped. The edible skin and the creamy inside make it a perfect candidate for roasting!
How to Prepare Delicata Squash:
Use a sharp knife and cut in half, lengthwise.  Scoop out seeds. (If you would like, you can lay the seeds out on an oiled sheet pan, sprinkle with salt and pepper and bake in the oven until lightly browned and crispy.)
Cut into half inch rings and toss with olive oil, salt and your favorite seasonings. Roast on 425 until golden brown and soft on the inside.
Or, Place the cleaned squash halves in a baking dish large enough to hold them, cut side up. Fill the cavities with the vegetable/rice/quinoa mixture.
Add 1/4 cup vegetable stock and 1/4 cup water to the baking dish.
Cover with foil and bake for approximately 1 hour or until the squash is tender.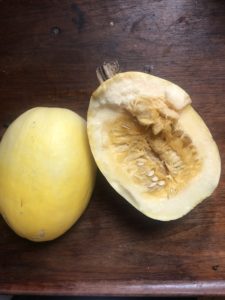 Spaghetti squash typically has a yellow or orange exterior and a pale yellow interior. It gets its name from the long, stringy "noodles" it produces once cooked.
How to Prepare Spaghetti Squash:
Preheat oven to 375 degrees. Slice the stem off the top of your squash, then turn on its side and slice it in half lengthwise. Remove seeds and innards, and toss/or compost. Drizzle each half with olive oil and sprinkle each side evenly with minced garlic.
Pour about 1/4 cup of tomato sauce into each half, and then top each side evenly with sliced cherry tomatoes, basil, salt & pepper. Cover in aluminum foil and place on a baking sheet to catch any drippings. Bake for 50-60 minutes, until mixture is bubbling and squash is fork tender. Once ready, remove from oven and use a fork to separate squash strands.
For more on how to get the whole family cooking, check out our FoodPrints Anywhere page for fun, hands-on activities for kids of all ages.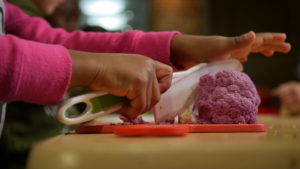 Let your child help you! Separating broccoli and cauliflower florets is a great job for young chefs. Have siblings or friends practice teamwork by taking turns pouring and measuring olive oil! They can work together to coat and prepare the vegetables for the oven.