FRESHFARM
FRESHFARM at 25: A Conversation with FRESHFARM Co-Founder Ann Harvey Yonkers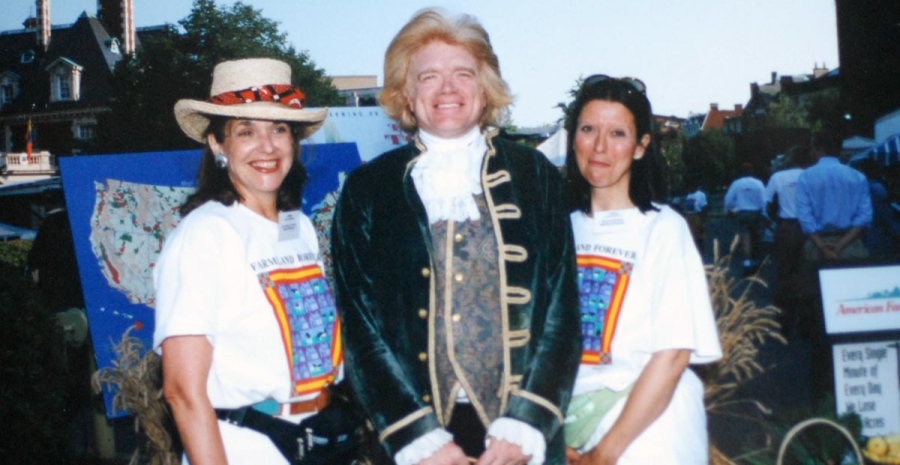 To celebrate our 25th anniversary, we will be sharing stories throughout the year from our community of farmers, producers, FoodPrints teachers and students, shoppers, gleaners, and beyond about FRESHFARM.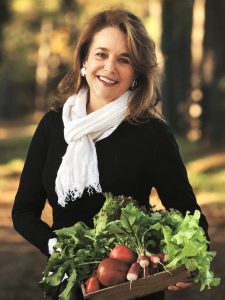 We caught up with Ann Harvey Yonkers, who co-founded FRESHFARM with Bernadine Prince, to learn about the genesis of this amazing organization.
Be sure to also read our interview with Bernadine Prince. Each of these food system trailblazers has a unique perspective about FRESHFARM's legacy, and we wouldn't be where we are today without their vision and hard work. 
FRESHFARM: What were your objectives and goals when you opened the Dupont Circle farmers market?
Ann: I had really big policy goals. I wanted to change the way Washingtonians experienced food. I wanted to disrupt the current food system by bringing fresh local food into a city where policy is made but instead of talking about it, actually doing something. I believed in the power of food to inspire and alter habits and hearts because you could actually see it, taste it, and feel it. I aimed to create a model farmers market structured as a business that would incorporate all the best practices of outstanding markets across the country. I treasured the opportunity to start fresh.
When Bernie and I set out to create FRESHFARM, I was 56 years old. My goals grew from my life experiences. Being a local was an important advantage — I was raised in Arlington, Virginia, went to Catholic schools, then to the College of William and Mary, where I majored in government. I grew up in a family of progressives. I had an immigrant Irish mother and a rancher father from Montana. My paternal grandfather organized Montana wheat-growing ranchers to protest the unfair underpricing of their premium winter wheat in Chicago. So this work was in my DNA.
I worked seven years in tech doing program evaluations before my husband Charlie and I took our family to Benin, West Africa where we served in the Peace Corps from 1972 to 1976. My professional culinary degree and eight years as a cooking teacher proved to be one of the huge advantages I brought to the market. So, coming into it, in those early years of FRESHFARM, it felt to me as if I was at the right place at the right time. I had so much energy and enthusiasm and a wide, diverse set of contacts. I felt poised to be able to make a significant contribution.
FRESHFARM: Tells us more about the research and planning that went into starting FRESHFARM.
Ann: For me, it started with the feasibility study in 1994. Chef Nora Pouillon asked the question: "Why can't we have a market like New York City's Greenmarket in DC and why don't you do it, Ann?" She was a board member of Public Voice and helped them secure a grant from Jean Douglas at the Wallace Genetic Foundation to fund our feasibility study for a producer-only DC market.
Writing the feasibility study gave me access to market practices all over the country. I did literature searches and attended national market conferences. I met the pioneers who started markets. The conclusion I came to was markets were exceptionally popular, but they were not generating data to show what kind of impact they were making. This insight led me to create a business-oriented model, one that would enable us to document FRESHFARM's impact. It also gave me the opportunity to integrate all of the best farmers market practices into our market structure and rules when I wrote the first market application.
I adopted the fee structure for tracking farmer sales from Chris Burke at the Boulder, Colorado farmers market: using a percentage of gross sales as a fee structure. The farmers would report each market's sales and pay a 6% fee to FRESHFARM. This seemed fair as the actual fees were tied to sales. If the sales were small, the fees were too, but as farmer's sales increased, this gave farmers a growing stake in the success of the markets. We started counting customers, which was very rare. The process gave us important and consistent data. we added a gleaning and a chef at market program to our structure. Finally, we formalized market hours and opened and closed with a bell, treating markets as retail establishments.
FRESHFARM: What were the important first steps when starting the market?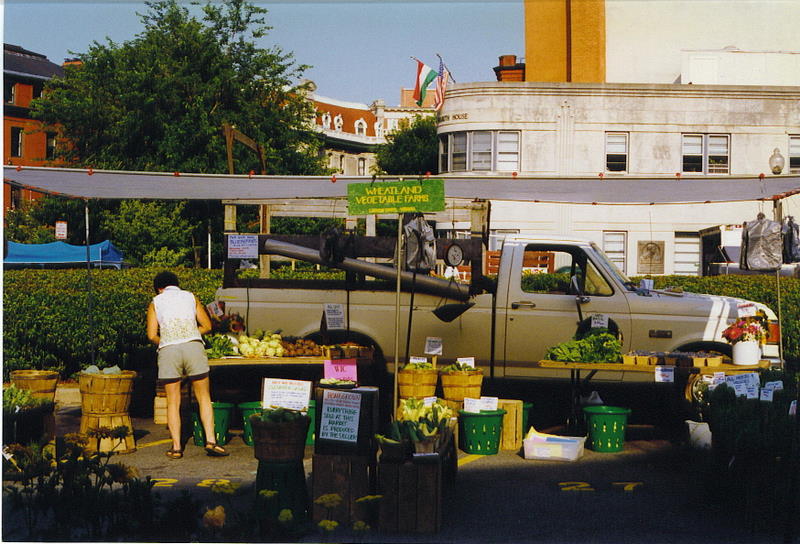 Ann: I wanted guidance from the farmers. I went to two families who were local pioneers in direct farm marketing: Chip and Susan Planck of Wheatland Vegetable Farms in Virginia, and Jim and Moie Crawford of New Morning Farm in Pennsylvania. My question to them: what are the key qualities of effective farmers markets? For both, the answer was the same: the market must be producer-only, farmers selling what they grow. This is the base we built on.
As a grassroots advocate, it was important to me that we go to the Dupont Circle community to share our plans and get their buy-in early in the process. We made presentations to the Citizens Association, the Business Association, and the Historical Association, all of which built support and also resulted in securing the then Riggs Bank parking lot as part of our site. I also wanted the markets to be seen as a driver of the quality of life in DC. That's why locating the Dupont Circle market on public space was important, and the markets became part of the city's civic life. Unfortunately, this meant we had to secure a permit for the Dupont Circle market. This evolved into a political high wire act and was a process that nearly derailed us. But we prevailed.
FRESHFARM: FRESHFARM was originally a project of American Farmland Trust (AFT), where co-founder Bernadine Prince worked. What was the response at American Farmland Trust to the idea of starting a market?
Ann: Bernie's negotiations to convince American Farmland Trust to open a DC farmers market was a major achievement, and I am eternally grateful to her for that. We benefited tremendously working under the umbrella of a stable national agricultural nonprofit with offices, salaries, and resources. AFT contributed to our strong start, and Bernie and I did so many innovative things when we were there. We eventually parted ways with AFT to start our own nonprofit, as their focus was national policy and ours was grassroots.
FRESHFARM: When you started FRESHFARM, what were the biggest barriers that you needed to overcome? 
Ann: I maintain that FRESHFARM had the most dramatic opening of any farmers market in the country. By the time we opened the Dupont Circle market, we had involved AFT, multiple DC agencies, high-profile lawyers, city planners, Riggs Bank, Mayor Marion Barry, the Colombian Ambassador, the Diplomatic Corps, the State Department, and most dramatically, the Secret Service.
The problem was that in 1997 very few in the city understood what a producer-only farmers market was. We were pioneers and our goal took lots of explaining and fierce advocacy. And we needed to secure a city permit to close 20th Street as part of the market site. One very sticky DC issue was the residence of the Colombian Ambassador on 20th Street. He considered the proposed Dupont Circle market as 'dangerous' to his safety. His complaints reached influential people and launched us into a high wire act to save our market and to get it open.
We were still waiting for our permit days before our planned festive market opening on July 6th, 1997. We did not have the permits, but we made a strategic decision to ask the Deputy Mayor to come to the opening. We figured that way we would escape being arrested! On that evening of July 5th, Mayor Barry's executive order approving the permit was faxed to our offices. We immediately knew this was the work of Betty King, Deputy Chief of Staff to the Mayor who was our insider advocate. We learned later that Betty personally delivered the order to the Mayor's desk to be signed and immediately faxed it to our offices. From that day on Betty was adopted as our market Godmother.
FRESHFARM: Of your many accomplishments at FRESHFARM, what are you most proud of?
Ann: First, the glorious opening of the Dupont Circle farmers market in July 1997. This was the triumphant end of a long journey, which for me specifically began in 1994 with writing the feasibility study. Opening day was a wonderful imaginative celebration handled beautifully by the American Farmland Trust. My husband, Charlie, and both my kids, Kate and Adam, were there.
Second, creating the By the White House market with the Office of First Lady Michelle Obama. I remember getting the call from chef Sam Kass (who worked with First Lady Obama on nutrition policy) inviting me to the White House to talk about creating a farmers market. Having been chosen to work with First Lady Obama's team to bring the White House market to life was the clearest evidence of our success as well as national recognition of all farmers markets. It was a great high. I could not stop smiling. And then to stand on the podium with Michelle Obama, have her hug me and say, "This is great work," was the experience of a lifetime.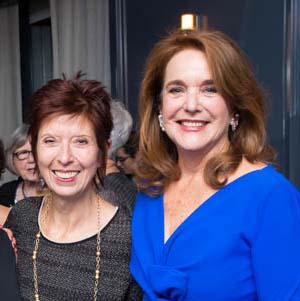 Third, the 2015 Feast, which also served as Bernie's and my retirement party, was such a fantastic ending to this amazing journey and was our most financially successful and largest gathering at the Feast. My family was there, my kids, and ten of my college sorority sisters. And scores and scores of friends and supporters. Chris Curtis of Seattle Neighborhood Farmers Markets, who was an early inspiration to me and became a friend, was there. What a sendoff!
As a founder, I must add a current note to this discussion of favorite things. Bravo to Executive Director Hugo Mogollon for his dynamic leadership and to the FRESHFARM Board for their steady shepherding through hard and happy times.
Finally, on a personal note, a significant part of this journey for me is that my nephew, Nathaniel Bjerke Harvey, who originally apprenticed with FRESHFARM farmer Heinz Thomet, is now an organic farmer in Manhattan, Kansas. He lives with his wife and baker extraordinaire, Alison, and daughter, Mary, at Piccalli Farm. He is brilliantly revolutionizing agriculture and food every day in his corner of Kansas.