FoodPrints
Weekly Fresh Produce for 30 Students' Summer Learning Made Possible through FRESHFARM Collaboration
In this era of virtual summer camps, imagine receiving supplies for cooking, gardening, reading, and studying plants at your door, then logging in every day to meet with a FoodPrints teacher to learn how to make yogurt parfaits, and tuscan kale salad, grow microgreens, read together about farmers and food, and make an anger catcher – and more! That's the experience of 30 students from Wards 7 and 8 for seven weeks this summer. With support from United Way Learn 24, our team has designed an innovative virtual summer program that not only provides virtual instruction but also access to food and supplies students need to fully participate.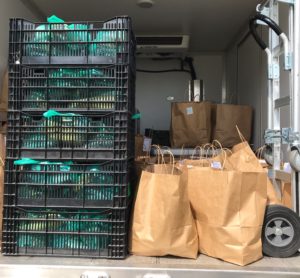 Weekly home delivery of the food students need to cook each week is made possible through a new collaboration between all three main areas of FRESHFARM: farmers and markets, FoodPrints and the Pop Up Food Hub (PUFH). This allows us to gain access to a wide variety of available seasonal items through farmers in our network, at wholesale prices with streamlined purchasing, sorting, and delivery.
How does the food get from the farms to our students' doorsteps?
The FoodPrints summer logistics team places an order for the next week's food items with the PUFH →
The PUFH adds the FoodPrints order to the total orders from farmers in their network →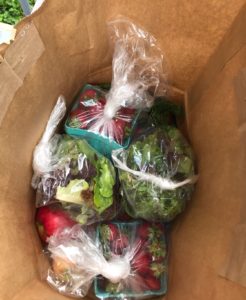 Farmers bring the total order to the weekend FRESHFARM markets (where they are also vendors) →
The PUFH team transports the total orders to its storage and distribution location →
The FoodPrints team joins them there for sorting and packing and adds in cooking tools, books, and other learning supplies →
Bags of produce and supplies are delivered to the homes of the 30 students each Monday.
In the first week of July, the home delivery included kale, collards, salad greens, cherries, apples, beets, carrots, garlic, and snap peas.
Students have shared their excitement with us about this weekly food delivery, saying things like "I have dozens of ideas running through my head of what I can make," and "I've never tasted ranch before, I'm too picky to have it, but homemade ranch is really good."
This is a mutually beneficial food access relationship between PUFH and FoodPrints and both teams are looking forward to growing it over time by both expanding procurement for FoodPrints programming and incorporating more food education into PUFH programming.
---