FoodPrints
Using School Spaces Creatively to Cook & Learn in FoodPrints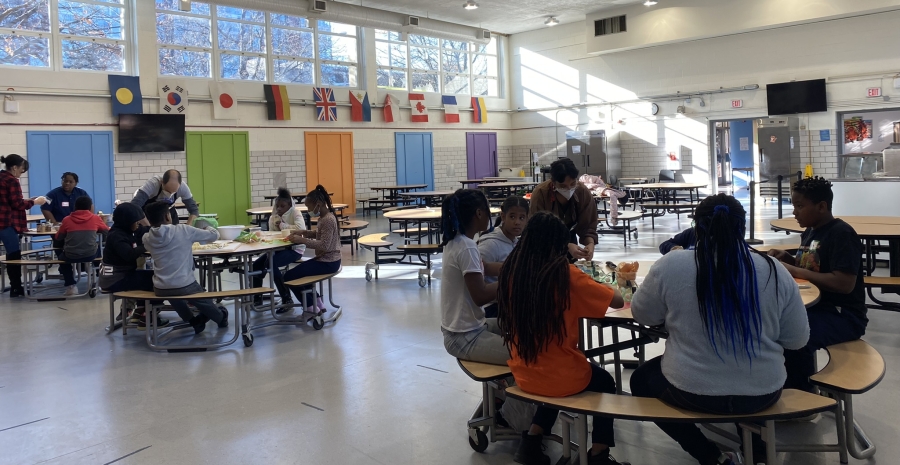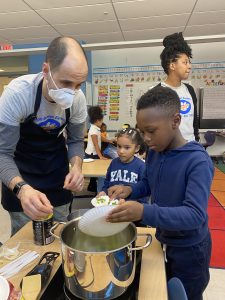 In order to bring FoodPrints magic to schools without teaching kitchens, our teachers have to come up with creative ways to use unconventional spaces as kitchens. At these partner schools, classrooms, cafeterias, and even gardens sometimes become our meeting place for cooking, learning, and eating together. The "behind the scenes" work that this requires of our FoodPrints teachers is filled with complex planning, coordination between school staff and parent volunteers, and preparing ingredients and cooking tools. More than anything though, it requires a commitment to making complicated things happen in a way that works for students.
At Amidon Bowen, Mr. Derek and Ms. Soleil bring FoodPrints magic to their school community without a FoodPrints classroom. With a stocked pantry hidden in the corner of the school cafeteria, a mobile cart to visit classrooms, and a budding garden, they become a classroom kitchen on wheels.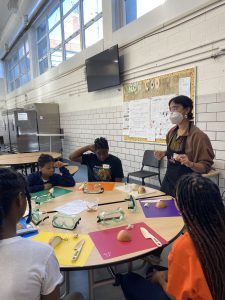 Pushing a cart stacked with ingredients for kale quesadillas, pans, cutting boards, kid-safe knives, and an induction burner, through the cafeteria and hallways, they enter the classroom doors with a joyful "Hello friends!". Excitement for the hour ahead shines on the faces of every kindergartener in the room. Transforming the room that these young students learn and live in everyday into a space where they will, learn, cook, and eat together makes lasting and meaningful memories.
Once the welcome letter is read, Mr. Derek and Ms. Soleil pass out small pieces of onions and pepper for students to cut as well as large, green kale leaves for them to destem and rip up in preparation for their Kale Quesadillas. Setting up their portable griddle, Mr. Derek and Ms. Soleil work with each student to make their quesadilla recipe come to life. Being an invaluable part of the cooking process and seeing their food made in their own classroom brings true excitement about eating fresh vegetables to this kindergarten classroom.
With another class in the afternoon, 5th graders are greeted enthusiastically as they enter the cafeteria, which has been transformed into a FoodPrints classroom for the next two hours. After hands are washed, lunch tables transform into kitchen counters where ingredients for today's recipe, Biryani, are displayed. One table takes cues from their classmate, Keivon, as he demonstrates a smart way to cut onions. As students compliment each other on their cooking skills, the induction burner is plugged in to begin the cooking process.
Watch the cooking process here: 5th Graders Make Biryani
Students beam with pride at their achievements and trusted responsibility when given the opportunity to have a hand in the preparation of their meal. Trying the food they made together in their cafeteria brings a new confidence and magic to everyday school spaces.
In FoodPrints, daily school spaces, like classrooms, cafeterias, and playgrounds transform into kitchens and dining rooms. Storage rooms and utility carts act as kitchen pantries and ovens on wheels. Bringing new, memorable experiences to students in their schools is the joyful fuel that FoodPrints teachers and students run on, no matter the location.