FoodPrints
Growing a New Partnership: Malcolm X Elementary & FoodPrints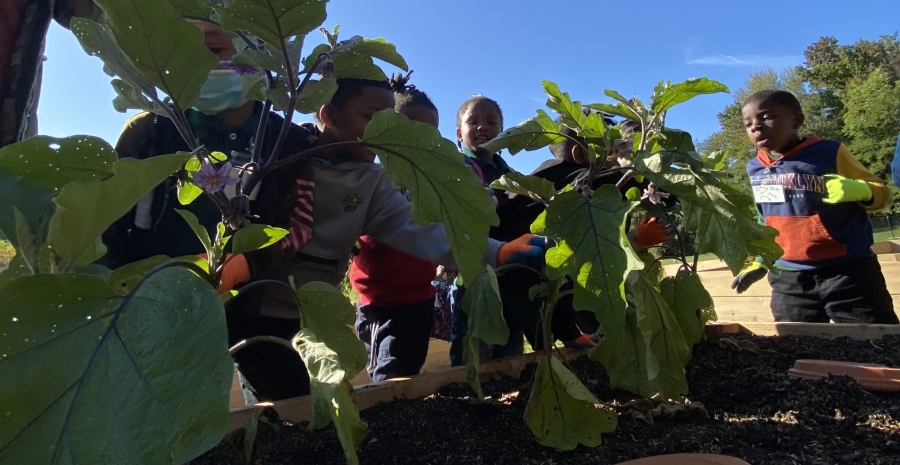 "Your commitment to hands-on learning and teaching self-sufficiency while nurturing young minds have made a profound impact on our students and our entire school community."
– Mr. Antonio Wilson, Manager Strategy and Logistics, Malcolm X
The beginning of the day at Malcolm X Elementary is filled with songs, school spirit, and student-led affirmations at a school-wide assembly called Harambee. The daily gathering reaffirms community building and mindful reflection, which are values also present in our new partnership with Malcolm X Elementary.
Last year, Malcolm X participated in FoodPrints' out of school time programming, evolving this year into the monthly school-day format for the entire student body. Principal Zara Berry-Young shared, "We are so excited about our new partnership with FoodPrints at Malcolm X – especially how it extends our classroom learning!" In October, national Farm to School Month, students learn about the processes that bring food to our tables in our Bringing Food from Farm to Table lesson. Gathering an understanding for the different jobs farmer do to grow food, students begin to imagine what jobs they would do on a farm. These connections make an impact on their understanding of where our food comes from.
New Partnerships Bring Joyful Moments
Thanks to a collaboration with Rebuilding Together, who helped refurbish the school garden this fall, students also get to see the growing process in their own school backyard! Here's a snapshot of a sunny morning from this October:
A class of Kindergarteners excitedly walk around their newly rebuilt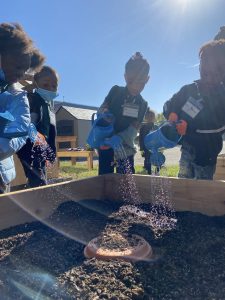 school garden with their FoodPrints teachers, Ms. Marylinn and Ms. Raigon. Eager students gather around the empty garden beds, ready to sow their first seeds together. Half of the class digs their hands into the soil plant, while the other half stands ready to water the newly planted seeds. Classmates cheer "go water, go!" as the students with watering cans make their way around the bed.
Entering back into the classroom, Kindergarteners enthusiastically share the vegetables they would like to grow in their garden. Students cheer with pure joy as peppers, cucumbers, and carrots are brought out to practice their slicing skills. Each student places undivided attention to their cutting boards, practicing focusing while slicing. The declaration, "I'm a chef!" is heard around the room, as students use their kid-safe knives to prepare the veggies and taste them with a widely-loved cilantro lime dressing.
The students take pride in being a vital part of the growing process. Ms.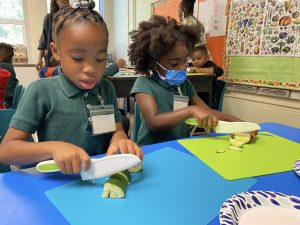 Raigon holds up a sweet potato in the classroom saying, "where does this come from?" and students respond with "the store" or "the farm". Ms. Raigon is met with gasps and disbelief when she tells them it grew in their very own school garden.
Watch a video of the class here: Farm to Table Lesson 
These joyful moments are proof that this new partnership with Malcolm X is a special addition to our FoodPrints community. Both students and staff can't wait to experience new opportunities to learn about, cook, and grow food together in FoodPrints.