FoodPrints
FoodPrints Resilience In Response to COVID-19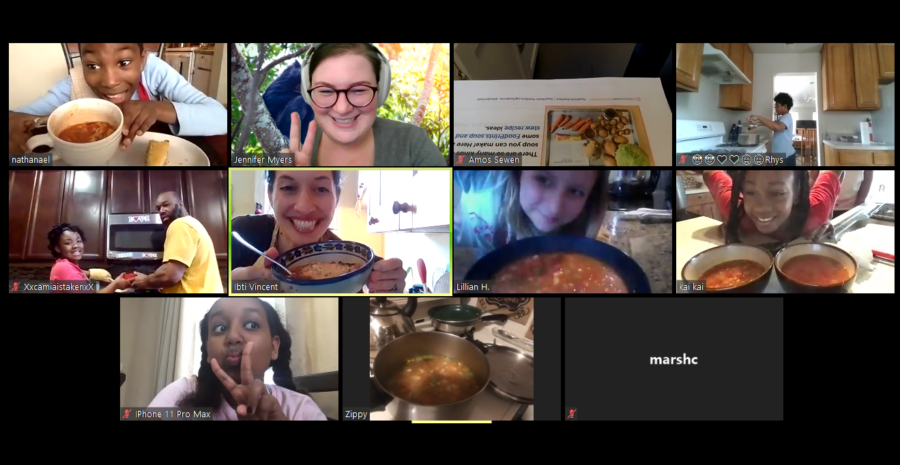 Cooking, gardening, eating, and learning are the tenants of the FoodPrints program. So, last spring, when confronted with the seemingly impossible task of transforming these experiences from in-school programming to at-home learning, the FoodPrints team rose to the occasion with new ideas and energy. We quickly collaborated to develop flexible and adaptable models, allowing students to continue garden and food education, discover that they could transfer these skills to their homes, and continue to stay connected to a program they value.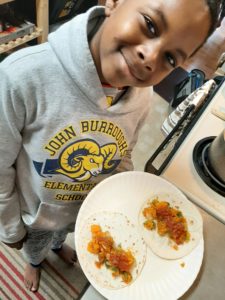 In a recent Civil Eats article, "Edible Education Goes Online in the COVID Era," which featured the work of FRESHFARM's FoodPrints program, reporter Lisa Held writes, "programs that engage children in curricula around growing and cooking food have created surprisingly successful virtual models." The FoodPrints team quickly discovered that online garden and cooking classes were possible by designing lessons for students and families using basic pantry and household items, and drawing on students' familiarity with the FoodPrints model, and "keeping it simple." Yet, with online programming underway, it became clear to the FoodPrints staff that there was a need to have intentional discussions about how to deliver virtual food and garden programming in an equitable way. How could we get supplies and ingredients to participants to make sure all the students could fully participate and feel successful and valued?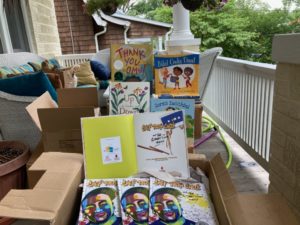 Putting our heads together, we designed a method for ensuring equitable participation through a new collaboration between our FoodPrints and Pop Up Food Hub programs. This collaboration allowed us to deliver books, supplies, and ingredients each week to the 30 students who participated in our 7-week summer enrichment program. This delivery model ensured that each and every student had what they needed to fully participate.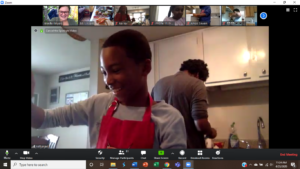 Due to this high level of commitment to equitable and true FoodPrints programming in a virtual world, FoodPrints teachers were able to make some discoveries about the positive outcomes of FoodPrints online. Notably, our staff observed an increase in parent involvement in live virtual classes, and they were able to reach parents and caregivers in ways they hadn't been able to during in-school programming. The teachers also saw that students showed an increased confidence and self-efficacy because they were preparing recipes from start to finish independently while at home. As one student said, "My favorite thing… has been cooking class because I learned how to make new things and was able to cook things that I never had before."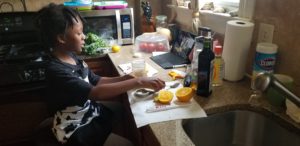 Classroom teachers at our partner schools who participated in FoodPrints live virtual classes shared that online FoodPrints classes not only helped their students by promoting health through food education, but also engaged students in interactive activities, supported social emotional learning, and provided educational opportunities in science, literacy, math, art, garden, and/or environmental education. Our team's dedication to providing FoodPrints classes virtually opened up learning opportunities in many new and exciting ways, encouraging students to log in and connect with their teachers, peers, and trusted FoodPrints educators.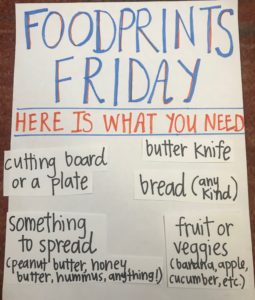 Another challenge the FoodPrints team faced was how to provide FoodPrints resources to families broadly, beyond the scope of the virtual classroom. In response, our staff created asynchronous FoodPrints resources through FoodPrints Anywhere, a digital library of cooking skills and recipe videos, recipes guides, and hands-on investigations all for at-home exploration and learning. Wanting to reach a wider audience outside of virtual classes, members of our team lead weekly Instagram Live videos to provide joyful and engaging experiences for families at home, and the fun chance for families to see their FoodPrints teachers in an informal, easily accessible format. 
We are always learning, and evolving, and we are diving into this school year eager to work with our students, families, stakeholders, and partner schools to continue to provide food and garden education by adapting the FoodPrints experience at home, for everyone.