FoodPrints
FoodPrints Garden Clubs: Outdoor Learning During the Pandemic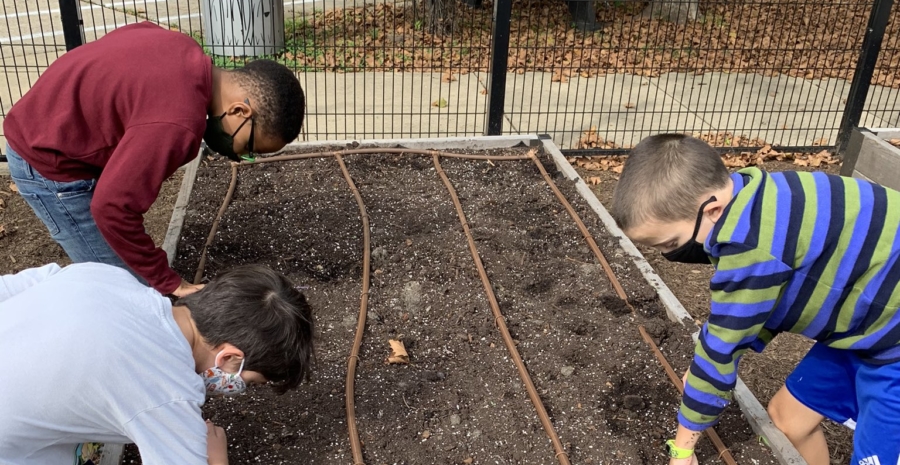 FoodPrints Garden Clubs & Outdoor Programming for students, families, and schools promote SEL skills, health, and human connection and supports academic learning, in safe formats.
Currently, three of our partner schools are hosting FoodPrints garden programming (Tyler, Burroughs, and Ludlow-Taylor). We hope to expand the number of schools where we can provide garden sessions as schools begin to reopen and if targeted funding for outdoor learning from the city becomes available.
The FoodPrints outdoor learning model provides in-person opportunities for students and families to continue learning in their school gardens and engage in hands-on garden science lessons– and is a welcome way to bring students and families back to school during the pandemic. The implementation at each school is determined in collaboration with school administration, teachers, and parents. This collaborative and flexible model allows staff and families to participate if and when they feel comfortable.
We are accommodating both opt-in programming for families learning at home and sessions that support in-person classrooms:
Opt-in small groups in 30 to 60-minute sessions; Families sign up in advance. Some groups host families (parents and students together), some just students.
Sessions for CARE classrooms, self contained special education classes or general ed classrooms convening at school.
Our outdoor education model follows safety protocols to ensure health and well-being of all participants:
All students and teachers wear masks and practice social distancing.
At least 15 minutes between each session to allow the air to circulate and teachers to sanitize materials and tools.
Temperature checks are conducted by school staff members.


---
Value of FoodPrints Garden Clubs & Outdoor Programming for students, families, and schools
1. Promotes health, SEL skills, and human connection.
Opportunities to be outside and explore nature have been shown to improve mental health – and are welcome and needed while school is virtual for most students.
We are supporting social-emotional learning and family connections at this time when social interactions and connections are so limited, and when creative, hands-on, screen-free experiences are desperately needed.
Students and families who participate in our garden clubs are so appreciative to be with fellow students and families, have their hands in the soil and talk to others. For most, garden club is their only in-person interaction with their school right now.
2. Provides a safe environment for social interaction and learning
Our outdoor, small-group garden education, where everyone wears masks, is one of the safest ways to be at school and learning with peers right now.
Our gardens allow space for social distancing while growing a variety of edible and pollinator plants, and exploring and learning.
3. Engages students in academic learning
We provide science instruction at a time when schools are otherwise focused exclusively on math and ELA instruction. Our standards-based curriculum aligned with Next Generation Science Standards as well as Common Core and OSSE Social Studies standards.
4. Valued by families
Hands-on, socially distanced, educational experiences in the garden is a safe and joyful way for students and families to begin reengaging with their schools.
Garden sessions can help increase families' connections to schools during virtual learning, allowing parents to interact with school administrators, counselors or teachers while students safely attend classes in the school gardens.