FoodPrints
FoodPrints Outdoor Education: Endless opportunities for real-world learning in the natural world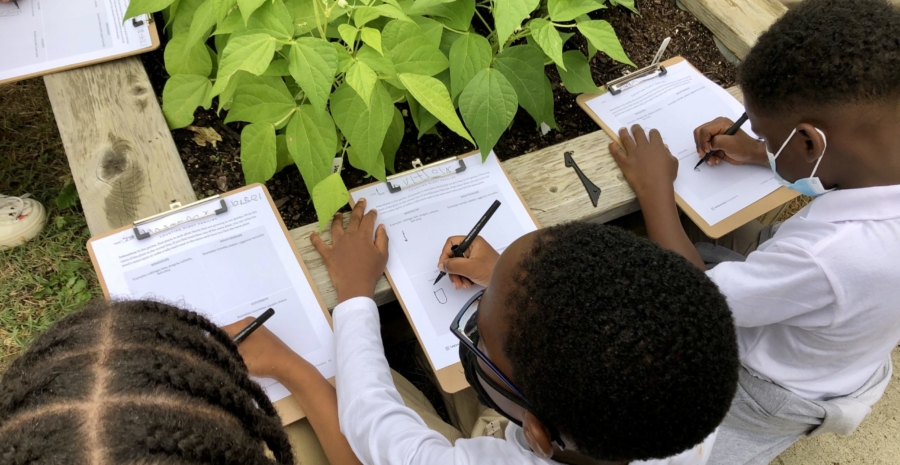 In FoodPrints gardens, our students learn through engaging with the natural world around them — in lessons that build on topics and standards that students are learning in their regular classrooms.
Second graders in FoodPrints at Langley Elementary learn that pollinators and flowering plants depend on each other to survive. As students conduct their pollinator scavenger hunt, they have guided, authentic opportunities to appreciate bees as very important pollinators. When one student was afraid of bees, another reassured her that she didn't have to be scared, but could simply say, "thank you bees." A FoodPrints teacher guided another class of fifth graders at Whittier Elementary in carefully touching friendly carpenter bees on a mint plant.
Kindergarten students at Tyler Elementary practice making scientific observations and use fine motor skills by drawing plants and labeling their parts from root to flower in the garden during their FoodPrints class.
First grade FoodPrints students at Payne Elementary eagerly search for the six main plant parts in the garden, sharing observations about both the structure and function, a key Next Generation Science standard.
At CW Harris, when third graders are learning about ecosystems, they come to FoodPrints and study the garden ecosystem, identifying living and nonliving things within the garden space and how they work together.
Fourth graders at Watkins learn about perimeter and area in the FoodPrints garden by calculating how much mulch is needed to cover the paths and the cost of the mulch.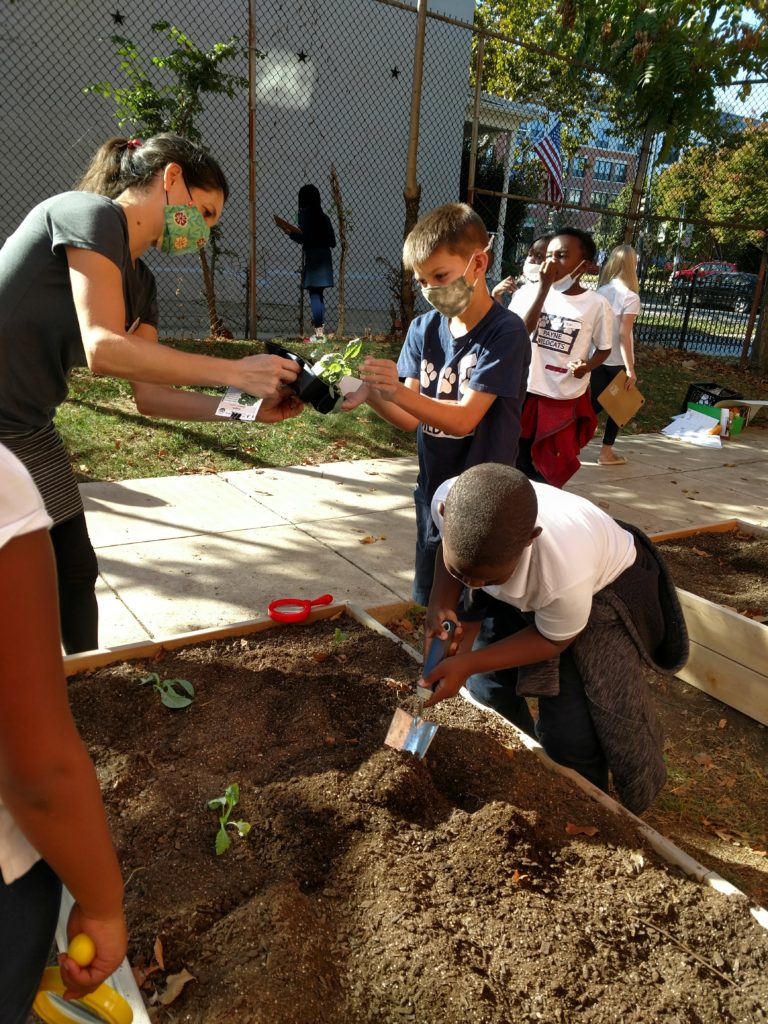 Outdoor education creates endless opportunities for real-world learning that reinforces grade-level academics. Our FoodPrints teachers report high levels of excitement and learning around the main ideas and guiding questions of our lessons in the garden. Our 19 DC partner schools value the way FoodPrints brings whole-child, real-world learning to support academic learning goals. Our free, flexible, standards-based FoodPrints curriculum for wide use — with resources like our FoodPrints instructional video, Tips for Teaching in the Garden — support schools outside of our network to bring experiential outdoor education to their students.
Through outdoor education, FoodPrints aims to support our partner schools' goals for academic success, student engagement, and instilling a love of learning in young people. Our Curriculum and Instruction Team is available to provide professional development for schools and school districts in DC and around the country to support with utilizing our curriculum and building effective, experiential food education programs for their students. Reach out to Jennifer Ramsey, Director of Curriculum & Instruction, at jramsey@freshfarm.org if you are interested in learning more about professional development opportunities.