FoodPrints
FoodPrints in the Wintertime – Our Gardens May be Quiet, but Our Classrooms are Full of Life
Our school gardens may be quiet places in the chilly February air — our crops dormant as they await warmer spring weather to grow tall and strong. But walk inside any FoodPrints classroom throughout the city, and you'll see bright, bustling places where winter's gray skies don't interrupt the learning and fun.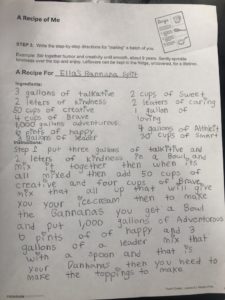 This winter, 4th graders in FoodPrints classrooms across the city are developing A Recipe of Me. In this lesson, students make connections between the recipes they use in FoodPrints and the "ingredients" that make us who we are. This year's recipes were filled with gallons of talkative and loving leaders; cups of creative, athletic, smart, and courageous kids; liters of kind and caring young scholars; and pints of happiness all around. 
Writing A Recipe of Me is a joyful experience for students and reinforces multiple academic skills: 
Reading and writing: Students generate a list of words or phrases that describe them, including character traits, physical attributes, things they like to do and important values. They review the structure of a recipe — ingredients, measurements, and directions — and write a recipe to describe themselves.
Math: Students review the different measuring tools used to cook, and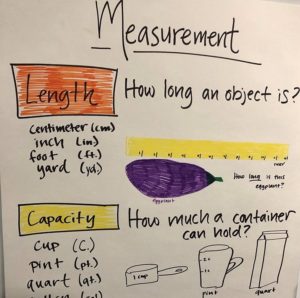 discuss equivalencies and fractions as they practice measurements using a variety of measuring tools and dry beans and lentils.
Social Emotional Learning: Students practice self-expression and reflection. Students must thoughtfully develop a list of adjectives to describe themselves as well as reflect on their defining interests and values. Students also engage in social awareness by providing their peers positive support when they bravely read their Recipes of Me aloud.
As spring arrives, our students will be out in the garden planting seeds, measuring garden beds, and harvesting early springtime crops — and their Recipes of Me will hang proudly in our classrooms showing our students how much we value each and every one of their unique contributions to our communities.