FoodPrints
Experiential Learning, The Five Senses, and FoodPrints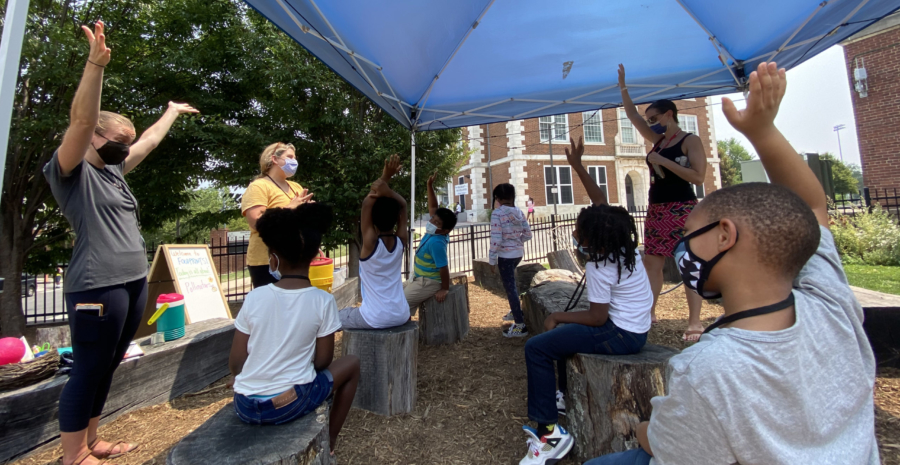 After over a year of virtual learning, FoodPrints summer programming has given students an opportunity to rekindle the joy of learning through outdoor education. Having class in a garden during the school day allows students to engage, not just with the natural world around them, but also with their classmates and school community.
The excitement shows on students' faces as they enter the garden. Students immediately connect to the space around them saying things like, "There's so much growing!" and "I want to take that home!" when they spot a watermelon or zucchini. However, beyond their initial excitement is a deeper engagement that comes with FoodPrints classes. Through hands-on investigations from the FoodPrints Curriculum, students use all of their five senses in almost every class, creating endless opportunities for exploration that make students look forward to coming back to school the next day.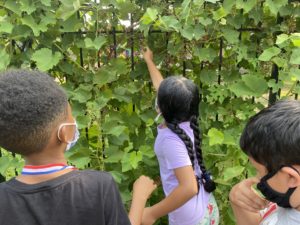 Taste: FoodPrints at Francis Stevens School Without Walls, the students walked through the garden asking when the various fruits and vegetables around them would be ready to pick and eat. After learning the indicators of ripe fruit and how to properly pick them, students got to try tomatoes, grapes, and blackberries. Building on their love for the garden's sweet grapes, students immersed themselves in the process of harvesting, discovering the joy of picking and tasting the perfectly ripe berry. With pride in their new garden knowledge, paired with the excitement to keep trying new fruits, students were shouting, "I'm going to stay here all night and eat!", "Why is everything so good?,"and "They're just so amazing to taste!"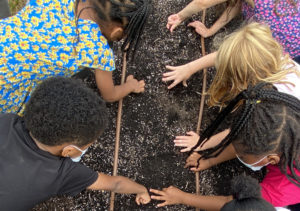 Touch: Touching soil, worms, and seeds was on the list of new experiences for the students at Tyler Elementary's FoodPrints program this summer. Digging through the soil and feeling the roots of plants and the worms in the soil, students were able to make direct connections to the natural world around them and their classroom learning on insects and plant science. Walks through the garden became filled with questions like "Are there worms in there, too?" as students were eager to expand on to their newfound mastery of exploring the soil deep in the garden beds.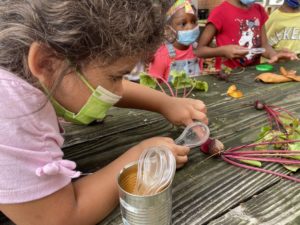 Sight: "When the water sinks down like that, it means the plants are drinking right?" said Love, a student at Burroughs Elementary, as she watered the garden. Through self-guided exploration in the garden, students have time to make discoveries like Love's light bulb moment in the Burroughs school garden. These discoveries spark students' attention to detail and critical thinking. At Anne Beers' Elementary, students were given free time to ask questions and roam through the garden while watering. Each time a student watered a new plant and asked "What is that?" they became more comfortable and confident in the garden. Independent tasks like these bring gratification and confidence to students as they observe their achievements in both caring for the garden and academic learning.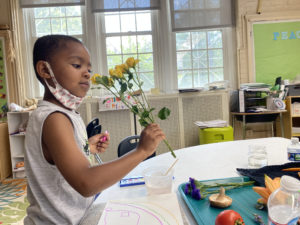 Smell: While the students at Langley Elementary were enjoying using their garden's flowers for their hand pollination activity, new scents were discovered. Getting up close to sunflowers and marigolds, students were visibly surprised by the different aromas of each flower. With each new smell, students started to call their classmates over to share their discovery. Memorable discoveries like these brought students back to school the next day asking to smell more from the garden.
Similar to the Langley students' experience with marigolds, there is pure joy in discovering the smell of herbs like lavender and rosemary. When students at Burroughs found their garden's lavender plant, they started to call their classmates over to rejoice in the newly discovered scent. "I just love the smell of lavender. My mom's going to love it too," said Gloria as she couldn't wait to bring some home for her family to smell too. Our summer program reinforced the knowledge that outdoor learning has a positive impact on attendance, as students are looking forward to coming to school each day to explore and learn in their school garden.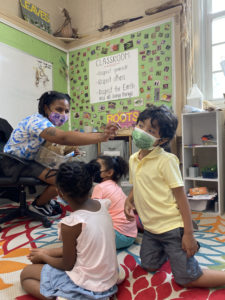 Hear: During a lesson on Comparing Seeds at Burroughs Elementary, students learned how to listen for seeds in seed pods. "I hear something. There's a seed in there," said Kingston as he shook a seed pod near his ear. Kingston and his fellow Pre-K classmates were thrilled to learn how to listen for seeds, as they walked through the garden gently shaking plants close to their ears. This investigation of picking up pods and listening for seeds was suddenly transformed into music class, as students were more than excited to make seed music and dance to the sound of nature's instruments.
When students explore the world with their 5 senses, discovering new scents, digging in the garden to find worms and roots, or tasting a fresh blackberry for the first time, they form joyful memories that make them excited to come to school each day. With outdoor learning as a core component of their school day, students are eager to return to their classroom and garden and share their excitement and discoveries with their teachers, friends, and family.