FoodPrints
Collaborative Cooking In Classrooms: Teamwork in FoodPrints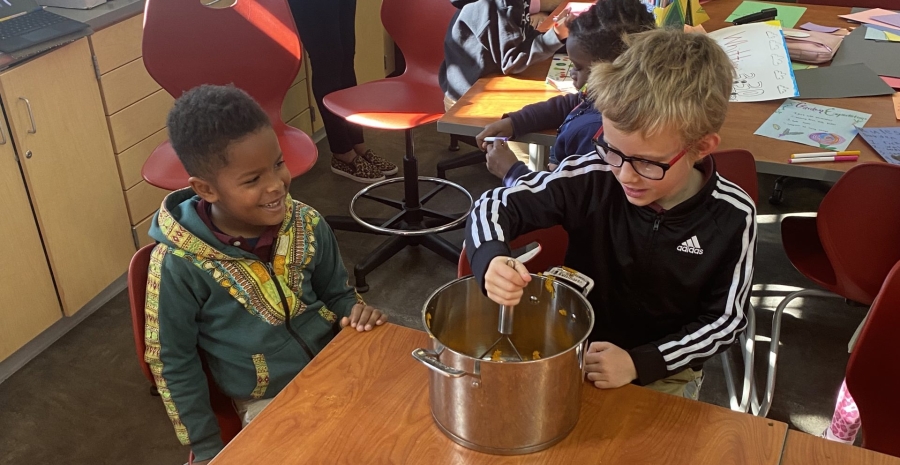 Bringing out a salad spinner in front of a class of 2nd graders sparks a range of reactions. While some see this kitchen gadget and beam with excitement, others are struck with curiosity, and some with confusion. In FRESHFARM FoodPrints, students' opportunities for new experiences range from using a potato masher, to trying a salad spinner for the first time, to sharing a meal prepared with classmates. All of these experiences provide a safe exploratory environment for collaboration toward a shared end goal: making a delicious and nutritious meal or snack.
Teamwork and Collaboration through Shared Responsibility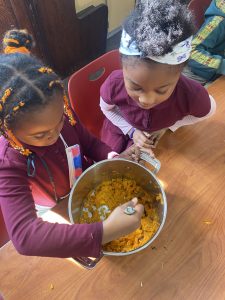 Making roasted beet salad, mashed sweet potatoes, or simple salsa with a class of about 20 elementary school students requires a lot more than just ingredients or the right kitchen equipment. In FoodPrints each student plays a valuable role in contributing to the shared challenge of preparing a new recipe for others to eat. They accomplish this while working in small-group stations where they have opportunities to read recipes, measure, mix, and use other cooking tools, and experience shared success in what they prepare together. While some students might peel and wash sweet potatoes, others will practice their knife safety while dicing their prepared potato. A distribution of responsibility to create a shared meal requires cooperation and teamwork between the entire class.
In our kitchen classrooms, students find necessity in working together when working with tools. At Powell Elementary, while making simple salsa, one student holds a cutting board while the other scrapes chopped veggies into the bowl. A few neighborhoods away at Whittier Elementary, students take turns pulling the salad spinner and keeping the pot steady while using a potato masher. These moments of teamwork are moments of essential social and emotional essential learning (SEL) learning for students, as they use their skills and work together in order to enjoy their own creation at the end of class: a meal they all enjoy together!
Valuable Social and Emotional Learning
DCPS educators in our partner schools reinforce the value opportunities for how FoodPrints helps students build social and emotional skills through our hands-on, real-world model. Christina Greta Schorn, Art Teacher at Amidon-Bowen Elementary shares: "Coming back from the pandemic, students have been learning how to communicate with each other again. FoodPrints gives them that extra time to do that in a safe environment. It has been great to see them working towards a goal, learning how to have respectful conversations and being excited about learning with their peers."
Tarsha Warren, Assistant Principal at Burroughs Elementary says: "Our social-emotional learning (SEL) model is 'come with curiosity, leave with confidence.' In FoodPrints … they're trying new things, they're learning, they're not afraid to learn things, so it literally ties right into our mission."