Food Access
FRESHFARM Adds Produce Plus to Its Roster of Food Access Programming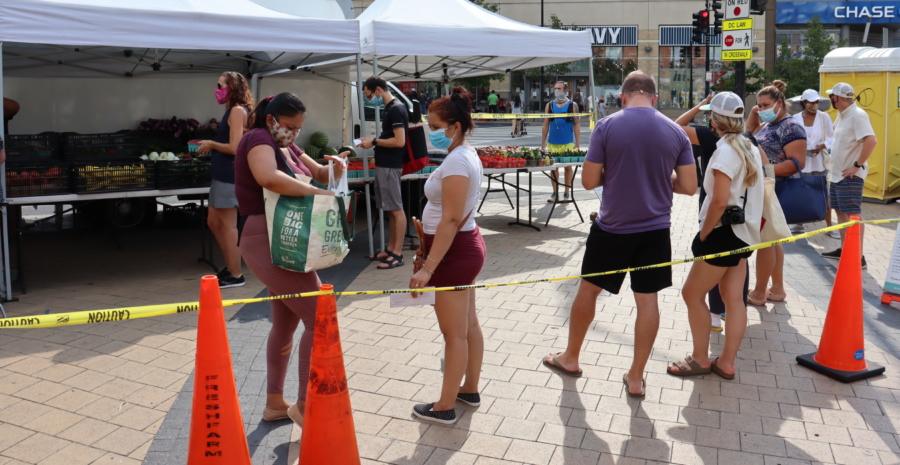 If you are a regular at FRESHFARM's Washington, DC markets in the summer months, you've probably seen shoppers picking up checks at market and using them to purchase abundant peaches and sweet corn and other peak-season fruits and veggies every week. This is DC Health's city-wide Produce Incentive Program, locally known as Produce Plus. Mayor Muriel Bowser invests more than $1 million annually in this program to increase access to fresh produce and strengthen local farmers markets.
We are thrilled to announce that DC Heath has awarded funding to FRESHFARM to administer this program for the next five years. FRESHFARM has long been committed to increasing food security and decreasing rates of diet-related illnesses in communities across the city. As administrators of the program, we will apply our decades of expertise in making local food accessible across the region to support DC Health in scaling up the Produce Incentive Program. We have a history of innovative food access work in the city: in 2008, FRESHFARM's H Street NE market was the first in the District to accept Supplemental Nutrition Assistance Program (SNAP) benefits as well as offer a benefits match, which doubles the amount customers using SNAP can spend at the market. And in 2015, the FRESHFARM Columbia Heights market was the first in the city to offer a Produce Prescription program, partnering with medical professionals that prescribed fresh fruit and vegetables to patients experiencing diet-related chronic illnesses and food insecurity.  Building on this history, FRESHFARM will implement an evidence-based, multi-level nutrition intervention at farmers markets across the city to improve food retail environments, food access, and nutrition security for residents with limited access to fresh food.
What Problem Does Produce Plus Address?
Disparities in access to food persist across the District, leaving some communities without equitable access to fresh, healthy foods. COVID-19 continues to impact rates of food security in the District, particularly among residents aged 60+, children, undocumented individuals, and unhoused individuals. The city's Produce Incentive Program aims to create long-term system changes and solutions to ensure that every resident has meaningful access to nutritious, affordable, and culturally appropriate fruits and vegetables. "Ensuring access to healthy, affordable food is crucial as the District continues to recover and rebuild after the public health emergency," explains Anjali Talwalkar MD, MPH, Interim Senior Deputy Director for the Community Health Administration at DC Health. "DC Health looks forward to partnering with FRESHFARM to continue expanding the reach of the Produce Plus Program to residents across the city and to help strengthen our local food economy."
How Will FRESHFARM Change Produce Plus?
As the new administrators of Produce Plus, FRESHFARM will work in partnership with other farmers markets and non-profit organizations in the city to increase redemption of incentives, improve healthy food retail environments in the District, offer home delivery through our Pop Up Food Hub and other local food distribution programs, and make it easier for District residents to access healthy food through other food access programs available across the city. More generally, FRESHFARM will leverage this funding to increase financial and administrative support for food access work in the District. "DC Health's Produce Plus Program is one of the most progressive and generous programs of its kind in the entire country," notes FRESHFARM Incentive Programs Director Nick Stavely. "FRESHFARM sees this as an opportunity to take this significant investment by the government of the District of Columbia and expand upon it by working with private and public funders to improve food access and strengthen our regional food system."
"We are extremely excited to partner with DC Health in the design and implementation of this program to provide agency and choice to DC residents and improve their health outcomes,"  adds Hugo Mogollon, Executive Director of FRESHFARM. "Farmers markets and mobile markets in the District have been the implementing arm of this program since its inception, and we look forward to continuing offering that collective support to the city."
This winter we are redesigning the program to bring customers greater ease, flexibility, and choice in spending the benefit, and to bring market managers and farmers a significantly lighter administrative workload. Questions about the program? Please email nick@freshfarm.org.