Ingredients:
2 eggs
75g all purpose flour (about ⅔ cup)
75ml water (about ⅓ cup)
a generous pinch of kosher salt
1 bunch ramps, chopped with a few greens set aside for garnish
1 cup shredded Brussels sprouts
½ cup shredded or shaved carrots
2 tsp neutral cooking oil
Directions: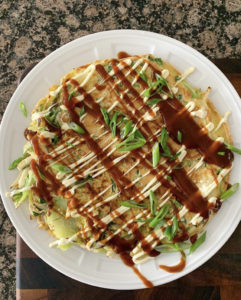 Place the eggs, flour, water, and salt in a medium bowl and whisk until there are no lumps remaining. You should have a smooth batter with the consistency of heavy cream.
Add the ramps, Brussels sprouts, and carrots. Using a rubber spatula, fold the veggies into the batter until well coated.
Heat the oil in a 10" nonstick pan over medium-high heat. Pour the batter into the pan, pressing to help evenly distribute the veggies. 
Cook for 3-4 minutes or until lightly browned on the first side. (You can gently lift the edge of the pancake with your spatula and peek underneath to confirm.)
Carefully flip the okonomiyaki over and cook on the other side for 2-3 more minutes, or until light golden brown.
Slide the finished okonomiyaki onto a plate and drizzle with your choice of sauces. Scatter the reserved ramp greens over the top to garnish.