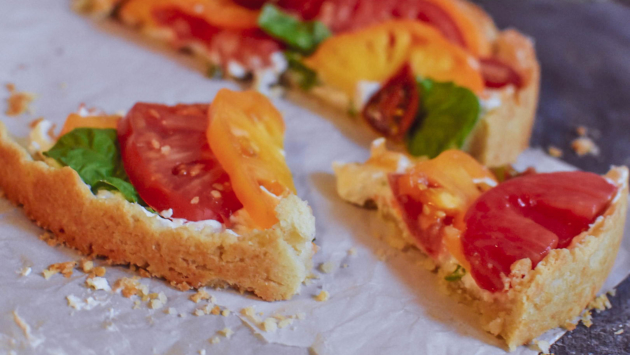 Ingredients:
For Crust:
1 cup (125g) unbleached all-purpose flour
3/4 cup (75g) finely grated hard, aged cheese (Parmesan or a local substitute)
1 teaspoon fine sea salt
1/2 cup (113g) unsalted butter, cold and cut into cubes
4 – 5 tablespoons ice water
2 cups granulated sugar (for blind baking)
For Goat Cheese Filling:
6 oz (170g) goat cheese, at room temperature
1/4 cup (50g) heavy cream
1/2 cup fresh basil leaves, finely chopped
pinch sea salt, cracked pepper
1 tsp lemon zest
For Assembly:
3 or 4 medium heirloom tomatoes, thinly sliced
1 handful cherry tomatoes, halved or quartered if large
small fresh basil leaves, for garnish
flake sea salt, for finishing
Directions:
Preheat oven to 400 degrees F and find your 9-inch tart pan with a removable bottom.
Combine flour, salt, and grated cheese in the bowl of a food processor. Pulse a few times to combine. Sprinkle the cubes of butter over the flour and pulse a few more times until the mixture is mostly fine crumbs with scattered pea size pieces of butter remaining. Drizzle in a few tablespoons of water then pulse. Continue adding water, 1 tablespoon at a time, until the dough holds together when you squeeze. Take care here to not add too much water, it shouldn't be sticky or form a ball in the food processor.
Dump the crumbly dough into your tart pan and press evenly into the bottom and up the sides. Place in the freezer for 15 minutes until firm. Crumple up a piece of parchment paper and lay it inside the crust, then fill with sugar, easing the parchment and sugar into all the edges.
Bake for 10 to 15 minutes or until the edges start to darken. Carefully lift out the parchment with the sugar (save the now deliciously toasted sugar, like for bringing less sweetness and more complexity to a meringue!) then return the crust to the oven for another 10 to 15 minutes or until golden brown. Remove from oven and let cool completely.
While the tart cools, mix the goat cheese and heavy cream in a bowl and stir well to combine, then stir in basil, salt, pepper, and lemon zest. Spread into cooled tart shell.
Just before serving, arrange tomato slices on top of goat cheese. Sprinkle with flake salt and garnish with basil. Serve immediately at room temperature.